The Shows to See in Toronto this Weekend
With Art Toronto opening on 25 October, don't miss out on all that the city has to offer
Slavs and Tatars, 'Pickle Politics'
Sugar Contemporary
17 October – 31 January 2020
How better to contemplate processes of cultural fermentation than with a bracing glass of pickle juice? For Sugar Contemporary's inaugural exhibition, the Berlin-based collective Slavs and Tatars presents 'Pickle Politics', which considers politics and culture through the practices and symbolism of fermentation. At the pickle juice bar, visitors' attention may mingle between their own pro-biotically activated guts and a feast of cross-cultural references, such as the seemingly indigestible pairing of Mohammed and Marx, served from the large, elevated video projection Hamdami (2016). Exploring surprising affinities and fertile connections between Eastern Europe and the Middle East, the show references arcane historical details, linguistics, bodily functions and politics. In addition to books and exhibitions, Slavs and Tatars present their research through performative lectures; a series of six is presented here.
'Hito Steyerl: This Is the Future'
Art Gallery of Ontario
24 October – 23 February 2020
Hito Steyerl's video works delineate networked power structures through quicksilver splicing. Pop-culture imagery and computer animation sidle up against their shadows: global financial power and its multifarious operations, from surveillance to big data and AI. The Art Gallery of Ontario is showing the largest survey of Steyerl's work in Canada to date, including many pieces never before screened in the country. Produced between 2004 and 2019, 11 video installations trace different aspects of the artist's increasingly sophisticated production style, from her more personal videos, such as November (2004), to How Not to Be Seen: A Fucking Didactic Educational .MOV File (2013).
'Age of You' (curated by Shumon Basar, Douglas Coupland and Hans Ulrich Obrist)
MOCA Toronto
5 September – 5 January 2020
Curated by Douglas Coupland, Shumon Basar and Hans Ulrich Obrist, and based on their forthcoming book, The Extreme Self, MOCA Toronto's 'Age of You' dwells on the latest of our ever-accelerating cultural developments. Updating 20th-century analyses by historian Eric Hobsbawm and media theorist Marshall McLuhan, the exhibition considers the internet's radical effects on our brains, social relations, politics, labour and, particularly, on our shattering sense of self. Designed to be experienced like a book, the show is divided into 13 chapters punctuated with large posters that collage images with amusing and prescient textual fragments ('She knows exactly how to make the algorithm love her'). Over 70 artists – including Agnieszka Kurant, Trevor Paglen, Samuel Fosso, Sophia Al-Maria and Yuri Pattison – present images, videos and installations that plumb the exhibition's themes.
Naeem Mohaiemen, 'What We Found After You Left'
The Power Plant
21 September – 10 May 2020
Naeem Mohaiemen's migration from Tripoli and Dhaka to New York, as well as his interest in decolonization and related political movements of the 1970s, are foundational to his films and writing. Divided into chapters, four feature-length films will screen at The Power Plant until next spring, each 'footnoted' with a different group of photographs. Both films on view this autumn are set in airports whose function as global mobility hubs has been suspended: Tripoli Cancelled (2017), a whimsical narration concerning a man stranded in a deserted Greek airport for ten years, is a fictional meditation on separation and loneliness; the documentary essay United Red Army, The Young Man Was: Part 1 (2011) features archival recordings of negotiations between the Dhaka airport control tower and a Japanese Red Army high-jacker. Failure – especially of utopian political projects of the recent past – runs through both films.
'Nadia Belerique: There's a Hole in the Bucket'
Daniel Faria Gallery
19 September – 2 November
Nadia Belerique experiments with diverse media, including glass, photographs, fabric, found objects and doors. Her queries, by layering representational and abstract media, explore fine spatial incoherencies between image and referent. 'There's a Hole in the Bucket' suggests ominous slippages and leaks between not only the real and its image but also between human life, dissolution and decay. Grey metal fire doors, their improbably placed windows paned with delicately textured glass, support fragments of objects, photographs and text. In a series of large, two-dimensional works, photographs are placed beneath sections of coloured, textured or clear glass; they become mysterious, their perspectival logic faltering beneath the panes' curved, leaden seams.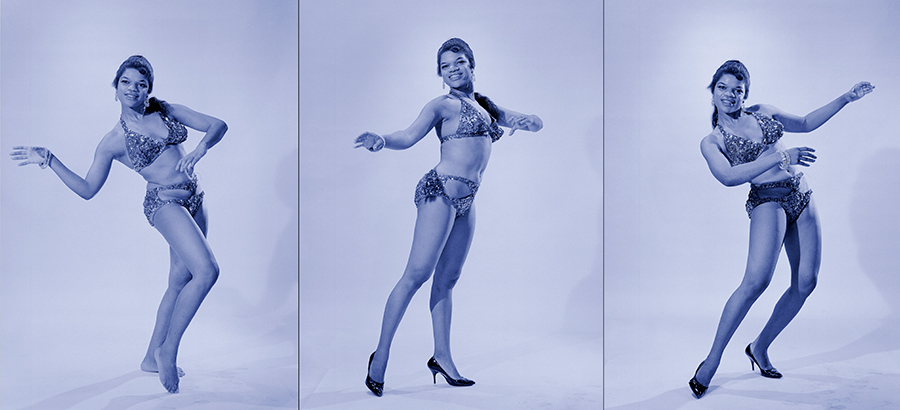 Deanna Bowen, 'King Studio Photos'
MKG127
12 October – 9 November
Deanna Bowen traces her ancestry to the African-American communities based between her birthplace of California and British Columbia. She has committed her practice to the lost histories and entwined lineages that have been dispersed by migration, presenting her findings through video and photographic formats, as well as installation. The eponymous series 'King Studio Photos' (2019) is the product of one phase of her research, which grew from a chance acquisition of a package of negatives. Shot in Vancouver's now-defunct King Photo Studio in the 1960s, their subjects were the dancers Abbey Petite, Sheila and Montika as well as musician Frank Struthers, who worked in the city's Downtown Eastside. In these enlarged, blue-tinted prints, they strike dynamic, playful poses in sequins and suits. Besides illuminating Vancouver's overlooked Black history, Bowen's research delivered a personal surprise: her grandmother cared for Montika's children when she worked.
Isuma, 'ᖃᒡᒋᖅ (ᑲᑎᑦᑕᕐᕕᒃ) Qaggiq: Gathering Place'
Art Museum at the University of Toronto
18 September – 30 November
Indigenous cultures around the world are turning to new media formats to affirm their cultural identities, develop economies, preserve histories and counteract negative depictions presented by colonial settler societies. Formed in 1985 by Zacharias Kunuk, Norman Cohn, Paul Apak and elder Pauloosie Qulitalik and incorporated in 1990 as Igloolik Isuma Productions Inc., the collective creates independent, community-based film, television and internet works. For 'ᖃᒡᒋᖅ (ᑲᑎᑦᑕᕐᕕᒃ) Qaggiq: Gathering Place', the Art Museum at the University of Toronto is screening two celebrated, feature-length films that weave historical and fictional stories about Inuit life through 're-lived' drama; other works include a television series that documents traditional hunting practices.
Main image: Victoria Sin, Tell me everything you saw, and what you think it means, 2018, film still. Courtesy: the artist