Simone Rocha's Top 5 Works on Frieze Viewing Room
The fashion designer picks works by Lynda Benglis, Candida Höfer, Louise Bourgeois and Sonia Balassanian from the Frieze London and Frieze Masters 2022 edition
Lynda Benglis 
Hot Lips, 2020 
cast pigmented polyurethane 
12.36" x 11.38" x 5.51" (31.4 cm x 28.9 cm x 14 cm) 
Edition of 12 + 5AP 
$20-50k 
Presented by Pace Gallery 
From the first time I saw her work in person, I have been enamoured by the physicality of her sculpture. 
Candida Höfer 
Teatro della Pergola Firenze | 2008 
C-print 
70.87" x 96.06" (180 cm x 244 cm) 
Edition 6/6 
€ 66,000 
Presented by OMR
I like the idea of this room as an environment. 
Louise Bourgeois
Untitled
2002
Fabric and aluminium
30.5 x 30.5 x 30.5 cm / 12 x 12 x 12 in
Presented by Hauser & Wirth
The caged tapestry head and how it represents the inner psyche is constantly inspirational. 
Sonia Balassanian 
Hostages #31, 1980 
Mixed media 
97 x 70 cm 
$35,000 
Presented by Ab-Anbar Gallery, Spotlight section
This is the first time I have discovered her work but was really drawn to her pieces. 
German or French artist active in Rome
Adam and Eve Lamenting the Death of Abel, c.1800 – 1840 
Marble 
85 cm x 56 cm
£95,000
Presented by Lullo Pampoulides  
I absolutely love the weight of this piece.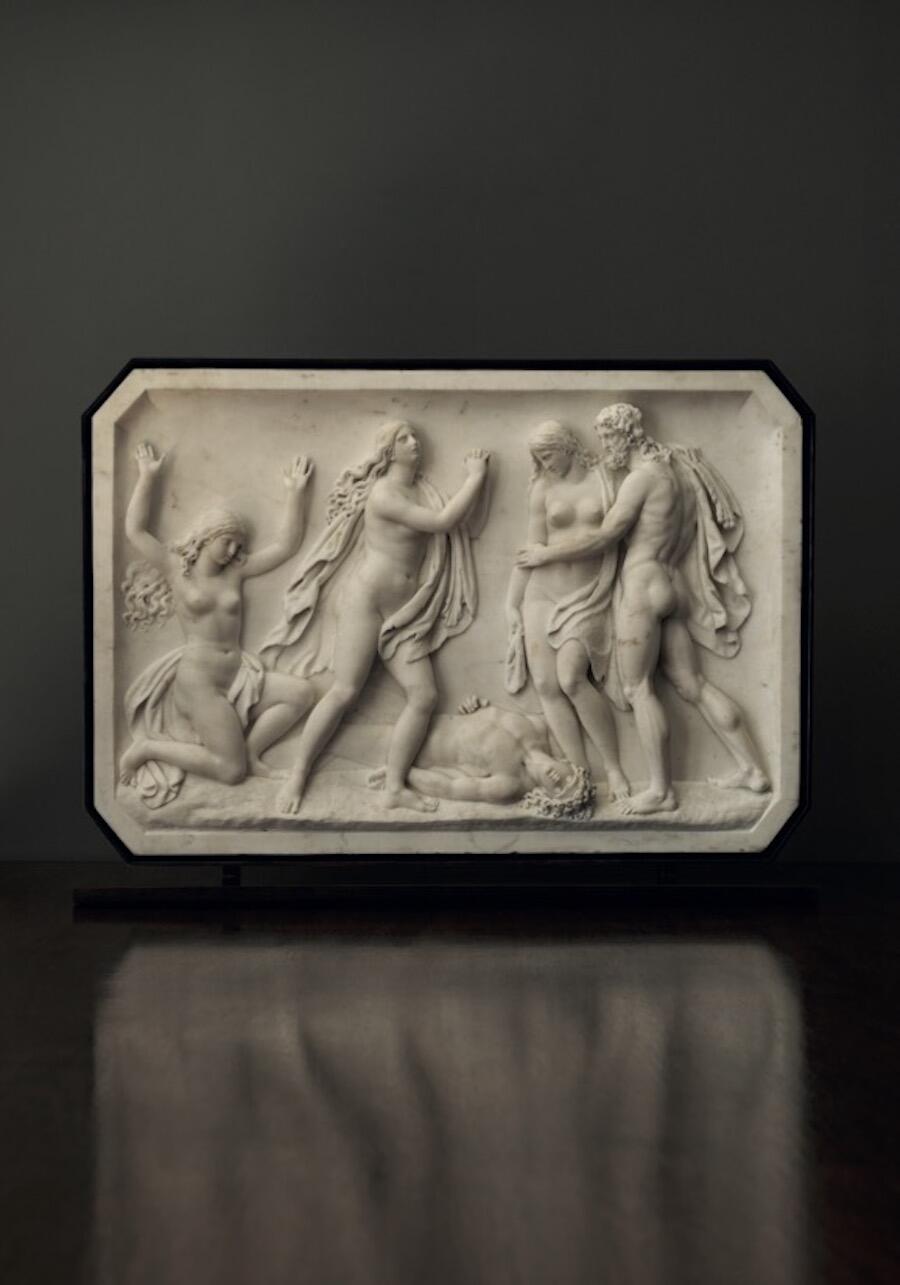 Simone Rocha @simonerocha_ has curated girls girls girls , a major new group show at Lismore Castle Arts, Lismore, Ireland. On view until October 16, 2022.
The award-winning designer was born and raised in Dublin, Ireland before going on to graduate from the acclaimed Fashion MA at Central Saint Martin's College, London. Debuting during London Fashion Week in September 2010, the collections explore the continued themes of Ireland, Asia, art and family. Signature fabrications are balanced with silhouette and hand-embellishment to create a modern form of femininity. Alongside receiving critical acclaim and working with the most prestigious stockists in the world, Simone continues to develop immersive retail environments within her stand-alone stores. 
About Frieze Viewing Room
Frieze Viewing Room, which features more than 100 galleries participating in Frieze London and Frieze Masters fairs, is now open.
Find out more about Frieze London and Frieze Masters.
To keep up to date on all the latest news from Frieze, sign up to our newsletter at frieze.com, and follow @friezeofficial on Instagram, Twitter and Frieze Official on Facebook.
Photo: Simone Rocha, Taken by Alastair Nicol