Solo Shows at Frieze New York 2023
From an installation by Nan Goldin to new works by Pamela Rosenkranz coinciding with the artist's major commission on New York's High Line and unflinchingly colorful work by Lauren Halsey
The 2023 edition of Frieze New York will be snapshot of the most exciting artists working today globally, with many galleries debuting solo projects by iconic and experimental talents. Exploring themes including abstraction, indigeneity, interpretations of history and the natural world, highlights include...
Lauren Halsey is celebrated for her unflinchingly colorful and energetic work in collage, sculpture, and installation. Threading together themes of futurity and community, the artist has forged a visual vocabulary deeply rooted in Black aesthetics of funk, freedom, and excess (David Kordansky Gallery, Los Angeles, Main).
 Gagosian is pleased to present with a solo presentation by Nan Goldin, the artist's debut at the gallery following its announcement of her representation. For the occasion Goldin has composed an installation of eight of her Grids made over the last fifteen years (Gagosian, New York, Main).
A presentation of work by Matthew Ronay whose practice is the embodiment of a masterful handling of materials. Working primarily with basswood, his sculptures are all made by hand; each component carved, dyed, and jointed together into colorful configurations that defy their wooden medium (Casey Kaplan, New York, Main). 
Mary Lovelace O'Neal, a force in art since the mid 1970s, is renowned for fusing the painterly and gestural elements of Abstract Expressionism with the social consciousness of the Black Arts Movement. The artist's paintings have progressed through many different phases over her long career, beginning with loose abstracted forms, evolving to including more precise patterns, stenciling, and geometric shapes (Jenkins Johnson Gallery, San Francisco, Main).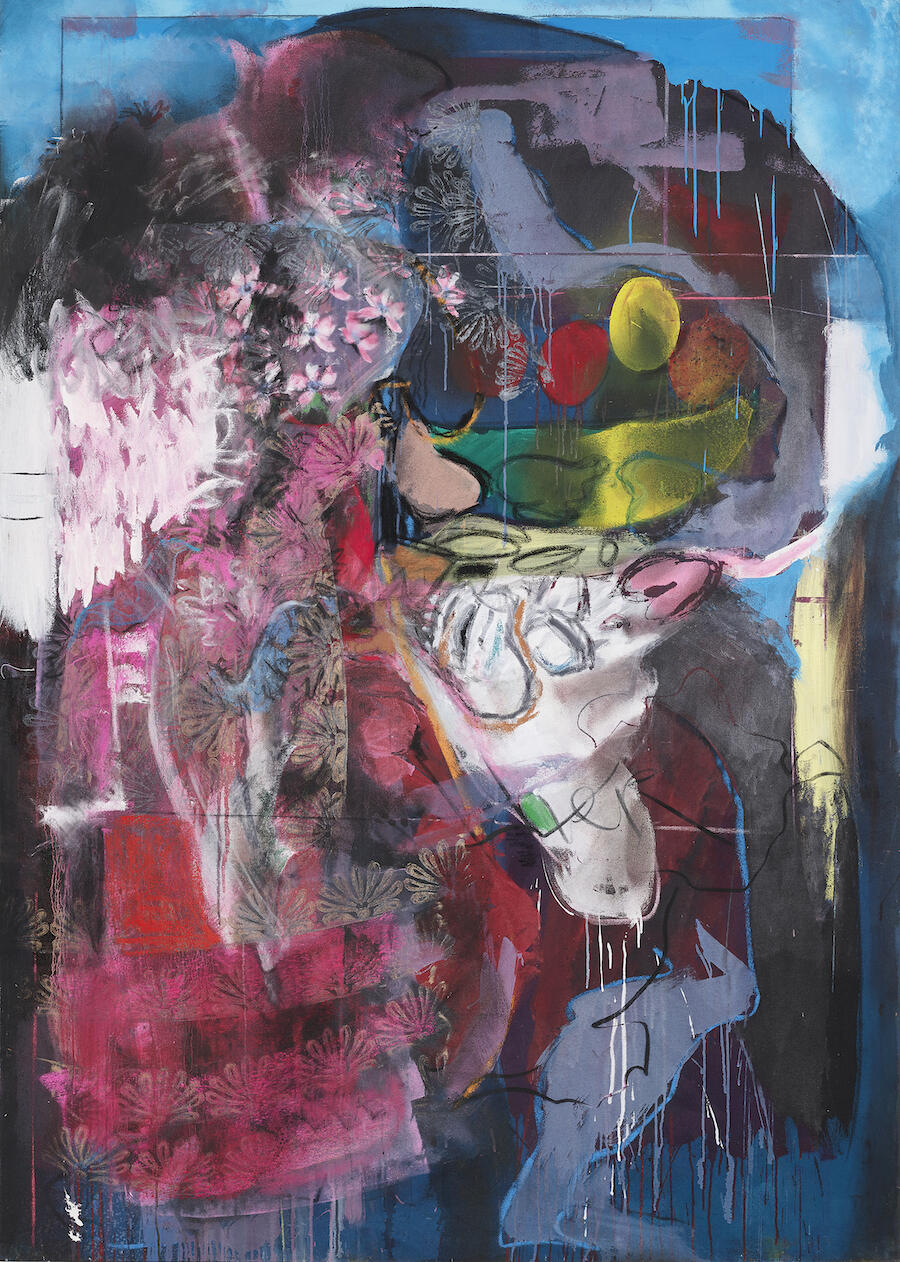 A new series of paintings by Trisha Baga, entitled Cosmos, explores how computer screens open windows to other worlds—and beyond. Baga's new works bring sublime scenes together with snapshots of everyday reality, melding these two worlds (Société, Berlin, Main).
Japanese, LA-based artist Takako Yamaguchi, whose paintings of the 1990s echo the murals of Diego Rivera from the 1920s and 1930s, exploring notions of ethnic identity and cultural ownership (Ortuzar Projects, New York, Main).
New and recent works on paper by Brooklyn-based artist Robert Nava, shedding light on the artist's approach to drawing. The vibrant works on view will transport viewers into spaces of fantasy populated by a cast of specters that take the form of creatures, landscapes, and objects at once mythic and everyday (Pace Gallery, New York, Main).
Hauser & Wirth will present a solo booth of works by American artist Jack Whitten, spanning from his early career in the 1960s to his final works in the 2010s. Over the course of a six-decade career, Whitten's work bridged abstraction and process art, arriving at a nuanced language of painting (Hauser & Wirth, New York, Main). 
James Cohan presents a solo booth of new paintings by Naudline Pierre. The Brooklyn-based artist draws on references that are deeply rooted in the history of European art, looking back to historical iconography to conjure alternative, utopian realms. Her work situates personal mythology and intimacy alongside canonical narratives of devotion (James Cohan, New York, Main). 
Gallery Hyundai will display a solo presentation of works by Yoo Geun-Taek, a virtuoso artist who bridges the East Asian tradition of ink and color painting on hanji (Korean traditional paper) with contemporary aesthetics. The artist expands this artistic genre into subjects of nature, the environment, and society to craft a singular experimental practice (Gallery Hyundai, Seoul, Main).
Sprüth Magers & Karma International's joint presentation of Pamela Rosenkranz's work coincides with her recent commission on the nearby High Line Plinth. Her work involves sculptures, paintings, videos, and installations that reflect on the human need to anthropomorphize our surroundings in order to understand them. In doing so, she investigates the codes through which people give meaning to the natural world (Sprüth Magers, London and Karma International, Zurich, Main). 
Silverlens will debut its new representation of the Estate of Carlos Villa. His ground-breaking practice of culling materials from indigenous cultures across the globe combines feathers, bone and physical body prints to create strangely-human works that challenge colonial perspectives and lay radical claim to a cross-cultural, diasporic identity. Villa's aim was to make Filipino art history visible and build a foundation for generations of artists to come (Silverlens, Manila, New York, Main). 
A focused solo presentation of new and recent works by American artist Suzan Frecon will be showcased by David Zwirner. Made over long stretches of time, Frecon's work invites the viewer's sustained attention. She claims that 'these are not pictures that you look at, they are paintings that you experience' (David Zwirner, New York, Main).
Stephen Friedman Gallery will present an exhibition by American artist Pam Glick. Both experimental and complex, Glick's style demonstrates her continued interest in the universal language of abstraction. The presentation will be curated by Matthew Higgs, Director of White Columns, New York and Founding Curatorial Advisor of Independent (Stephen Friedman Gallery, London, Main). 
Frieze New York returns to The Shed in Manhattan from May 17 to 21, 2023 and promises to be an unmissable event. With an unparalleled selection of galleries and artists, alongside a critically acclaimed curated program the fair is a highlight of the global art calendar.
For more information, sign up to our newsletter and follow @friezeofficial on Instagram, Twitter and Facebook. 
Main image: Nan Goldin, Gold, 2016, archival pigment print, 59 x 115 inches (149.9 x 292.1 cm), © Nan Goldin, Courtesy the artist and Gagosian.