Featured in
Somaya Critchlow's Women Know Something We Don't
At Maximillian William, London, the artist's glamorous figures render viewers more than mere witnesses
Somaya Critchlow's glamorous Black female figures all occupy domestic interiors and resolutely stand or kneel before us, either partially clothed or nude. Often, they are in dialogue with something that lies beyond the frame. In Afternoon's Darkness (Agnes) (all works 2022), one of eight oil-on-linen works in this show, the protagonist directly returns our gaze. Critchlow's women often lure us in and render us more than mere witnesses, making us somehow complicit in their acts.
In 'Afternoon's Darkness', the artist veers away from her signature, small-scale canvases to mid-scale works that are more seductive, compelling and strange. The exhibition's hang is unconventional, with most works appearing lower than standard museum height. The artist's decision not to display her watercolour-on-paper studies, such as Study for The Maid (Madame S), besides their corresponding painting, creates a feeling of informality, more akin to how works might be displayed in a private home than in a public gallery. 
The paintings teem with a variety of references to artists from the Western canon – such as Francisco Goya, Edvard Munch and Paula Rego – as well as to cinema, including David Lynch's masterpiece Blue Velvet (1986) and the Japanese anime film The Belladonna of Sadness (1973), in which a peasant woman makes a Faustian pact with the devil after the local nobility rapes her on the night of her wedding day. All of Critchlow's figures reside alone, with the exception of the woman in The View Over St Erth – although her only company is a white cat. However, the show also contains more sinister references, including the chilling story of French sisters Christine and Léa Papin who, in 1933, whilst working as live-in maids, brutally murdered and mutilated their employer's wife and daughter.
In Count Me Out, shadows envelop the figure so that one eye seems to disappear entirely. In this work, Critchlow employs sfumato, a technique developed by Leonardo da Vinci in which paint is applied thinly across the canvas to give a soft-focus feel, taking us straight from the Renaissance into a 1960s boudoir.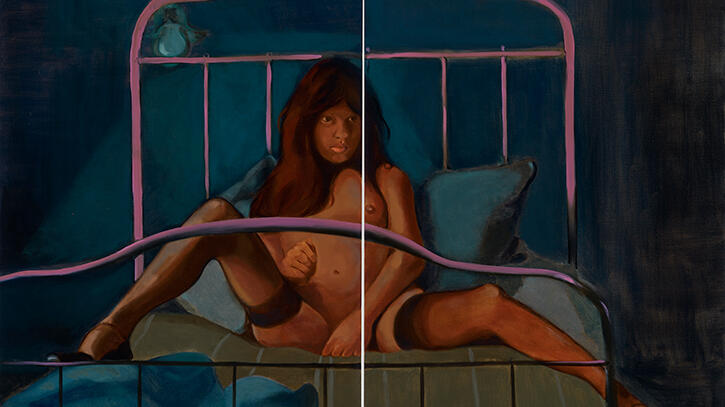 In Figure and Monstera, the mantlepiece is not quite straight. The drooping monstera plant and the dangling blood-red scarf that the figure holds around her waist pull our eyes downwards to indicate that the floor is sloping. This uneasy momentum prompts a feeling of uncertain suspension, leaving us unsure, quite literally, of where we stand amongst it all. The figure's phantasmal gaze doesn't meet ours but peers eerily off to the left, leaving us to bridge the narrative gaps. These complex, deliciously dark works pose many questions. 
'Afternoon's Darkness' destabilizes and dissolves established hierarchies in visual culture of the active, dominant, (usually) male gaze and the passive, obedient, female subject, leaving us in boundless precarity. By contrast, Critchlow's defiant figures all share one thing: they know something we don't.
Although not expressly political works (indeed, the show's accompanying literature states that the artist actively queries moral readings), I can't help but consider them within the context of Western art history, in which the Black figure is primarily relegated to the secondary role of a submissive attendant. As the late Rego – one of Critchlow's key influences – told The Guardian in 2009: 'You punish people with drawings; you could take revenge.' So often, Blackness exists as a mere aesthetic foil to the master's whiteness. Here, however, the Black figures are in control and revenge is imminent. 
Somaya Critchlow's 'Afternoon's Darkness' is Maximillian William, London, until 19 November 
Main image: Somaya Critchlow, The View Over St Erth, 2022, oil on linen, 116 × 87 cm. Courtesy: the artist and Maximillian William