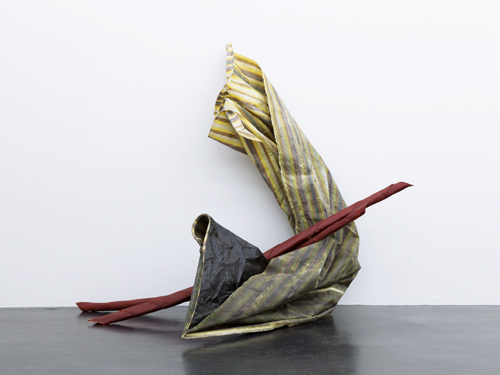 Sonia Kacem's installations are epic, operatic even. For her first gallery exhibition, with Galerie Gregor Staiger in Zurich in 2011, she covered the floor with a ragged carpet of yellowish dust and dirt on which was a crumpled roll of white paper draped in a pale dustsheet (PROGRESS MI 07, 2011). In the centre lay two rib-like arcs and the remnants of a car bumper, while against a wall a curved piece of heavy striped material supported two tight scrolls of burgundy fabric resting across it at a diagonal. The stuff Kacem employed here was mean, largely scavenged and arranged by placement and piling. PROGRESS MI 07 (its title appropri­ated from the vacuum bag whose contents were spilled and arranged on the floor) is one of many of Kacem's works based on abandoned elements.
Sourcing materials from refuse entered her practice early, during her studies at the Haute École d'Art et de Design in Geneva. Interested in the ecology of materials, Kacem lifts from various points in that cycle. Not in a token (and futile) gesture of tem­porary up-cycling, but to illustrate that everything has an economy of production, supply and disposal. Her installation Thérèse (2013) in the Salle Crosnier in Geneva early last year included an element that for the first time was fabricated specifically for her purposes: a wooden hoop with the approximate dimensions of a narrow wedding band scaled up to 1.8 metres in diameter. Held upright by a single metal wire, at its base were crumpled silver plastic foil, heavy white fabric and the not immediately identifiable remnants of furniture. Here, a dialogue took place between deliberate and accidental forms, between the crumpled, messy stuff that was manifestly present and the smooth hoop that might be read as the materialization of a vector drawing.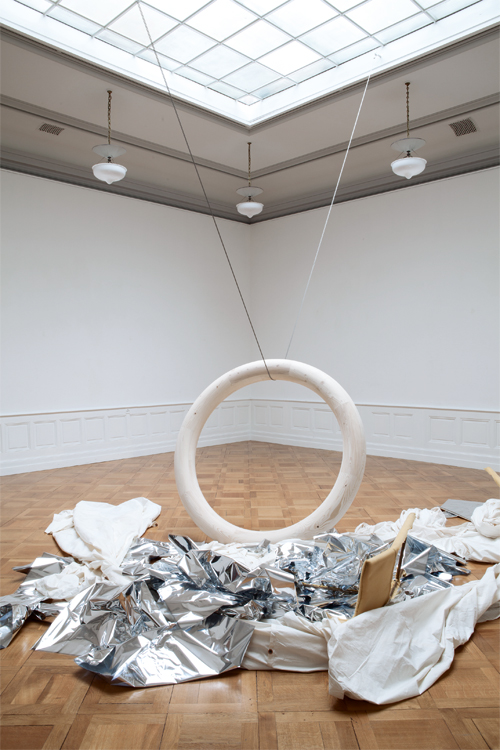 Kacem continues to favour inexpert methods of construction and assembly. Petra (2013), the installation for her second show at Galerie Gregor Staiger, could scarcely have been simpler: two large black plastic sheets that Kacem had painted with broad brush strokes of white and yellow emulsion hung over transparent wires below the central skylight. The nearly five-metre-tall drapes had a delightful clarity, yet their markings poked fun at trompe l'oeil marbling. Three accompanying photographs taken at marble quarries underlined the link to the tradi­tional medium and its striation; Kacem had created an intersection of the material prized by sculptors and its imitation. Why does the 'real' stuff have nobility while its fakery is scorned?
When we spoke in June this year, Kacem was completing a residency in New York researching artists such as the Art Workers' Collective who have been influential to her practice. Robert Morris is another important forerunner, both in his work – his use of waste materials, for example – and his examination of the concrete experience of sculpture, its immediacy and how it is read. From New York Kacem has been collaborating remotely with an interior designer to plan her exhibition at Mamco, Geneva, which opens late October. Tentative plans for that show involve forms made from painted, twisted metal sheets. With these the artist is considering how one can construct volume from flat surfaces, and how she might employ an economy of gesture to approach a degree of anthropomorphism within such sculptures.
It was Robert Morris who sardonically described the art work as 'a frozen, timeless deposit on the flypaper of culture'. This line gives one explanation why Kacem makes installations that are insistently not sticky: though they may possess high drama, their impermanence and undisguised construction is anti-monumental. For Kacem, the exhibition context is an arena in which formal, material, social and political concerns can collide in a frangible assemblage. The result is not straightforward, but has an inherent modesty that lends the work sobriety. This befits the continuation of a sculptural tradition when materials are be­coming both more readily available and scarcer. In a time, that is, when ships laden with cargo forge past islands of the rubbish we no longer want to accommodate.