Featured in
Source Material
What was it that made the documentation of collective artist activities from the early 1990s so different, so appealing? An interview with Stephan Dillemuth about Cologne art space Friesenwall 120 and the role of video in exhibition documentation
With increased access to exhibition documentation through aggregator websites and social media today, technologies for online image circulation have affected not just the distribution and consumption of images, but also the way in which contemporary exhibitions and artworks are made and perceived, both on- and offline. The exhibition form, too, has been subject to more historicization, symposia, and re-enactment than ever before. Yet rarely in the burgeoning literature around such exhibition histories have shows organized by artists been recognised as influential models for curatorial frameworks.
In May 2015, in collaboration with the Academy of Fine Art, Munich, a screening took place at the Kunstverein Munich of rarely-exhibited video documentation of the activities of Friesenwall 120, a storefront artist-run space in Cologne opened by Stephan Dillemuth in 1989, which Dillemuth later ran with Merlin Carpenter, Kiron Khosla, Nils Norman and Josef Strau until 1994. This autumn, the activities of Friesenwall 120 will be exhibited in to expose, to show, to inform, to offer – Artistic Practices around 1990 at mumok, Vienna.
frieze d/e asked Kunstverein Munich curator Saim Demircan to speak with Dillemuth about self-organization, bohemia and the possibility of subjective and colla­borative approaches to exhibition-making and documentation.
Saim Demircan Your archive includes documentation of several exhibitions at Friesenwall 120. While watching video documentation of these shows, I became interested in the mediation of exhibitions. How has exhibition documentation changed since the days of Friesenwall 120?
Stephan Dillemuth In today's 'information age', we are led to believe that we're not required to seek out or work to receive information. Tabloid-like formats and social media have enabled the reception of images at the click of a button, which in turn has a normative role in determining what is con­sidered art: the 'look' of art replaces its contemplation and experience. Thus, press releases deliver the key to object and exhibitions. You stick the key in, open, and there you have it: a good-looking and representative artwork. No need for reflection anymore.
Demircan In recent years we have also witnessed the reemergence of a historical and archival impulse in exhibition-making: the reproduction of key exhibitions (as 'readymades') from the recent past, not to mention a plethora of exhibition histories within the field of curating. But long before this tendency, the activities of Friesenwall somewhat anti­cipated the exhibition-as-medium, to be looped or re-exhibited. What's the story behind Wahrheit ist Arbeit – Wie es Wirklich war. Eine Historische Ausstellung (Truth is Work – How it Really Was: A Historical Exhibition, 1992)?
Dillemuth When 'I', and soon 'we' started Friesenwall 120, we did not want to become a gallery or run a 'producers' gallery – the latter seemed too uncool to us. That was something you only did if you could not get your work into a gallery any other way back then. People who do that neither doubt their self-image as artists nor call into question the artistic ambitions of the works they produce; and they switch into self-help mode by seamlessly simulating a gallery. Instead of this, we aimed to question these very structures. The 1992 exhibition Wahrheit ist Arbeit – Wie es wirklich war unofficially reproduced an exhibition by Werner Büttner, Martin Kippenberger and Albert Oehlen at Museum Folkwang, Essen, from 1984, albeit in a vastly different, subjective form. Neither Büttner, Kippenberger nor Oehlen were in our Wahrheit ist Arbeit. Instead, we collaborated with Uwe Gabriel and Michael Krebber, who had a sound knowledge but also a peripheral approach to those artists, from whom they had collected ephemera and anecdotes. Gabriel and Krebber, who were friends with the original artists, had material such as posters and invitation cards, even a sheet of paper with weird ideas for titles written on it. It was a little bit how fans would do an exhibition: without putting heroes on a pedestal like art history does – instead reflecting upon the width of field, not so much on the tip. In retrospect it appears that many of our friends were artists who worked in the art system as assistants or helping hands. They developed a view 'from below' or 'from the margin' onto that system with material that was ephemeral or anecdotal, but at hand, and with all their artistic freedom. Today you would call their situation 'precarious'.
Demircan Just as Friesenwall 120's exhibitions occurred collaboratively and associatively, your record of the shows was undertaken via an unconventional form for exhibition documentation: video, as opposed to standard still exhibition photography. Did this also arise from being an artist-led endeavor? And why the choice to use video?
Dillemuth In the beginning, I documented Friesenwall 120 with a snap-camera and regular cheap consumer prints – I thought that was an appropriate and realistic approach. After a while I bought a video camera. To work with video in the 1970s and '80s was quite expensive, but in the early 1990s the video camera became an affordable consumer product. Video, of course, is usually not the medium to document an exhibition. If it is, it is generally done with the ambition to mediate, like a TV report with a voiceover that narrates you through the exhibition, or an interview with an artist or gallerist in front of an artwork. But video is hardly ever used to document the 'still life' of an exhibition – which, in fact, every exhibition is.
One reason I made video documentation, as opposed to photographs, was to approximate how a viewer walking through a show would see it. On the other hand, whereas a viewer has a field of vision, the camera doesn't actually represent human vision. This subjective impression was not really how documentation 'should' be: our documentations were never really proper films either, rather a sloppy way of pointing the camera into the exhibition, and walking around looking at things with the camera. We were also very interested in the TV gallery Gerry Schum realised in the late 1960s. The artworks Schum produced in collaboration with artists existed as videos: the moment that the recording is visible on screen, the TV becomes a gallery. I was fascinated that his TV gallery was not supposed to be didactically framed with a message or explanations; the aim was for the usual flow of information to be interrupted and inserted. And in this gap is the artwork itself. This is also interesting in terms of documentation and its attempt to affirm the still life.
Demircan Was this footage produced and edited by you, or by many people collectively?
Dillemuth The fact that I had a video camera meant other people could use it and out of that came quasi-collaborations – technically or artistically. Video was also a tool with which to carry visual information from a to b; remember, this was before the Internet as we know it today. When we visited New York we filmed shows like Renée Green and David Askevold's exhibition at PS1 (1990), as well as a tour of an exhibition by Dennis Oppenheim's son, which we then brought back to Cologne to show our friends at Friesenwall 120. In February 1993, we were invited by the Künstlerhaus in Stuttgart to exhibit video documentation of what we had seen in New York, alongside a discussion of the 'alternative' art fair, Unfair (1992), initiated by Christian Nagel and Tanja Grunert. Seen from today's perspective this seems to be a bit embarrassing but back then there was a big interest in 'information', or a promise coming from that term.
Demircan What do you mean by promise?
Dillemuth Access to lost or archival information seemed to promise new artistic and political possibilities. The same could be said for the word 'communication', which came with the promise of the 'social': that one could not only consume art but also actively participate and create a discourse around it. The first video we made, for
example, was with and about Vivian Slee, a writer and then a gallery assistant at Jablonka Gallery. We filmed her reading her texts and us hanging out, wandering through Cologne visiting some people and a bar. It was a nonchalant portrait of Slee and a circle of friends – or a day hanging around in Cologne. I think this was alongside her show, Reading Writing at Friesenwall 120, although we never showed this publically. This form of self-thematization was only tried once more, and then we received a lot of criticism.
Demircan It seems like you recognized a potential in the transference of video footage in regard to the distribution of information, which nowadays might equate to 'sharing' online. Did you have in mind a specific public, either as participants or as audience?
Dillemuth 'Sharing' in today's sense is too specific an act to refer to what we were doing. At Friesenwall 120 we responded to the question of making a 'counterpublic' through the archive and the way it expanded and recorded its own activities. In September of 1990 we showed Old News, an exhibition of the B.O.A. video archive from Munich at Friesenwall 120 – an archive that originated from the 1980s idea of starting video co-ops in every city and making videos 'from below'. Our approach was rooted in the so-called Gegenöffentlichkeit  (counterpublic) ideas of the 1980s. In other words, creating 'counterpublics' by taking the issue of information and distribution into the hands of grassroots activist organization. This followed Brecht's concept of 'Radiotheorie', as well as the ideas of Jean-Luc Godard, the Dziga Vertov group, Alexander Kluge and Oskar Negt: seeing 'the masses' not only exposed to information that comes unidirectionally from above, but as producers and distributors of information themselves. Doing so can create counter­publics to the otherwise controlled publics of those who have power over the media such as state and media corporations. During a trip to Berlin to visit the GDR off-spaces we heard so much about, we found places in the West more interesting, such as the anarcho-video collectives Autofocus and Schwarzbild, and the autonomous book/copy-shop M99, in the way they dealt with the idea of information. Would something like this be possible in the arts in our small Cologne scene, we wondered, as we learnt from video activist groups in the US like papertiger and Deep Dish TV, and video-making in the context of the AIDS crisis, such as by Act Up?
Demircan Earlier you mentioned the word 'fan', which is commonly associated with music rather than art. Yet it is a useful term here since it combines a strong personal interest and a subjective treatment – fanzines, too, were generally made collaboratively and without a single author.
Dillemuth In the early 1990s, there were suddenly all these art fanzines. It was not for nothing that Artfan was named as such. That meant that there was information coming in another language, from another place. And the addressee, at the start, was one's own circle. Maybe now, the subaltern could speak – those who didn't make it to the top. The secondary position is always more interesting than the first. But that is also where the question comes in: What do you want to show anyway? Do you want to repeatedly show, and thus legitimate, just those 'winners of art history' who carve their artistic careers from the meat of a surrounding bohemia? With our approach, this surrounding bohemia was included and its legacy spoke. The author, on the other hand, didn't play that much of a role until maybe later when we gave friends who were involved in the space but lacked gallery representation individual shows as a way to return some of the cultural capital they were giving us. With many of the shows at Friesenwall 120 we had the vague idea of exploring the possibilities that would arise from creating confusing situations without authorship or art objects playing any role in it. A show like Internationale Situationniste (1992) didn't need an 'author', a fact that gave us the freedom to interpret history. Roberto Ohrt had a sketch for the show already up his sleeve: he had the idea to fake or translate paintings, or re-photograph existing photographs. There was other collected paraphernalia and materials surrounding the original work, like original 1950s design objects.
Demircan How can one mediate this form of exhibition-making today, when there are seemingly more exhibitions than ever (and presumably more 'winners of art history')?
Dillemuth In the last twenty-five years since the Berlin wall came down, there has been a huge expansion in the field of art, and that can seem confusing. There is a lot of redundant shit going on that we ought to try to understand despite our reluctance. Until recently I would have found this extreme overflow negative or confusing but now I think differently. Yet all this confusing simultaneity and multiplicity is good if you think of the art field as an experimental laboratory. If what goes on there is bohemian research and development, then we should say the more the better.
Demircan How come?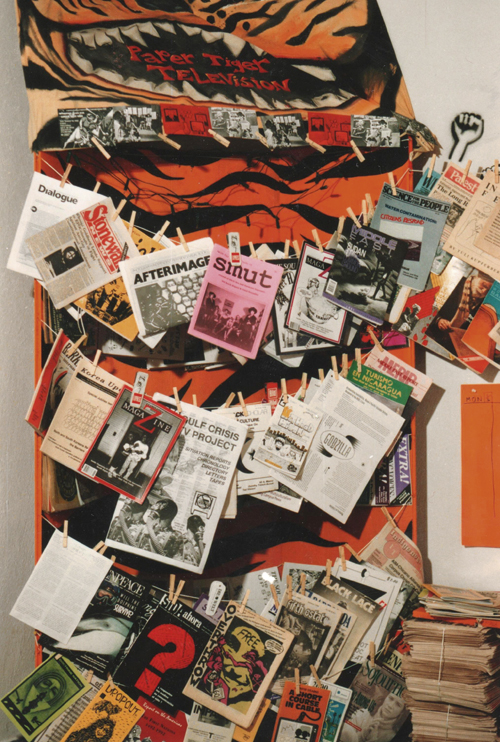 Dillemuth The expansion of the arts has led to their fragmentation. This fragmentation, in turn, has engendered a state of affairs that has long been the case in the sciences – specialization, which has its advantages. As a specialist working within a small area, one doesn't have to understand everything else. That also means that whatever is discovered in such laboratories has to mediate itself. These labs are responsible for testingthe 'functionality' of their findings in relation to their own audiences and not in speculation of their chances on a world-wide market. My interest in open source software helped me to understand this. Instead of an efficiency-based approach privileging the end product, open source gets quality out of this incredible multiplicity and its transparency. Look inside, understand the method and idea, read the code that was developed by a certain community, and develop it further; start a fork and create a new community around this new direction of development. As Eric S. Raymond wrote in The Cathedral and the Bazaar (1999) it is not about a few architects who basically possess the knowledge of how to build a cathedral, while keeping everything in secret behind it. Instead it's about the bazaar: collaborations, flat hierarchies with a permanent exchange of knowledge on a peer-to-peer basis. The more these comprise the diversity of the ecosystem of the arts, the more, the better and the more likely are findings that lead to a change of both art and society.
Stephan Dillemuth is an artist and professor at the Academy of Fine Arts, Munich. He lives in Munich.