Spanning Generations (II)
Exploring the work of Nancy Holt and David Ireland from this year's Spotlight section
For the first New York edition of Frieze Week, critic and curator Jonathan Griffin pairs a selection of established and emerging artists being presented at this year's fair.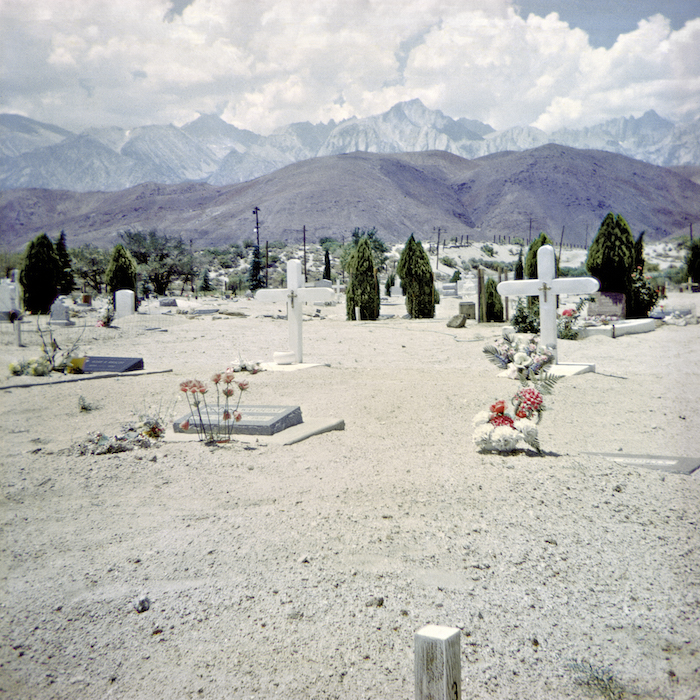 Nancy Holt
Spotlight
In 2014, on the summer solstice after Nancy Holt died, a crowd of friends and admirers gathered in commemoration of her most famous work, Sun Tunnels (1976), in the Great Basin Desert in northwestern Utah. The piece—now an icon of Land Art—consists of four concrete cylinders, each about nine feet in diameter, arranged in an open "X" formation. These tunnels, which are unfenced and physically navigable by viewers, are pierced by holes that correspond with constellations of stars. During the day, the apertures throw discs of sunlight onto the interior walls.
Throughout her career, Holt made outdoor installations using concrete, steel, and landscaped elements, many of which related to the progress of the sun, moon, and stars. She also made installations for galleries ("nonsites," as her late husband Robert Smithson termed such works), as
well as films and photographs, including the series Western Graveyards (1968), shot while on a trip with Smithson and Michael Heizer. "I became fascinated by the graves in the West because they were contained spaces, often with fences surrounding them," she wrote. "They reflect how people thought about the space out West; their last desire was to delineate a little plot of their own because there was so much vastness." 
David Ireland
Spotlight
"You can't make art by making art," David Ireland liked to say. Instead, the San Francisco-based artist, who died in 2009 at the age of 78, did performances, took photographs, built furniture, and cooked dinners at 500 Capp Street, a home he almost inadvertently turned into an immersive work of art.
Ireland came to art relatively late in life, after working as an insurance agent and organizer of safaris on the African continent, among other jobs. He graduated from art school in 1974. San Francisco's art scene was in the sway of the irreverent Funk movement, but also Fluxus, Zen philosophy, Conceptualism, and political activism, as well as a uniquely Californian circle of artist-craftspeople. In 1975, Ireland purchased an 1886 row house in the city's Mission district, intending to use it partly as a studio. He stripped it back to its bones, removing wall coverings and prising off wooden trim around windows. He stabilized the cracked plaster with polyurethane, and installed his own lighting fixtures and sculptures in the space, some of which were made with objects he found when he moved in, like a collection of brooms. After an intensive two-year restoration, 500 Capp Street will reopen to the public this year.
Nancy Holt and David Ireland will be presented at Frieze New York 2016 by Parafin (Stand C51) and Anglim Gilbert Gallery (Stand D32) respectively. 
Spanning Generations: Spotlight, Frame and Focus
With three specially curated feature sections advised by renowned curators Clara M Kim, Jacob Proctor and Fabien Schöneich, Frieze New York is uniquely well configured for visitors to discover the diversity of the global contemporary gallery community and a geographic and generational range of artists. 
A platform for galleries opened since 2003, Focus offers a perspective on the artists of tomorrow: galleries and artists from Brooklyn to Bogotá who are setting the international agenda, and, in many cases already gaining institutional recognition. Frame assembles solo presentations by 18 emerging artists, demonstrating both a diversity of positions and a number of common concerns and approaches, whether Gina Beavers's and Patricia L Boyd's departure from online photography into, respectively, sculpture and painting, or the complementary explorations of fiber installations by Liu Shiyuan and Phillip Zach.
Spotlight, meanwhile, dedicates space to underrepresented twentieth-century work, whether lesser-known moments in the careers of recognized artists (such as Mary Kelly's mid-1980s installations, or Jo Baer's early gouaches); artists coming into or returning to critical attention (such as Robert Filliou and Alan Shields); or artists working from a non-Western perspective (such as Zahoor ul Akhlaq, Abraham Palatnik, and SH Raza.)
This is the second in a 4-part series. The full article appears in the first New York edition of Frieze Week magazine published in April.
Read part I: Frank Bowling and Josh Brand
Frieze Week magazine is the insiders' guide to our art fairs with a preview of the best works on view, news of curated projects and talks, and tips on the most important exhibitions and events taking place around town. Frieze Week is published in anticipation of Frieze New York in May and Frieze London & Masters in October. 
Find out more about galleries at Frieze New York 2016