Featured in
Susan Cianciolo: Turning Bric-a-Brac into Idiosyncratic Couture
The artist-cum-fashion designer takes cues from the DIY downtown New York aesthetic for her upcycling show at Overduin & Co., LA
The collages, clustered bundles and hodge-podge, hanging ensembles in Susan Cianciolo's exhibition 'RUN 12: God is a Jacket' are held together with swaths of multicoloured masking tape, safety pins, dangling thread and loosely knotted fabric scraps. Taking cues from the DIY downtown New York aesthetic for which the artist-cum-fashion designer made her name in the late 1990s, Cianciolo sources these piled structures from the recycled ephemera of her past exhibitions and programmes, twisting, rehashing and reusing day-to-day material anew. The familiar form of a brown paper bag, cut open and spread across the gallery wall in Collage on Butcher Paper (2017), appears elevated with sparkly lettering, sketched watercolours and outlined caricatures on ripped scrap paper. This intimate quality permeates each of the gallery's three rooms, where one might be mesmerized by the material ephemera of Cianciolo's history and present.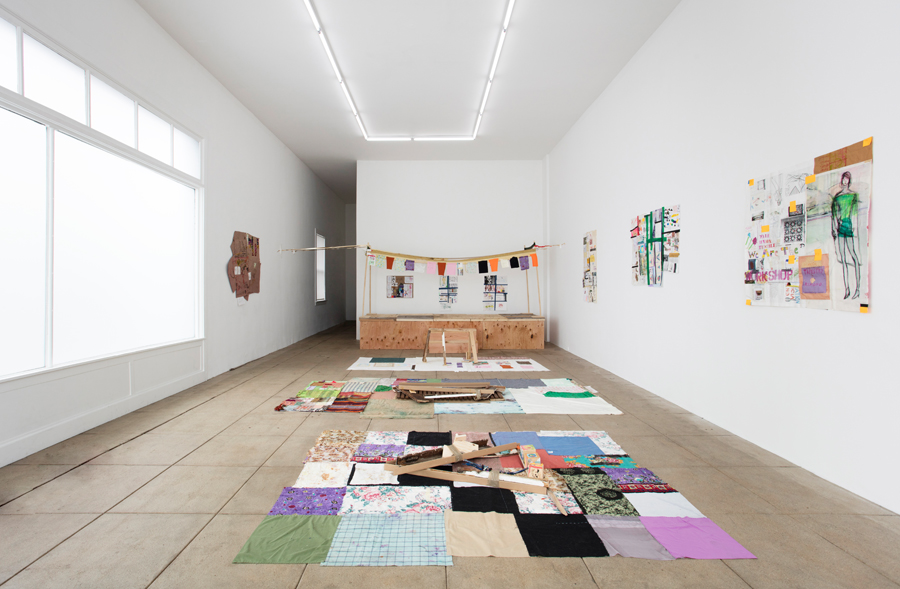 Commodities take on a ritualistic import in her world. A wooden stage (The Altar, 2018) assumes a wide and regal position in the gallery's first room, where it serves as a viewing platform for an array of exhibition announcements collaged on the walls, and the vibrant wood and textile installations strewn about the floor. On the altar, swatches of polka dot and floral-patterned fabric hang beside torn notebook pages and Post-It notes bearing humorous, misspelled messages in a child's oversize, mismatched scrawl, presumably written by the artist's young daughter. One safety-pinned notecard comically sums up the ennui of childhood: 'I love you can we ples jost gow (sic).' On the floor, Cianciolo's Patchwork Geometry 1 (2018) incorporates supermarket coupon newsprint, its pages touting low-priced instant coffee, cabbage and pears. This flimsy paper is at once preciously delicate and kitsch; a contrast the artist embraces as she treats everyday bric-a-brac with reverence.
The show's titular 34 outfit work, RUN 12: God is a Jacket (2018), hangs in the adjacent room. With its name, Cianciolo invests her garments with a spiritual import, like reliquaries for a holy body. She asks, can we conflate piousness with shopping and material consumption? For her 'RUN' series (1995–ongoing), the artist labelled collections and performative events with a corresponding consecutive number that subverted the fashion industry's conditions of seasonal commerce. For this iteration, she hangs original hand-stitched and assembled works alongside old dresses, coats and other found attire. Her delightfully layered ensembles unravel the conventions of originality in couture design, while blurring distinctions between high and low: a high street H&M label juts out prominently from one hanging garment, and a Century21 price tag surfaces on another, confounding surface reads of their material origins, or the labor that produced them. Cianciolo often incorporates idiosyncratic garb, utilitarian items repurposed as impractical couture: a safety-pinned rubber glove, a waterproof cast protector, a garment bag. Hanging on the wall, these outfits are rendered as unwearable artworks, fore-fronting the use value of the things we wear and the class politics and performative nature of self-expression.
In the final room of the exhibition, pairs of actors interview one another about early romances in the video When I Saw Your Frist Eye I Love You (2016). Participants gambol about wrapped in Cianciolo's brightly hued and brashly patterned fabrics. At times, the work's gaiety and optimism feels saccharine. 'I don't know if I was really in love with who he was, or if I was in love with the situation,' one young woman quips, in a rare and sobering moment of honesty, amongst many rosier accounts, as shots of New York city lorries and the ocean tide ebb across the screen. Both here and in her sculptures and garments, Cianciolo's works exude a critical rigor, a savvy about what is essential that cuts away at superfluity even as it incorporates zippers, ribbons and other ornament. While any material might at first appear to be fair game, it is meticulously and carefully composed.
Susan Cianciolo: "RUN 12: God is a Jacket" runs at Overduin & Co., Los Angeles until 14 July.
Main image: Susan Cianciolo, 'RUN 12: God is a Jacket', 2018, installation view, Overduin & Co., Los Angeles. Courtesy: the artist & Overduin & Co., Los Angeles; photograph: Brian Forrest