Syrian Filmmakers Condemn 'Cinematic Looting' of Destroyed Cities
In further news: Man dies in freak accident at Brooklyn Museum; Kandinsky paintings head to Riyadh for Putin visit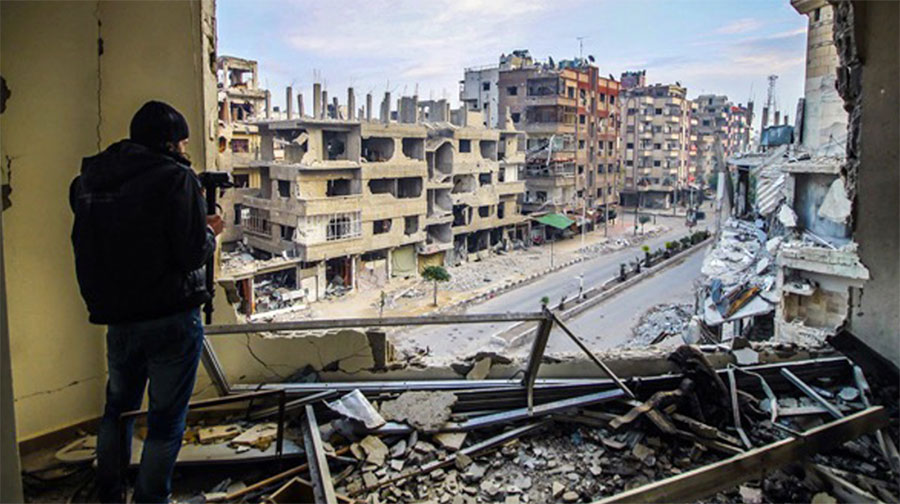 An open letter publicly denouncing the use of destroyed and displaced Syrian towns as locations for films has been signed by 87 Syrian filmmakers. The statement, published by Bidayyat, criticizes the 'increasingly common' use of destroyed towns as 'cinematic backdrops', saying that these towns and cities can only be accessed after receiving permission from military authorities from the Syrian regime. The letter also criticizes the insensitivity of these films: 'they become sets for a wide range of filmmakers who burst with their film crews into those places with their cameras, ignoring the raw recent memories of a place; the sanctity of homes; the stories, lives and memories of their inhabitants,' the letter reads. The letter concludes by condemning 'any documentary or fiction films that have been implicated in this form of cinematic looting, which manipulates the memory that belongs to people and places, and colluding with those responsible for war crimes and crimes against humanity.
A man has died in a freak accident at New York's Brooklyn Museum. The man, who has been named as 34-year-old Kirkland J Dawson, fell three floors from a staircase after attempting to slide down a bannister during the Brooklyn Museum's 'First Saturdays' event, Gothamist has reported. He was taken to the New York Presbyterian hospital, but died the following day on Sunday 6 October. Dawson was a law school graduate of Western Michigan University and had moved to New York to work as a lawyer. A spokesperson from the Brooklyn Museum said: 'We're deeply saddened by this tragic accident, and our heartfelt thoughts are with the visitor's family and friends, and particularly those who were with Mr. Dawson that night.'
A selection of 19 painting by the Russian artist Wassily Kandinsky will be exhibited in Riyadh, Saudi Arabia, during President Vladimir Putin's visit to the country. The paintings, which are usually held at St. Petersburg's State Russian Museum will be on display at the King Fahd Cultural Centre as part of a programme of events foregrounding Russian culture. The occasion marks Putin's first visit to Saudi Arabia in 12 years. Kirill Dmitriev, the head of Russia's sovereign wealth fund, the RDIF, said that during Putin's visit the two countries will sign more than US$2 billion worth of deals. In a statement, the RDIF said: 'The interest shown in Russian abstract art by the forum's participants resulted in a request for a more extensive exhibition in Saudi Arabia by the State Russian Museum.'
In further news: Eike Schmidt has extended his tenure at the Uffizi Galleries, Florence, after a reshuffle of the Italian cabinet led to the appointment of an anti-fascist culture minister to replace a member of the far-right League party – Schmidt had been set take up the top job at Vienna's Kunsthistorisches Museum.