Featured in
From Tape to Toilet-Paper Dispensers: Artist Jörg Schlick Was a Master of Branding
More than ten years after his death, an exhibition at Galerie Nagel Draxler, Cologne, sheds new light on the conceptual sharpness of the artist
Until his death in 2005, Jörg Schlick's oeuvre was bound up in his public persona as a whisky-swigging, self-destructive bad boy. Now, without the smokescreen of the artist's pose of transgression, his ingenious compositions and conceptual sharpness stand out all the more clearly.
This ambivalence between persona and composition was apparent in 'Back in Cologne', his exhibition at Galerie Nagel Draxler. The show's central piece is the triptych Die drei Lichter der Veronika (The Three Lights of Veronica, 1988). It consists of three framed panes of reinforced glass seemingly vandalized with a hammer or baseball bat. The panes' damaged surfaces have been patched up with tape. Emblazoned upon them are the words: KEINER HILFT KEINEM ('no one helps anyone'), the motto of the Lord Jim Loge. Considering the reputation of this semi-parodic hooligan fraternity (founded by Schlick and including artists Wolfgang Bauer, Martin Kippenberger, Albert Oehlen and others), the work could easily be written off as high testosterone fireworks. But if we shift focus to the piece's composition, we see Schlick's agile translation of the lodge's underlying motto into a cryptic system of writing.
Tape – with its superimposed, connecting lines – acts as a signature for Schlick. This was also clear in the four painted polystyrene mirrors of the '100 × 80' series (1986), to which the artist applied not only tape and cardboard scraps but also the gravy-coloured shades of brown paint often used by Oehlen and other peers. Here, distorted reflections of the gallery space meet abstract forms that seem to refer to Kippenberger's jokily-titled work, With the Best Will in the World, I Can't See a Swastika (1984). And Schlick's form of cryptic formalism was readily apparent in the superb collage Ohne Titel (Untitled, 1987), from the series 'Hommage à Andy Warhol: Ich bau auf Euch'. In this work, Schlick screenprinted Richard Avedon's portrait of Warhol – taken shortly after an attempt on his life – in blue onto an almost suprematist arrangement of grainy cardboard and coloured tape. Released from Avedon's sterile black and white, Warhol looks like a martyr who has been pieced back together in several senses.
Schlick's recurrent trademark, however, is his excessive use of the Lord Jim logo, with its iconography of sun, hammer and breasts. Schlick's doggedly pursued goal of making this logo better known than Coca-Cola comes across as slightly ludicrous. The fiction of an actual, operating lodge allowed Schlick to gather all of his diverse activities under a single banner, for example in their official publication Sonne Busen Hammer (Sun, Breasts, Hammer). Disseminating the motto and logo was not an end in itself, but potent raw material for new amalgamations.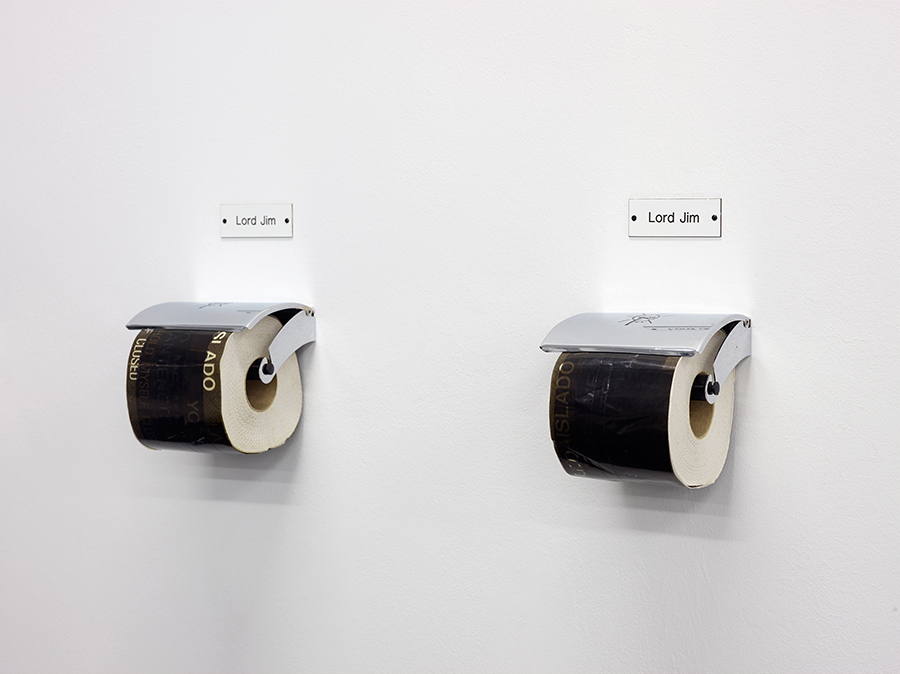 The exemplary Veronika triptych includes both the motto itself and the three segments of the logo: sun (lights) and breasts (Veronica) are well hidden in the title, while the hammer blows are clearly visible in the broken glass. The lodge's insignia came off as occasionally redundant, used by so many works in the show, including two board games and a wall installation of toilet-paper dispensers, Ich halte mich verschlossen (I Act Reserved, 1989). More compelling is the way Schlick turned the lodge against himself, self-critically, by acknowledging its dilettantism. For example, in K.H.K. (1994), three orange gloves, hung on the wall, bear the logo and its motto's initials. These are all lefthand gloves – extending the proverbial two left hands into three. If, in all-male networks, it isn't what you know but who, then Schlick well surpassed that: he actually could make a thing or two.
Translated by Nicholas Grindell
Jörg Schlick, 'Back in Cologne' was on view at Galerie Nagel Draxler, Cologne, from 27 October 2018 until 15 January 2019.
Main image: Jörg Schlick, K.H.K., 1994, screen printed rubber gloves in wooden boxes,  34 x 16 x 4 cm. Courtesy: the artist and Galerie Nagel Draxler, Cologne