Featured in
Taysir Batniji Magnifies the Palestinian Condition
The artist's survey exhibition at Mathaf: Arab Museum of Modern Art captures immateriality and the residues of loss
My first encounter with Taysir Batniji's work was an exercise in the act of seeing. 'To My Brother' (2012), his series of barely perceptible etchings on 60 sheets of white paper, only came into being when I moved against the light. Tracing ethereal outlines of figures from photo negatives, the work recorded moments of joy during his brother's wedding just two years prior to his death at the hands of Israeli snipers during the First Intifada (1987–91). It was the imprint of an erased drawing of an Israeli soldier, the last thing his brother made, which prompted Batniji to use negative space for his commemoration.
Much of Batniji's practice encapsulates this need to capture immateriality and the residues of loss. At the entrance of 'No Condition Is Permanent', his survey show at Mathaf in Doha, sits Impossible Journey (2002–09), an installation the artist created by laboriously shovelling sand from one spot to another – a performance captured in an accompanying looped video. Shown alongside ID Project (1993–2020), which documents the arduous process the stateless Palestinian artist undertook to obtain residency in France, the work frames the sense of dispossession – from land and nationality – that comprises the Palestinian condition.
One of the earliest works in the show, Storm (1998), marks a double dislocation: Batniji's move from Palestine to France, and from his initial training in painting to conceptual art. Two yellow canvases hang side by side, folded inward as if dislodged by turbulence. Jagged smears of paint outline rectangular edges, framing the empty space where they once lay flat against the wall. A group of rolled canvases, Inflammable (1997), created after Batniji's paintings were confiscated at Tel-Aviv airport, are propped against another corner: the title of the work stamped on one side; their contents a mystery and potential danger to the viewer.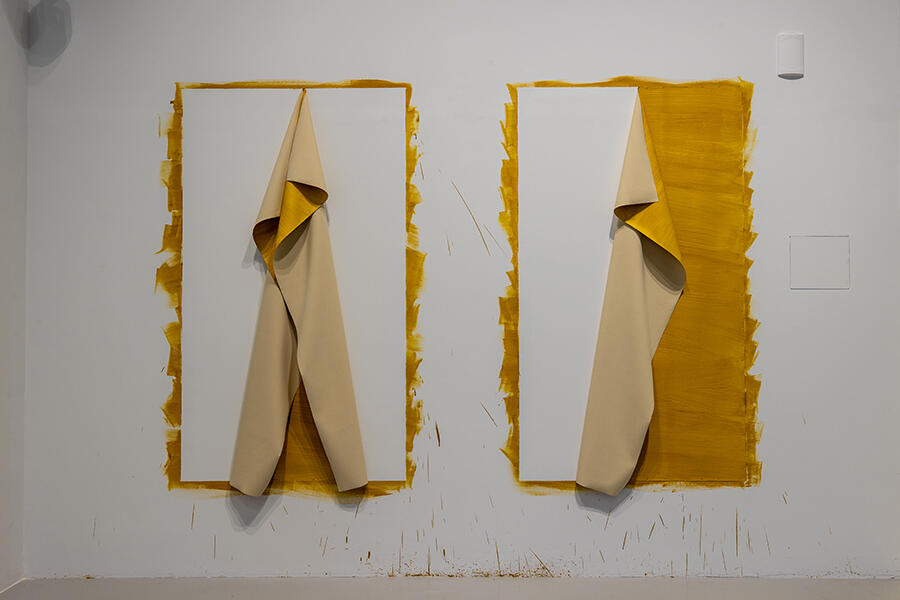 In Absence (1988), the metaphorical disappearance of painting from Batniji's practice becomes a literal omission. Empty A4-sized squares, marked by painted traces of adhesive tape, signify where a painting once was. Hannoun (1972–2009) – a floor installation of red pencil shavings placed below a picture of Batniji's now-destroyed Gaza studio – similarly references an inexistent artwork. Meant to resemble a field of poppies, a national symbol of Palestine, Hannoun was inspired by a childhood memory from 1972, in which Batniji avoided doing his schoolwork by sharpening pencils.
Other works on display are more overtly political, playing with notions of representation and visibility. 'Untitled (Portraits of Martyrs)' (2001–14), for instance, is a series of black silkscreen portraits of Palestinian martyrs killed during the Second Intifada (2000–05), while Gaza Walls (2001) is a photographic palimpsest of weathered posters made during the same uprising. Arguably, however, it is Batniji's more abstract works, such as the series 'Disruptions' (2015–17) – comprising glitchy screenshots of video calls with his family, invaded by painterly swathes of bright green – which more successfully magnify the violence of rupture.
The exhibition ends with a crate-like sculpture composed of bars of soap, engraved with the exhibition title in Arabic, which visitors can take away (No Condition Is Permanent, 2014–22). While this is an optimistic message, it is also one that washes away as the soap is used. By attempting, and failing, to give shape to that which is disappearing and on the cusp of change, Batniji suggests that erasure is a radical act.
Taysir Batniji's 'No Condition Is Permanent' is on view at Mathaf: Arab Museum of Modern Art, Doha.
Main image: Taysir Batniji, Inflammable, 1997, installation view. Courtesy: the artist and Sfeir-Semler Gallery, Hamburg