Things We Cannot See Nor Understand
Taryn Simon speaks about her new project, a collaboration with a nuclear facility in Russia
Pablo Larios: What were you thinking about when developing your current show, 'Action Research / The Stagecraft of Power', at the Garage Museum of Contemporary Art, Moscow?
Taryn Simon: For Black Square XVII (2015) and the film project surrounding it, I was thinking about man's inventions and his disconnect to their applications. I thought back to a video screened in 1965 on NBC in which J. Robert Oppenheimer is seen suddenly reckoning the reality of a power he helped to create. In this video, he quotes the lines from the Bhagavad-Gita in which Vishnu takes on a many-armed form and says 'Now I am become Death, the destroyer of worlds.' In other words: the surreal territory of multi-armed figures and things we cannot see nor understand.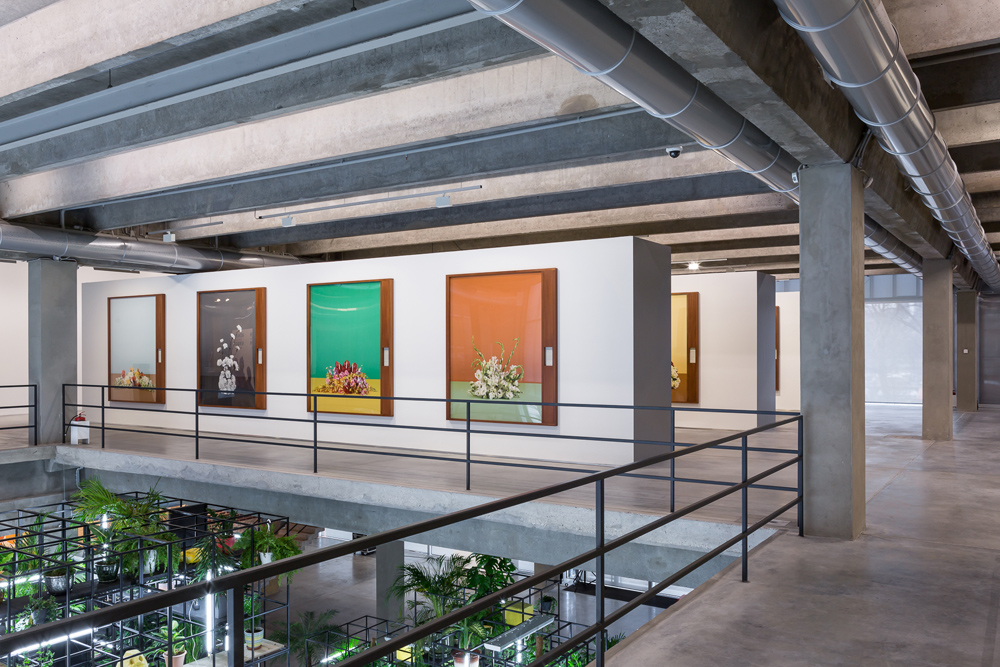 PL: For one part of your project, you have worked with a team of nuclear physicists across Russia to vitrify nuclear waste into a 80 x 80 x 80 cm cube (following, in 3D, the dimensions of Kazimir Malevich's Black Square [1915]), the results of which will not be safely viewable by human eyes for 999 years. In this way, the work becomes quite literally inaccessible. Why the interest in the binary between those can see the work versus the audience and some of the producers of it – including yourself – who cannot see the work? And why here in Russia?
TS: I have a multi-tiered interest in doing it here in Russia. One reason is the nuclear relationship between Russia and the United States that continues to exist almost above immediate political and economic concerns. I was also thinking about my own history and of certain ancestral relationships to a geographical territory that, in fact, I have no immediate ties or physical relationships to except through family and blood ties. And so I decided to create this work of art that will be buried in the land of my ancestors, to be unearthed by a future of who knows what. I also wrote and placed a letter that in a steel capsule that is cast within the radioactive cube.
PL: What was that like?
TS: Writing a sincere letter to the future is a hard thing to do: to try and write to something so in the distance. And to actually take it seriously, and not turn it into a spoof of itself, or an intellectual game.
PL: Your exhibition at the Garage Museum features photographs of all kinds of missives with mixed or unclear receiverships and contexts – for instance a letter written by Ethel and Julius Rosenberg to their children before being executed for conspiracy to commit espionage. What was it like doing this project, which involved cooperation of the Russian state-owned nuclear corporation Rosatom, as someone carrying an American passport?
TS: I had intended to work with a facility named Mayak (Mayak Production Association), near Chelyabinsk. It's a massive nuclear compound that has a long, often covert history – but I was told that their vitrification facility was temporarily closed (I was also later told that was an excuse). So the project moved. A lot of these places don't even exist on maps, or are located as something else, like a poultry farm. I recently had a meeting with someone about the project at a bus stop. As an American, I'm not allowed on site, so the film, and the work of art itself, are being produced by proxy. The work is produced and constructed through people following my directions, which are given in English, translated into Russian, and delivered to workers inside the plant.
PL: Why the interest in doing this project by proxy?
TS: It's an exercise in being a step removed, as a condition of experience. So much information is produced in this way – as an extreme, consider reporting on ISIS – nobody is on the ground – everything is delivered through social media feeds.  A couple of the questions I posed to individuals who work at the nuclear facility involve who 'me' actually is: who is the author of this project? What is this project, what's happening, what are you a part of? We emerge as kind of fictional characters, since the whole thing exists in this other space, through mediation and proxy.
PL: What instructions did you give to the camera team?
TS: I reviewed lots of local showreels to select a cameraman who could enter the facility and be even remotely aligned with my sensibility. But there are impossible hurdles in finding this kind of doppelganger.  Conveying the specifics of lighting, distance to the subject, the centering of subjects in the frame, them looking in the camera (as opposed to looking left and right) –the whole process has been one of trying to teach someone to do exactly what I would do.
PL: How has the project made you reconsider questions of access, and notions of 'staging', more generally?
TS: I guess there's a bit of Antonio Gramsci's 'long march through the institutions' with the project because I'm already on the inside, just by the nature of being able to make this thing. When working on such a project, it's not actually just about 'getting in' from the outside – I have no way of knowing how I'm being used in this whole process, which is also part of it. So it's happening but I have no understanding of what I have become in the chess game. Am I even noted?
Taryn Simon (b. 1975) is an artist who lives and works in New York, USA. Recent exhibitions include: 'Taryn Simon: Rear Views, A Star-forming Nebula, and the Office of Foreign Propaganda', Jeu de Paume, Paris (2015); 'A Polite Fiction', Louis Vuitton Foundation, Paris (2014); 'There Are Some Who Are in Darkness', Museum Folkwang, Essen, Germany (2013); 'A Living Man Declared Dead and Other Chapters I–XVIII', Museum of Modern Art, New York (2012); 'A Living Man Declared Dead and Other Chapters', Tate Modern, London and Neue Nationalgalerie, Berlin (2011).
'Action Research / The Stagecraft of Power' is on view at the Garage Museum of Contemporary Art, Moscow until 22 May 2016. 'Paperwork, and the Will of Capital', at Gagosian Gallery in New York, runs from 18 February - 26 March, 2016.