Featured in
The Uncanny Silence of Thomas Demand
At Jeu de Paume, Paris, the artist's career survey underscores his lifelong project to explore the gap between artificiality and reality
A stutter is an involuntary rupture, a feedback loop gone awry, a glitch in speech. An antidote to today's hyper-accelerated, algorithmically driven media landscape, it makes us slow down and linger in liminal space. In Thomas Demand's excellent touring career survey, 'The Stutter of History', the term refers to the artist's lifelong project to explore the gap between the world we live in and the one represented in his photography.
Demand's unique construction process begins with a historical photograph of an architectural site, or an image culled from the media, from which he builds an intricate model of the scene in his studio using paper, Styrofoam or cardboard. Sometimes, he leaves minor traces of imperfection – a tear in the paper or a surface that reads oddly flat – to subtly indicate that this new image is, in fact, a reconstruction. Using a close viewpoint, Demand then photographs the scene in the style of a large-scale history painting before destroying his paper model.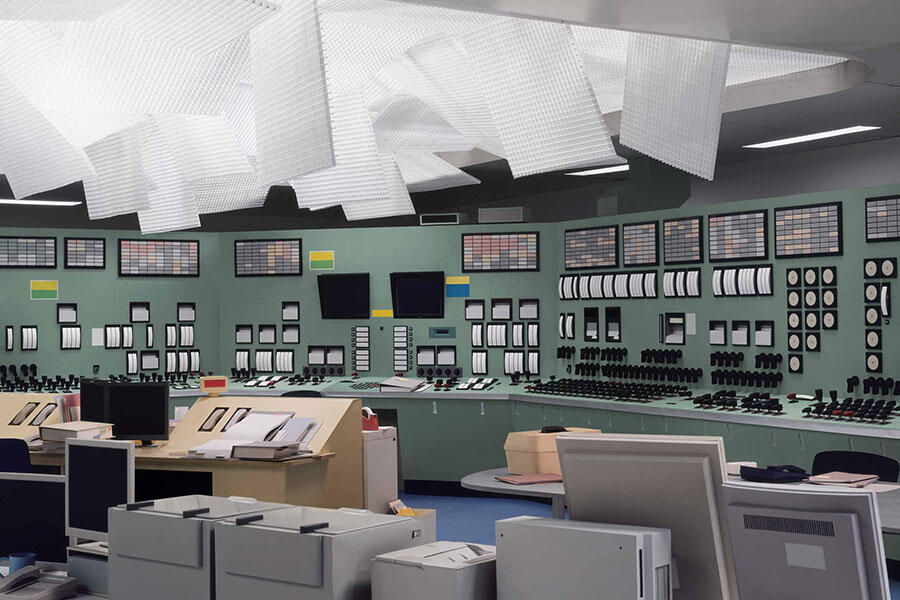 To look at a Demand photograph is to feel triply removed from the original image; each work is a photograph of a paper sculpture of a photograph. None of the artist's images contain human figures, only traces of life, infusing each piece with an uncanny silence. 
Demand's conceptually rigorous approach creates a hyperconscious viewing experience in which we are transformed from casual image consumers into active investigators, deciphering the work's origin and construction. By contrast, Demand's photographs subtly obfuscate reality and underscore our impulse to create a narrative sense of an image. The artist asks us how much photographic subject we need to begin imagining meaning and how we might navigate the gap between artificiality and reality.
In 'The Stutter of History', Los Angeles-based curator Douglas Fogle has thoughtfully drawn distinctions between different areas of the sculptor-turned-photographer's oeuvre. The exhibition opens with Archive (1995), which depicts orderly stacks of grey cardboard boxes. The boxes represent the film archive of Nazi propagandist and filmmaker Leni Riefenstahl. Demand's photograph is not an appreciation of Riefenstahl; it's a re-creation of the materiality of her archive, with its attendant but unspoken horrors. A series of seemingly banal but historically significant scenes proceed this image: US whistle-blower Edward Snowden's Russian hotel room ('Refuge' series, 2021) and the control room at the Fukushima Daiichi Nuclear Power Plant, which disastrously suffered major damage and leaks following a massive earthquake in 2011 (Control Room, 2011). 
The series 'Dailies' (2008–14) – derived from images taken by Demand on his phone – explores the subtle mysteries of everyday life, capturing traces of human activity. For example, in Daily #15 (2011), two takeaway coffee cups appear jammed in a chain-link fence, while Daily #27 (2016) depicts a pile of mail on the doorstep awaiting its owner. Another room in the exhibition focuses on Demand's fascination with architectonic forms and how paper can envelop the body: images such as Wren (2020) document dress patterns by fashion designers, including Azzedine Alaïa, whose archive Demand photographed after the designer's death in 2017. 
Constructed from 52 tons of grey cardboard and digitally modelled to form a stratification of 900,000 sections, the most impressive image in the exhibition is Grotto (2006), Demand's reconstruction of a Mallorcan grotto featured on thousands of postcards. Rooted in the artist's extensive research into the aesthetics of the sublime, the work alludes to capitalism's exploitation of natural phenomena as commercial tourist attractions. The model now resides in the permanent collection of the Fondazione Prada in Milan – one of only a few of the artist's templates to survive. Demand's work is redolent of a hall of mirrors, in which the viewer feels caught between reality and artificiality, a gap that reveals itself in an endless loop – if only we stop to look a little closer.
Thomas Demand's 'The Stutter of History' is at Jeu de Paume, Paris, until 28 May
Main image: Thomas Demand, ​​​​​Grotto, 2006, c-print / diasec, 2 × 4 m. Courtesy: © Thomas Demand, Adagp, Paris, 2023