Top 10 Shows from Across the World in 2022
From Sung Hwan Kim's solo show at Barakat Contemporary, Seoul, to a retrospective of General Idea at National Gallery of Canada, Ottawa
This round-up of exhibitions from around the world toggles between the local and the global. From explorations of specific cultural practices in Mexico and Colombia to large-scale interrogations of individual artists' oeuvres – Christine Sun Kim's two-venue show in Canada, for instance, and Yayoi Kusama's retrospective in Hong Kong – to thematic group shows and an international biennial, here are our 2022 exhibition highlights from beyond the UK, US and Europe.
Busan Biennale: 'We, On the Rising Wave'
Multiple Venues
Busan, South Korea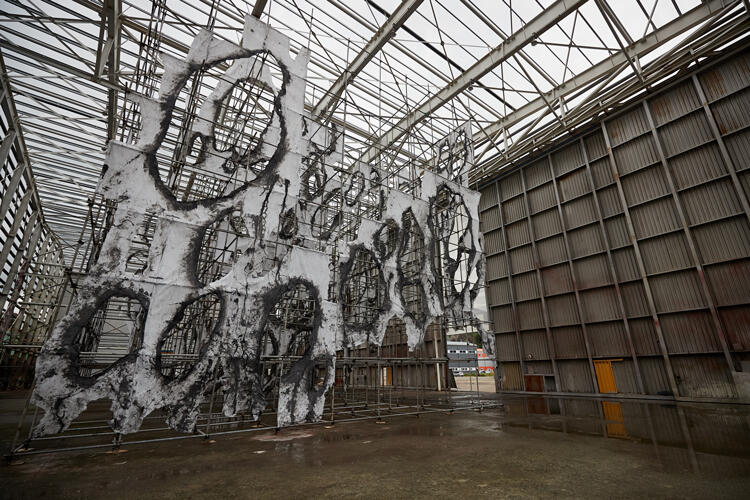 The title of this year's edition of the Busan Biennale, 'We, on the Rising Wave', was apt: 2022 has seen South Korea make its mark on the art world stage. In his review for frieze, Park Jaeyong noted that this biennial 'offers a template for how a large-scale exhibition can retain a focus on local history and identity while accounting for diverse perspectives', pointing to artists like Lee In-Mi and Kam Min Kyung, who capture and critique the changing urban topography of Busan. Park read Mire Lee's Landscape with Many Holes: Skins of Yeongdo Sea (2022) as synecdoche for the biennial as a whole: 'The 40-metre-per-second winds of Typhoon Hinnamnor damaged the work: the structure became minutely slanted, with bigger and looser holes throughout. But the sculpture will not be restored: rather, it has been reconfigured by local conditions to speak a new language.'
Sung Hwan Kim
Barakat Contemporary
Seoul, South Korea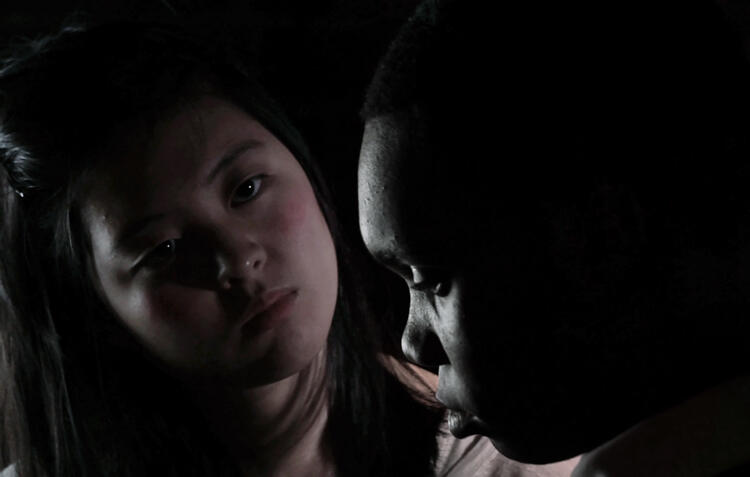 Sung Hwan Kim's exhibition 'Night Crazing' was installed in two of Barakat Contemporary's gallery spaces, each of which included a key video work. In a critic's guide for frieze, Hayoung Chung was particularly struck by Love Before Bond (2017), a poignant meditation on ethnicity and culture inspired by Sung's niece, who questioned her Korean-American identity as an adolescent and participated in the film's voice-over. 'Overlaid with a narration that includes quotes from the writer and activist James Baldwin,' Chung observed, 'the work spins together an ahistorical exploration of aesthetics and otherness.' Keep an eye out for Sung's contribution to our forthcoming January/February issue, in which he recounts his own seminal teenage encounter with art.
Yayoi Kusama
M+
Hong Kong
The largest retrospective to date of the Japanese artist's work outside of her home country, this exhibition, which runs until May 2023, guides viewers through more than 200 paintings, drawings, sculptures, installations and items of archival material. The exhibition, wrote Ophelia Lai in her review for frieze, revealed 'an artist who has always been preoccupied with the relationship between interior and exterior, connecting the recurring motifs of Kusama's seven-decade career to her longstanding engagements with themes of self, space and spectacle'. It spans early drawings from Kusama's teenage years during World War II through her iconic 'Infinity Nets' (1959–ongoing) to new commissions for the show. But, as Lai observed, the breadth of the exhibition also invites viewers to look critically at the tensions between the artist's framing and the work itself: 'Kusama's whimsical and wildly popular aesthetic belies the tensions that undergird her practice, the interplay of nature and artifice, seduction and disgust.'
Lonely Vectors 
Singapore Art Museum
Singapore
 
'Lonely Vectors' surfaced that which undergirds our world – migratory patterns, infrastructural politics, trade routes – through the work of ten local and international artists. In her review for frieze, Christine Han was struck by the work of Bo Wang, whose sculpture of bright fluorescent lights ringed by living plants critiques the treatment of migrant workers in Singapore (Fountain of Interiors, 2022). They are, she writes, 'housed in cramped and unsanitary dormitories outfitted with harsh fluorescent lights, in stark contrast to the warmly lit city built on their labour'. The proximity of the museum's location to the Port of Singapore – the biggest container transhipment centre in the world – lent an interesting slant to the exhibition. That theme was taken up by Singaporean dance company P7:1SMA, who choreographed weekly performances that charted the movements of bodies across space within the architectural framework of the port.
'Pop South Asia: Artistic Explorations in the Popular'
Sharjah Art Foundation
Sharjah, United Arab Emirates
'Pop South Asia: Artistic Explorations in the Popular' surveyed modern and contemporary art from Afghanistan, Bangladesh, India, Nepal, Pakistan, Sri Lanka and their diasporas through more than 100 works engaging with popular culture across many forms of media. Particularly effective in this exhibition, argued reviewer Rahel Aima, were works predating the 1960s that anticipated later developments in culture. These included a number of 20th century Buddhist Sinhalese lithographs 'depicting the early days of Gautama Buddha, effectively telegraph[ing] the brutality that this religiosity would later inculcate in the form of Hindu and Buddhist extremism in India and Sri Lanka respectively'. With the majority of the UAE's population being South Asian, this exhibition was long overdue, contended Aima, and 'as rewarding for the rigour of its research as its textural sumptuousness, was well worth the wait'.
General Idea
National Gallery of Canada
Ontario, Canada
General Idea – with their 'zany, pop-inflected socio-political critique and tongue-in-cheek antics', writes Charlene K. Lau – received their most comprehensive exhibition to date at the National Gallery of Canada this year. Organized chronologically, the show began with the mail art and performance works of the 1970s. In the 1980s, after two of their members contracted HIV, the group began making art that reflected on the burgeoning health crisis, including the iconic 1987 work AIDS. The exhibition came alight, Lau noted, in a room that imposed giant fibreglass versions of a day's dose of AZT (the first antiretroviral drug approved for treatment of HIV), 'a blunt reminder and daily reality for many impacted by HIV/AIDS'.
Christine Sun Kim
Contemporary Art Gallery Vancouver and Remai Modern, Saskatoon
Vancouver and Saskatoon, Canada
Christine Sun Kim draws upon her experience as someone born Deaf in a world that largely disregards that experience to shed light on structures of exclusion. Emily McDermott profiled the artist for our October issue – in a conversation interpreted by Beth Staehle – to coincide with 'Oh Me Oh My', the artist's first large-scale solo museum show in North America, across both Remai Modern, Saskatoon, and Contemporary Art Gallery, Vancouver, which runs through 8 January 2023. Both venues include a selection of Kim's charcoal drawings of pie charts and murals, while Contemporary Art Gallery's showing also features two public artworks. In Why Most of My Hearing Friends Do Not Sign (2019) at Contemporary Art Gallery, small slivers of a pie chart are labelled with explanations of varying validity, but the bulk of the pie is dominated by a singular reason: 'THEY ASSUME I'M 100% OKAY WITH THIS.' 'I want [us] to be in your face, because I want [us] to be part of society, I want [us] to be an everyday thing, I want [us] to be thought of,' Kim told McDermott.
Clarice Lispector 
Instituto Moreira Salles
Rio de Janeiro, Brazil
'How to start from the beginning,' Clarice Lispector wrote in The Hour of the Star (1977), 'if things happen before actually happening?' Organized around quotes by Lispector, 'Constelação Clarice' brought together photographs, ephemera, documents and 300 works of art. The artists on view include Lispector's friends, those she collected, those she profiled as a columnist at the Brazilian magazine Manchete and those who photographed her. 'But it is in the spaces of no explicit connection,' Meg Weeks wrote in her review for frieze, that the curators have really 'gone to work, stitching together narratives of isolation, striving and dislocation across the disparate practices of nearly 30 artists, conjuring a constellation of "possible dialogues".' One highlight of the exhibition was Letícia Parente's In (1975), which touches upon the theme of expectations of domestic female servitude: the artist 'suspends herself on a clothes hanger, closing the doors of the wardrobe as if to pre-empt the foreclosure of her own ambitions'.
Rirkrit Tiravanija 
Kurimanzutto
Mexico City, Mexico
Rirkrit Tiravanija has built a practice around creating environments to engage specific cultural traditions that interrupt regular lived time, encouraging visitors to engage in the present and with each other. Tiravanija was inspired by visits to master potters in Mexico, such as Cooperativa 1050° – an indigenous collective from Chiapas, Puebla and Oaxaca – to create the clay vessels on view in 'Mescal vs. Pulque', where he invited gallery-goers to sample the titular, agave-based drinks. The work, Mebrak Tareke writes, 'is a moving tribute to how relational aesthetics can bring us closer together, disrupting misconceptions around how people should interact differently with objects depending on whether they are in a gallery setting or not'.
Mapa Teatro 
Museo de Arte Miguel Urrutia
Bogotá, Colombia
'Mapa Teatro: Laboratory of Social Imagination', which runs until 6 March 2023 at Museo de Arte Miguel Urrutia, is a retrospective spanning 40 years of the collective's trans-disciplinary work. Founded by Colombian-Swiss siblings Heidi and Rolf Abderhalden in 1984, Mapa Teatro is known for pioneering live art in Latin America and creating 'experimental communities' or 'laboratories' that explore Colombia's landscapes and diverse social imaginaries. In her review for frieze, Jennifer Burris was struck by The Holy Innocents (2010), which explores the titular celebration in the municipality of Cauca, where men of Afro-Colombian descent don women's clothes and whip those who have not dressed up for the occasion. 'While some in the community buy Halloween masks as protection, many others throw themselves on the ground to receive the blows,' Burris explains. Ultimately, the exhibition plumbs 'themes of displacement, loss, domesticity made uncanny, and the haunted moments that infiltrate and shape our reality'.
Main image: Testing a wind-powered instrument at East Coast Park as part of Zachary Chan, Zarina Muhammad and Joel Tan, Dioramas for Tanjong Rimau, 2022. Courtesy: the artists and Edouard Malingue Gallery