Top 10 Shows in the EU of 2020
From the premiere of Aby Warburg's Mnemosyne Atlas in Berlin to Corita Kent's political prints in Innsbruck
If there's anything positive to say about 2020, then it's that we were given the chance to rethink the status quo. We were asked to re-evaluate our priorities, to listen to those in need and to expand our knowledge in areas where we previously had blind spots. In many ways, 2020 has been a series of lessons in unlearning ignorance – something that art can contribute to as well, I believe. Here are a few highlights from some of the remarkable exhibitions that were on view in this unprecedented year:
Sung Tieu
Haus der Kunst, Munich, Germany
Towards the end of 2019, frieze asked who would be the emerging artists of 2020 and which exhibitions should not be missed. On that list was Berlin-based artist Sung Tieu. Her show at Munich's Haus der Kunst, 'Zugzwang', comprised a series of sculptures resembling items of furniture typical of prisons and immigration offices as well as a reinterpretation of Richard Wagner's opera Tannhäuser (1845). As Kito Nedo noted in his profile of the artist, Tieu linked 'the state-funded opera as an emotional powerhouse [with] the state's asylum bureaucracy that enacts its existential tragedies every day'. Nominated for this year's ars viva prize, and with upcoming solo shows in 2021 at Leipzig's Galerie für zeitgenössiche Kunst and Kunstmuseum Bonn, Tieu remains one to watch.
Aby Warburg
Haus der Kulturen der Welt, Berlin, Germany
In the small window of time when galleries and museums were not closed due to COVID-19 regulations, Berlin's Haus der Kulturen der Welt (HKW) provided an incredible premiere: a complete presentation of art historian Aby Warburg's Mnemosyne Atlas (1924–29). For this exhibition, the atlas, comprising 63 panels with nearly 1,000 images, was meticulously re-assembled. Originally created to study the influence of the ancient world during the renaissance and beyond, the presentation at HKW revealed the timeliness of Warburg's approach and its similarities to today's digital-image encyclopaedias. As Brian Dillon observed in his feature on the project: 'There is pain and suffering in these pictures, but also a sense of pure possibility, as though the space between images, or between panels, contained only wind, or the beating of wings.'
'Cybernetics of the Poor: Tutorials, Exercises and Scores'
Tabakalera, San Sebastián, Spain
'Once the realm of conspiratorial think-tanks and science fiction, cybernetics has become banal. Algorithms regulate nearly every aspect of our lives, from the global economy to our no-longer-private habits,' wrote Ren Ebel in his review of 'Cybernetics of the Poor: Tutorials, Exercises and Scores', curated by Diedrich Diederichsen and Oier Etxeberria. Including works by Cory Arcangel, Hanne Darboven, Agnieszka Kurant, Adrian Piper and more, the exhibition at Tabakalera in San Sebastián (which recently travelled to Kunsthalle Wien) looked at the intersections of art and cybernetic systems.
Corita Kent
Taxispalais Kunsthalle, Innsbruck, Austria
In a year in which we faced frequently changing governmental regulations and restrictions to prevent the spread of a deadly virus, I spent much time thinking about rules: the reasoning behind them and the consequences if we don't follow them. Hence, when I visited Corita Kent's brilliant retrospective, 'Joyful Revolutionary', at Innsbruck's Taxispalais Kunsthalle this summer, I couldn't write about her colourful prints and the political statements on them without that in mind. 'Her bold decisions – in her private life and in her art – reveal that she lived, above all, for the last of the ten rules of her classroom: "We're breaking all of the rules. Even our own rules." Kent's prints show how art can be used not only to address political issues but also as a means to break free from the expectations of others.'
 'Tell me about yesterday tomorrow'
Documentation Centre for the History of National Socialism, Munich, Germany
The creeping normalization of far-right thinking is an issue that can't be addressed often enough. The exhibition 'Tell me about yesterday tomorrow' at Munich's Documentation Centre for the History of National Socialism underscored the role contemporary art can play in ensuring historic atrocities are never forgotten. Curated by Nicolaus Schafhausen and Juliane Bischoff, the show included work by 64 artists, including Lawrence Abu Hamdan, Keren Cytter, Annette Kelm and Willem de Rooij. 'Installing a contemporary art exhibition within a permanent museum display designed to foster an engagement with history engenders certain risks – for instance, that one or the other might appear damaged or exploited', wrote Kito Nedo in his review of the show. '[Here], however, both elements come together on equal terms, complementing each other in unexpected and productive ways.'
Larry W. Cook
Weiss Berlin, Germany
For his first European solo show, Washington-based artist Larry W. Cook presented a series of remarkable photographs that shed light on the challenges facing Black parents and question the notion of masculinity. 'Cook's initial exploration of fatherhood […] delved into how it sustains the incarcerated, and how struggling to maintain that relationship from prison reveals the vulnerability of men who are generally considered "tough" by society,' wrote Eric Otieno in his review of the show. 'It is precisely through Cook's documentation of Black paternity that its frequent omission from the American imaginary becomes glaringly obvious.'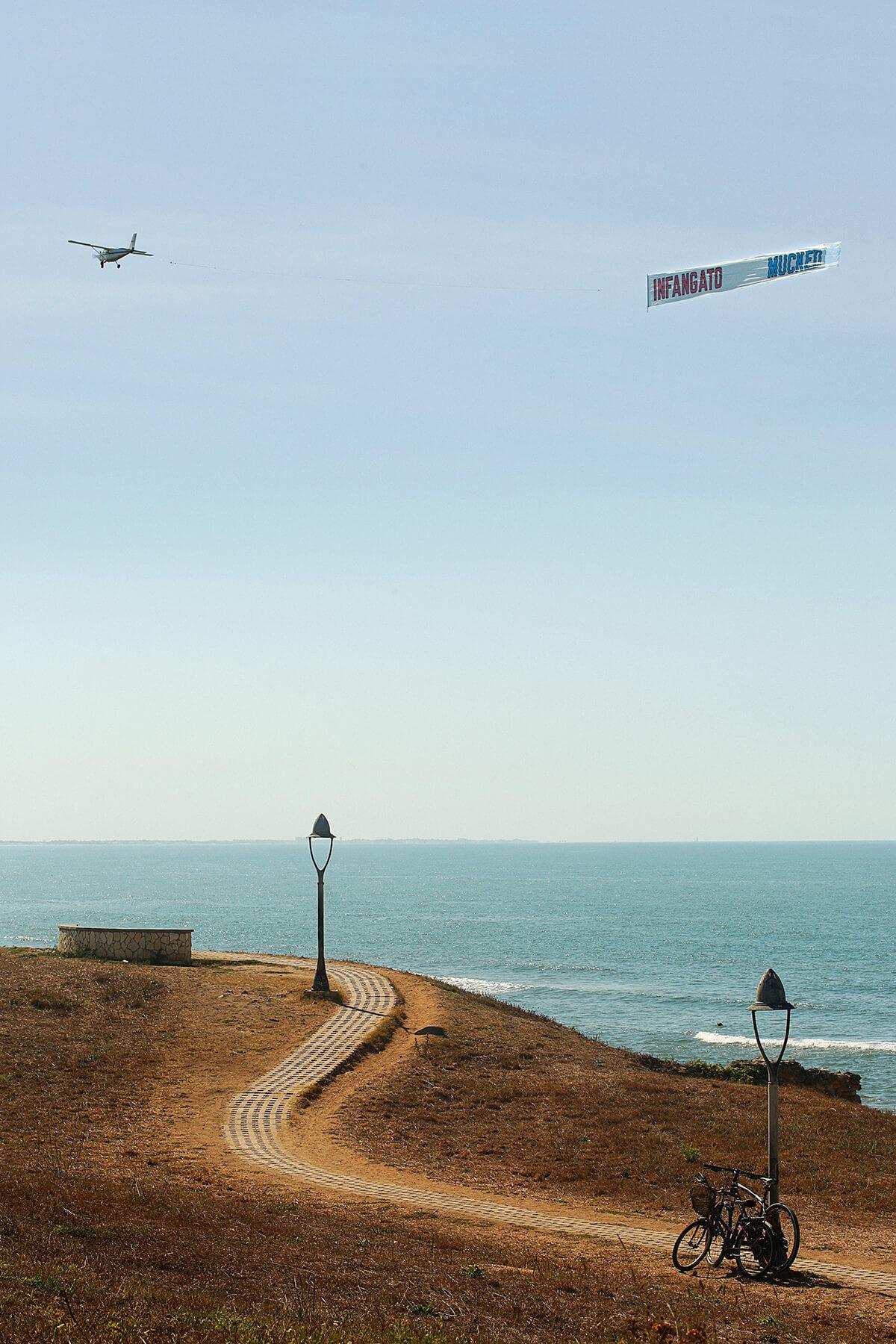 'Museum for Preventive Imagination: Editorial'
MACRO, Rome, Italy
When curator Luca Lo Pinto took office as MACRO's new artistic director at the beginning of this year, he envisioned the museum as a transdisciplinary magazine, whose programme will continue to evolve over the course of the next three years. 'Museum for Preventive Imagination: Editorial', the first iteration of this project, featured works by Franco Mazzucchelli, Joanna Piotrowska, Nora Turato and others. A highlight, however, was the 'Supplement' programme, for which Lo Pinto invited Lawrence Weiner to create aerial banners that were then attached to planes and flown over the Roman coastline this August. As Barbara Casavecchia pointed out in her review, the project 'not only testified to the endless possibilities provided by the reactivation of archives, art histories and collective memories, but proved the sky really could be the limit when it comes to experimenting with new formats'.
Steirischer Herbst
Various venues, Graz, Austria (and online)
Having clicked and scrolled our way through numerous online viewing rooms and exhibition platforms this year, it's notable how few formats succeed in holding our attention. One exception, however, was this year's edition of the Austrian art festival Steirischer Herbst, which reinvented itself as media consortium PARANOIA TV and featured commissioned television series, talk shows and games by artists including Neïl Beloufa, Lina Majdalanie, Rabih Mroué and Ahmet Öğüt. 'While its title is clearly tongue-in-cheek,' wrote Louisa Elderton in her review, 'PARANOIA TV brilliantly acknowledges today's context with truthful intent and a pinch of derision.' An additional component of this year's Steirischer Herbst was a small physical show that took place in various public venues – including a local supermarket – around the city of Graz.
'1 Million Roses for Angela Davis'
Kunsthalle im Lipsiusbau, Dresden, Germany
Including works by Arthur Jafa, Kapwani Kiwanga, Senga Nengudi, Julia Phillips and more, '1 Million Roses for Angela Davis' at Kunsthalle Lipsiusbau examined the rather unexpected relationship between the US civil-rights activist and the former German Democratic Republic. As Sarah James wrote in her review: '[The show] succeeds in telling a complex geopolitical story of a socialist celebrity cult, fed by dreams of radical solidarity interwoven with cynical political opportunism, and propels it into a present defined by extreme racial injustice, the recent Black Lives Matter movement protests and new forms of grassroots global activism mobilizing against neoliberalism and ascendant fascism.'
Jeremy Shaw
Centre Pompidou, Paris, France
For his first solo museum show in France, Berlin-based artist Jeremy Shaw took immersion to a different level. 'Phase Shifting Index' comprised the eponymous seven-screen video installation in which figures perform different rituals and dances. As Francesca Gavin observed in her review, the show both questioned and validated 'the ecstatic – the psychotropic experience, the physicality of dance, the devotion to religion, cult or subculture […] Phase Shifting Index is immersive in the true sense of the word: we merge with the work and are extinguished by our absorption.' In a year characterized by the imposition of restrictions, this exhibition reminded us what it feels like to let go of everything.
Main image: Kapwani Kiwanga, Flowers for Africa: Algeria, 2014, installation view. Courtesy: the artist, Galerie Tanja Wagner, Berlin, Goodman Gallery, Johannesburg/London, and Galerie Jérôme Poggi, Paris