Top 10 Shows in the UK and Ireland of 2020
From a survey of national treasure Steve McQueen to the Irish premiere of Enda Bowe's longing portraits on Belfast's 'peace lines', these are the year's exhibition highlights
No-one could have predicted how 2020 would unfold, nor how many symbols of British imperialism would fall along the way – both literally, with the toppling of monuments to slave traders, and figuratively, with the exploded myth of cultural unity, from homogeneous whiteness to tensions between nations. Yet, despite the tumult, some remarkable exhibitions across the UK and Ireland have emerged this year, providing a space for respite, revelation and dreaming. Here are just a few of the highlights.
Jamie Crewe
Humber Street Gallery, Hull, UK
Grand Union, Birmingham, UK
'Horror is the genre of our times because, obviously, our times are horrifying,' wrote Johanna Hedva of the work of Glasgow-based artist Jamie Crewe, who won the Turner Prize Bursary this year. Crewe's sister exhibitions, 'Love & Solidarity' / 'Solidarity & Love', 'test the possibility of living with a wound', in the artist's words, by stirring us to consider 'repulsive kinships'. Inspired by Radclyffe Hall's novel The Well of Loneliness (1928), Crewe's video works, ceramic sculptures and texts mine the experience of gender performance. A character, interpreted as both a lesbian woman and transgender man, encounters a repellent reflection of herself in a mirror. Crewe asks us to consider 'why and for what purposes a "who" becomes a "what", or […] a "what" become[s] a "who"'.
Steve McQueen
Tate Modern, London, UK
Now celebrated as one of Britain's most iconic directors, Steve McQueen's reputation as a filmmaker sometimes overshadows his achievements as an artist, despite his having won the Turner Prize in 1999. After accepting a knighthood in January – a decision he admits he felt conflicted about – McQueen presented a retrospective of 14 works at Tate Modern that document his artistic development since his last survey at London's Institute of Contemporary Arts in 1999, with the exception of one formative work, Exodus, from 1992. Among these is 7th Nov (2001), a single-take 35 mm film, in which the artist's cousin recounts the day he accidentally shot his younger brother. McQueen continues his work in compelling us to sit with uncomfortable truths about the politics that inform everyday Black British experience with his television series Small Axe (2020), which premiered on BBC in November and is reviewed here by Leila Latif.
Sulaïman Majali
Collective, Edinburgh, UK
Couched within Edinburgh's former City Observatory on Calton Hill, Sulaïman Majali's 'saracen go home' at Collective, Edinburgh, was a jolt to the UK's nostalgia for empire. Taking its title from racist graffiti sprayed on a mosque in Cumbernauld, Scotland, the exhibition presented a 'waiting room' in which objects, field recordings and printed materials countered ideals of national sovereignty. As Hussein Mitha observed in his review of the show, this work 'may be the scene of a cypher'. In the face of Britain's imminent departure from the EU and the UK government's new immigration policies, Majali's waiting room is well worth revisiting.
'We Will Walk: Art and Resistance in the American South'
Turner Contemporary, Margate, UK
The first UK exhibition devoted to African American art from the Deep South, 'We Will Walk: Art and Resistance in the American South', co-curated by Hannah Collins and Paul Goodwin, invited us to question how Black art history is articulated and framed. Featuring works by more than 20 artists – including assemblages and yard art by Lonnie Holley, Joe Minter and Thornton Dial – the exhibition proposed a backyard narrative of the US civil-rights movement. As Amanda Holiday observed in her review, Black history is 'disturbed, threatening, harmless, mindful, human. It is #BLM. But, mostly, it is a story that is still being told.'
Spaghetti Club
650mAh, London, UK
In September 2018, Spaghetti Club – an after-school art club at Grasmere Primary School in east London – asked children: 'What is [former UK Prime Minister] Margaret Thatcher famous for?' One participant replied: 'Eating bats.' Such innocent wit and unabashed furore is what curatorial duo 650mAh felt was missing from contemporary art criticism. In March, they collaborated with Spaghetti Club on an exhibition at Harlesden High Street gallery that indulged in a playfulness with language and visual forms reminiscent of memes. 'Adult visitors to the exhibition laughed as they surveyed these maps of the children's thought processes,' wrote Olamiju Fajemisin, 'entertained perhaps by the realization of their own apathy.'
Khadija Saye
Westbourne Grove, London, UK
Exhibited this summer in Westbourne Grove as part of the public art project 'Breath Is Invisible', Khadija Saye's series 'Dwelling: In this Space We Breathe' (2017) was 'salve for a wounded borough', wrote Natalie Nzeyimana. 'Saye's 20th-floor home-studio and body of work have become inextricably linked to the Grenfell Tower fire, which claimed her life and those of many others on 14 June 2017.' Nine self-portraits capture the artist with various flora, fauna, sacred objects and healing instruments. Saye's merging of religious traditions might be seen as 'a reflection on syncretic spirituality', observes Nzeyimana, 'a familiar truth for many Afro-diasporic peoples'. In the afterlife of Grenfell, 'these images are hauntological yet empowering'.
Toyin Ojih Odutola
Barbican, London, UK
For her first UK exhibition at Barbican, 'A Countervailing Theory', Nigerian-American artist Toyin Ojih Odutola cast herself as the director of the fictional Jos Plateau Research Initiative in Nigeria, presenting a sequence of drawings detailing the developments of a civilization predating the Nok in which two lovers get caught up in a matriarchal society. Resulting from a collaboration with British-Ghanaian composer and sound artist Peter Adjaye, the exhibition guided visitors through the gallery with layered sounds. 'Personally, I'm less interested in an equal society than I am in an equitable one,' wrote Rianna Jade Parker, 'but it makes for an interesting daydream.'
Enda Bowe
Gallery of Photography, Dublin, Ireland
Premiering in Ireland last August, Enda Bowe's series 'Love's Fire Song' documents life on the 'peace lines' built to separate Unionist and Nationalist neighbourhoods in Belfast and Derry. As his starting point, Bowe chose the two symbolic bonfires that are ritually burnt in the region: one marking the protestant King William of Orange's victory in 1690 and the other the 1971 imprisonment without trial of 342 nationalists. 'Perhaps the most formidable aspect of Bowe's exhibition is that it demands neither premature hope nor fatalistic despair from the viewer,' wrote Pádraig Ó Meiscill. 'It offers us, instead, a welcome pause to reflect on how things stand in the present moment.'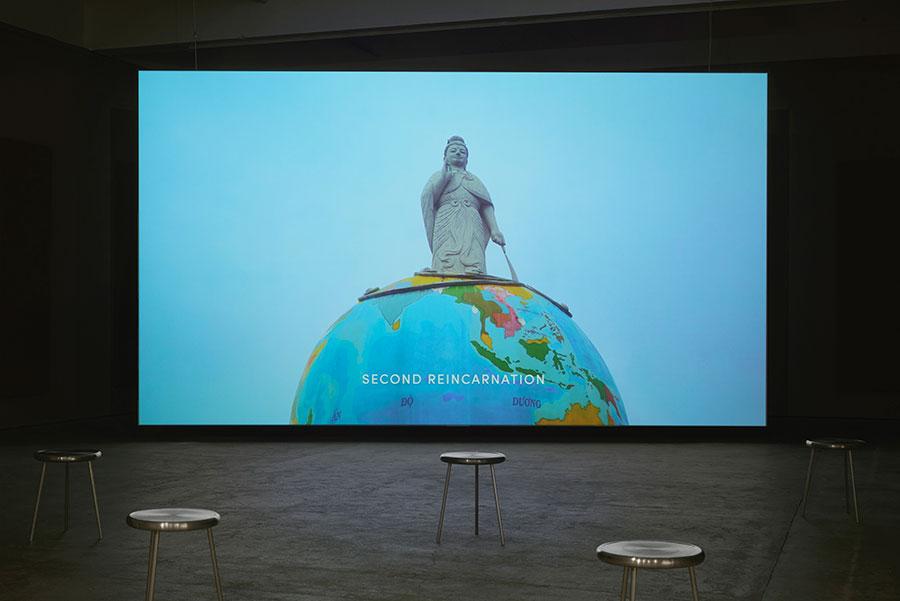 Thảo Nguyên Phan
Chisenhale, London, UK
For her first institutional solo exhibition in the UK, Ho Chi Minh City-based artist Thảo Nguyên Phan presented a video work, Becoming Alluvium (2019), which investigated the environmental changes along the Mekong River and their effect on both humans and the land. With softness, grace and a simultaneous sense of urgency, the artist interweaves fiction and fact, folk tale and history to communicate 'a world, adrift on the verge of ecological disaster', as Maika Pollack observed. 'Illustrative yet dream-like, Phan's works challenge our preconceptions about her native Vietnam by propelling us towards the phantasmagorical.'
Artemisia Gentileschi
National Gallery, London, UK
This long-overdue survey of the baroque painter Artemisia Gentileschi won exceptionally wide recognition. The first ever exhibition devoted to a historic female artist at the National Gallery, it showcased 32 works by the painter and her circle, chronicling Gentileschi's impressive career against the backdrop of her dramatic life story, including her atrocious experience of rape. 'Despite being vulnerable to the ghastly machinations of men and their politics,' wrote Jennifer Higgie, 'Gentileschi is clearly not broken. This is a show of strength: a young woman in total control of her own representation.'
Main image: Enda Bowe, from the series 'Love's Fire Song', 2019, colour photograph. Courtesy: the artist and Gallery of Photography Ireland, Dublin