From V&A Dundee to South London Gallery, The Year in Buildings
A swathe of renovations and extensions across the UK capital suggests an appetite for a different kind of architecture
'London is Re-Open', an updated version of Mayor Sadiq Khan's 2016 slogan should read, following the recent completion of renovations, refurbishments and low-key extensions across a flurry of the city's cultural institutions. Most successful among them has been Haworth Tompkins's 12-year project at Battersea Arts Centre, the scope of which was dramatically expanded after a catastrophic fire in 2015. The firm's work on the Grand Hall is a masterful combination of conservation and reconstruction – the space's charred walls remain as testament to the blaze, while the new plywood ceiling abstracts the destroyed plaster pattern of its 19th century predecessor, once part of the town hall.  
Across the city to the southeast, Victorian civic structures have also been reinterpreted by 6a Architects and Assemble at the South London Gallery and new Goldsmiths Centre for Contemporary Art (CCA), respectively. 6a have performed a characteristically subtle reconfiguration of the former Peckham fire station to add new galleries plus a kitchen for performances and events, while Assemble's CCA transforms the boiler house and laundry rooms of a Victorian bathhouse into a new gallery on the campus of Goldsmiths College. With striking uses of murky-green cement-fibre panels on and the glorious retention of the baths' cast iron tanks as new gallery spaces – white cubes, these are not. 
David Chipperfield, often the inspiration for these historically sensitive projects following his ground-breaking work on Berlin's Neues Museum, was also completing work in London this year, this time at the Royal Academy of Arts (RA). His renovation rationalized the RA's labyrinthine Piccadilly site by connecting Burlington House, home to the institution since 19th century, with Burlington Gardens, which houses a new lecture hall and gallery spaces, via an underground passageway. The renovated RA includes a dedicated Architecture Studio where the provocative 'Invisible Landscapes' programme, curated by Gonzalo Herrero Delicado, continues its exploration of the digital in the built environment into 2019. 
Similarly regal, the Royal Opera House completed its six year 'Open Up' project in September, to a design by Stanton Williams. In an attempt to draw in different demographics, the refurbishment has focused on free access to a new foyer and greater legibility, although the stuffy material palette may stand in its way. On the South Bank, Feilden Clegg Bradley Studio's touch on the Hayward Gallery has been thankfully light, merely accentuating the original proportions of the 1968 gallery – not unlike the refurbishment work of John Puttick Associates at another brutalist favourite, Preston Bus Station, and S1 Art Space's much-expanded premises in a former parking garage on Sheffield's Park Hill estate.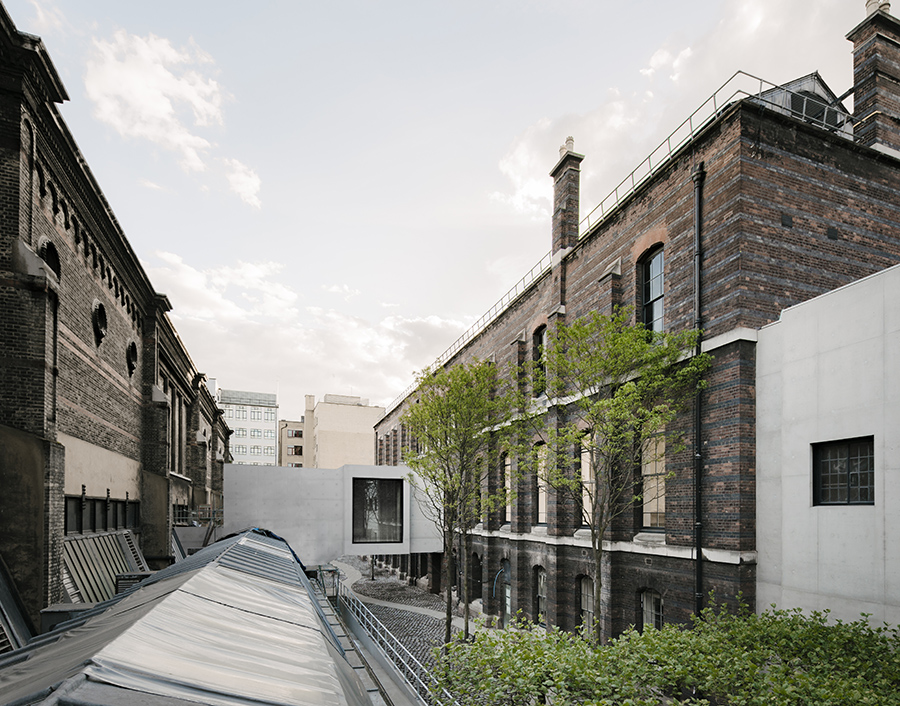 North of the border it's been a mixed year for fans of Charles Rennie Mackintosh. In June, his 1909 art nouveau masterpiece building for Glasgow School of Art suffered a second devastating fire in four years, leaving its future fate uncertain despite some optimism from the school and Glasgow Council. Meanwhile on the Angus coast, Mackintosh's Oak Room, built for a tea house in 1908 and deconstructed piece-by-piece in the early 1970s has been masterfully rebuilt for the V&A Dundee, a landmark project for Scotland and the UK designed by Kengo Kuma. The museum is a muscular, over-budget eruption of stratified concrete that promises to be a 'living room for the city'. While the museum is certainly drawing in visitors from Dundee and beyond – over 100,000 in its first three weeks – its iconic landmark arrival in the city has drawn criticism around the 'Bilbao-effect' and its potentially negative impact on the rest of the city's creative scene. 
Another 'living room for the city' opened in Helsinki in the form of Oodi ('ode' in Finnish), the capital's new central library designed by local firm ALA Architects. The €100 million project rethinks library typology for the 21st century by offering facilities such as sewing machines, 3D printers and a photography studio, alongside 100,000 books that sit eye-to-eye with the national Parliament House on a celestial upper floor. The new Qatar National Library, designed by OMA's Ellen van Loon, makes a similarly valuable addition to the global biblioscape, albeit in a radically different context. The rhomboid structure contains a vast atrium – supposedly OMA's largest room to date – designed to create civic space where it is otherwise lacking in Doha. Meanwhile in the UK, over 100 public libraries were closed in 2018.  
Economic austerity was also to blame for the devastating fire in September at Brazil's Museu Nacional, a 200-year-old building that was suffering from funding cuts and inadequate maintenance while holding 500 years of cultural memory. Only the election of Jair Bolsonaro in October could have made things worse. There is, however, some solace to be found in an emerging group of Brazilian architects achieving global recognition for intelligent and environmentally sensitive work. The studios Aleph Zero and Rosenbaum were awarded the biennial Royal Institute of British Architects (RIBA) International Prize for their collaborative project Children Village in Canuanã, a delicate timber boarding school beneath a huge canopy with immaculate detailing. Carla Juçaba has also been recognized for the modest humanism of her domestic work in Rio and more sculptural project for the Vatican pavilion at this year's Venice architecture biennale. Brazilian legend Paulo Mendes da Rocha was also present at the biennale, fresh from transforming a shopping centre into a public amenity in São Paulo complete with a library, dental clinic and rooftop swimming pool – a vitally optimistic gesture in an otherwise catastrophic year for Brazil.
Mendes da Rocha's contribution to the Venice biennale was a simple line drawing, one of a sprawling set of interpretations to the Freespace theme set out by curators Yvonne Farrell and Shelley McNamara of Dublin-based Grafton Architects. Most attention, however, was drawn away from the main exhibition to the V&A's controversial display of a segment of demolished London housing estate, Robin Hood Gardens, and to the Unfolding Pavilion, a fringe event that saw an apartment in the modernist Giudecca housing estate refurbished and transformed for the duration of the biennale, before being returned to the city government. The latter's approach showed a political awareness and self-consciousness lacking from the V&A's transplanted facade display, something they are counter-balancing with a new exhibition on architectural experiments in social housing (which runs until May 2019).
London's Design Museum is exploring similar ground in two current exhibitions – of work by Peter Barber, whose sociable and social housing projects are among the best being constructed in the capital today, and 'Home Futures', curated by Eszter Steierhoffer, which picks apart the history of the future of the home. These, following MAIO architects' 'Home: Act I' installation, which inaugurated the RA Architecture Studio in May, and Frida Escobedo's evocation of the domestic in her Serpentine Pavillion, suggest there's something on our mind. Perhaps next year we should build some houses?
Main image: V&A Dundee, 2018. Courtesy: Hufton+Crow