Frieze's Guide to Venice: What To See at This Year's Biennale
Your guide to the best on view in Venice – from national pavilions to collateral events and museum shows, from the Giardini to Giudecca
This May, the Venice Biennale descends again on the Italian island city (preview days 8–10; first public opening day 11 May; runs until 24 November). The numerous exhibitions and off-site projects can be hard to get your head around. In the lead-up to the event, we present a guide, written by frieze's editorial staff, so that you can see the best of what's on in Venice.
This page will be updated throughout the event, so check back here regularly.
Main Show – The 58th edition of the Venice Biennale is curated by Ralph Rugoff, Director of the Hayward Gallery, London. 'May You Live in Interesting Times', the title of this year's main exhibition, is supposedly taken from an ancient Chinese curse; the phrase was popularized by figures including the British MP Sir Austen Chamberlain and US Senator Ted Kennedy. Rugoff has said that 'at the outset art does not exercise its forces in the domain of politics.' The main show takes place across two sites – the Central Pavilion in the Giardini and the Corderie dell'Arsenale. All 79 artists will show a distinct body of work in both venues. For the first time, 50% are women.
National Pavilions – As well as the main show, 90 nations will stage their own curated exhibitions in pavilions across Venice, including Ghana, Madagascar, Malaysia and Pakistan, who will participate for the first time.
Founded by the Venetian City Council, the first biennale took place in 1895 and has repeated on alternate years ever since. The original exhibition took place at the Giardini, a park that now includes the Central Pavilion and 29 permanent national pavilions, each of which is assigned to a participating country. 
In 1980 the Venice Biennale expanded to the Arsenale, a former naval shipyard west of the Giardini. The Arsenale now hosts 23 national pavilions of countries including Italy, China, Mexico, New Zealand and South Africa. 
Countries who joined the biennale in more recent years, and who do not have spaces in the Giardini or the Arsenale, exhibit their exhibitions in Palazzos across Venice as well as on various islands around the Venetian Lagoon.
21 collateral events will also take place across the city throughout the duration of the biennale.
The 58th Venice Biennale opens to the public on 11 May and runs until 24 November. The Giardini and Arsenale are open 10am–6pm and on Fridays and Saturdays until 5 October the Arsenale is open late until 8pm. The biennale is closed on Mondays except 13 May, 2 September and 18 November.
 
Australian Pavilion
Austrian Pavilion
Belgian Pavilion
British Pavilion
Canadian Pavilion
Danish Pavilion
French Pavilion
Finnish Pavillion 
German Pavilion
Greek Pavilion
Japanese Pavilion
Spanish Pavilion
Swiss Pavilion
US Pavilion
Brazilian Pavilion
Mexican Pavilion
Indian Pavilion
Ghanaian Pavilion
South Africa ​Pavilion
Scottish Pavilion
Maltese Pavilion
The Giardini della Biennale contains the Central Pavilion and the Pavilions of Belgium, Hungary, Germany, Great Britain, France, Netherlands, Russia, Spain, US, Denmark, Austria, Israel, Switzerland, Japan, Finland, Canada, Uruguay, the Nordic Countries (Sweden, Norway, Finland), Australia and Korea 
Angelica Mesiti
Australian Pavilion, Giardini
At a time when the inhabitants of this planet are more mobile than ever before, non-verbal forms of creativity can facilitate profound interactions between strangers. This is the beating heart of Angelica Mesiti's work. With great sensitivity, she has portrayed the talent and individuality of various members of migrant and refugee communities via performances of rare beauty. She has also paid homage to non-verbal forms of exchange, some of which are dead or dying out, such as whistling, Morse code and public mourning. As the daughter of an Italo-Australian family who now lives in Paris, Mesiti is, herself, well placed to recognise the vagaries of displacement.
The starting point for Mesiti's new work for the Venice Biennale, Assembly – a 25-minute, three-channel video installation – is a stenographic machine still in use in the Italian senate. Called a 'Michela', it was invented in the 1863 and, although a typewriter of sorts, looks like a piano keyboard. The artist became fascinated by the idea of coding a poem by David Malouf 'To Be Written in Another Tongue' on the machine, which was then arranged into a musical score by composer Max Lyandvert. Mesiti worked with around 40 Australian artists to produce the work, including dancers, filmmakers and musicians. She told me that her aim with the work was to create a 'melodious, harmonious, dissonant, polyphonic eruption of knowledge' – in other words, a portrait of how most lives are lived. 
–  Jennifer Higgie, Editorial Director
Renate Bertlmann
Austrian Pavilion, Giardini
Until this year, no solo female artist has ever represented Austria in the Venice Biennale. For curator Felicitas Thun-Hohenstein, Renate Bertlmann's presentation is intended to send a message about endemic gender imbalance and inequality in the art world. Over the course of her 50-year career, Bertlmann has sought to disrupt the systems of patriarchal oppression society imposes on women.
Bertlmann finds in her artistic work 'a willingness to take risks,' using her own body in performances, photographs and films to address topics such as pregnancy, sexual violence and gender. Bertlmann's exhibition 'Discordo Ergo Sum', encompasses drawings, photographs, films and sculpture works alongside a new two-part installation spread across the pavilion courtyard. In selecting a leading artist of the feminist avant-garde, Thun-Hohenstein asks us to consider what constitutes radicality in these times, to reflect on how much has changed since the 1970s and how much still needs to.  
– Sean Burns, Publishing Trainee 
Jos de Gruyter and Harald Thys
Belgian Pavilion, Giardini
Disney's dark ride 'It's a Small World' was first unveiled at the World's Fair in New York in 1964, a co-production from Pepsi-Cola and UNICEF. Pepsi initially struggled to conceive its pavilion for the event, which was run by New York's great infrastructural leveller, Robert Moses. Alfred Steele, Pepsi's CEO, leaned on his wife, the actress Joan Crawford, for ideas; she turned to her friend, Walt Disney. In his book Within the Context of No Context (1981), George W.S. Trow writes of his experience as a twenty-something working at the World's Fair filled with animatronic rides 'representing' corporations and nations: 'In some ways, the Fair was the loneliest place in the world', he states. 'The ride was an event that threw people deep into gloom.'
A similar sense of sugar-coated morbidity shoots through the work of Belgian duo Jos de Gruyter and Harald Thys. In their dark, deadpan videos, drawings and performances, the artists often draw on an inventory of invented characters: exemplars of bland, alienated late-capitalist life in western Europe. Their project for Venice, MONDOCANE, is a sculptural installation that resembles a local folkloric museum and collates a roster of cartoon-like characters, cultural products, human disasters and tourist destinations. Stars of the piece include a fortune teller and sorcerer named Catherine Deshayes; an animatronic baker rolling pizza dough; a depressive who is drawn to sexual fetishes; a French Nazi; mimes; bodily ailments such as rheumatism; a collection of different suitcase styles and foodstuffs like croque monsieur and camembert. Despite the childlike exterior of these automatons, underpinning them are the existential crises hitting western Europe today, plus a jab at the promotion of 'nationhood' so often on display at Biennales. It's a small world after all.
– Pablo Larios, Senior Editor
Cathy Wilkes
British Pavilion, Giardini
Cathy Wilkes's process is one of enhancement via erasure. A solitary pram and an abandoned toy horse; an empty porcelain bowl and a family of mannequins cloaked in rags: this is representation of unrepresented people by eradicating their defining characteristics. Wilkes was born in Belfast, Northern Ireland, lives in Glasgow, Scotland, and, following her solo exhibition in MoMA PS1 last year, her largest to date, she will enter the British Pavilion at a time when Britain itself is grappling with the very notion of representation. It is also a time defined by its incessant clamour, its populist confusion and its sheer illegibility. With her cool sculptural assemblages of found objects, Wilkes rebuffs all of this, opting instead to work with a cast of shadows: disenfranchised figures who lack the agency to move, to emit sounds, but are burdened with tragedies nonetheless. To this end, Wilkes invokes Friedrich Nietzsche's figure at noon: that moment when, as Wilkes summarised in 2008, upon being nominated for the Turner Prize, 'the shadows of objects sit on top of those objects, and are not visible as something outside'. This is the quick moment when a sole image breaks into two. When a shadow, or an empty porcelain bowl, becomes more than it is.
–  Harry Thorne, Associate Editor 
Isuma
Canadian Pavilion, Giardini
Zacharias Kunuk has been many 'firsts': director and producer of the first film released entirely in Inuktitut, the Inuit language; co-founder of the first independent Inuit production company, called Isuma, and now the first Inuit artist to represent Canada in the Venice Biennale. Kunuk joins his partner and fellow filmmaker Norman Cohn and the rest of the Isuma team, based in Igloolik, in presenting a new film, One Day in the Life of Noah Piugattuk. In line with Isuma's many documentaries of Inuit history and life – examinations of indigenous traditions and belief, conflicts with settler colonialism and struggles for survival on the icy tundra –  the film will examine the long century (from 1876 to 1996) in which the Canadian government forcibly displaced indigenous people from remote communities to formally registered towns to attend English-language Federal Day Schools.
– Evan Moffitt, Associate Editor 
Laure Prouvost
French Pavilion, Giardini
Enter the belly of the beast. This creature is like, but is not, an octopus: it has form yet is fluid; it lives within shadows yet lusts for the light; it has many beating hearts, many more brains. 'Deep See Blue Surrounding You', Laure Prouvost's French Pavilion at the 58th Venice Biennale, summons forth this tentacular beast to test notions of fluidity, escapism, journey and mystery. Central to the pavilion is a newly commissioned film that documents a road trip that Prouvost and a joyously bohemian troupe (storyteller, acrobat, karate teacher, priest and so on) took from the Parisian suburbs to the floating waterways of Venice. 
The resulting work will bear the hallmarks of a dream: co-authored and cohabited, coalescing and convalescing as the subconscious shifts to the strange shifts to the seditious shifts to the startling madness of a creative community. In Venice, this watery mirage will extend into our own lives; Provoust plans to draw looping tentacles out from the screen, stretching them up and under and around the architecture of the pavilion itself. This is, as Prouvost writes in the film's script: 'A trip to our unconscious.' This particular trip is not directed by a map – not a known one, at least – nor is its final destination recorded. But as Herman Melville, that most notorious chronicler of the seas, wrote: 'true places never are.'
– Harry Thorne, Associate Editor 
'A Greater Miracle of Perception'
Finnish Pavilion, Giardini
In 2010, numerous surveys showed that the majority of the Finnish population wanted to limit immigration in order to protect their national culture. Five years later, at the height of the European migration crisis, 300 asylum seekers were entering the country per day, an event that saw the country's centre-right conservative parties – the National Coalition Party, the Finns Party and the Centre Party – form a coalition government. (Following a renegotiation in 2017, Finns Party were replaced by Blue Reform.) In March of this year, the entire government resigned, citing irreconcilable differences and demonstrating once and for all how truly divided the country has become.
Under the guidance of Miracle Worker Collective (MWC), this year's Finnish Pavilion intends to prove the administration wrong. But how? Step 1: Avoid any form of nationalism, instead encouraging transnational relationships. Step 2: Explore transdisciplinary practices. Step 3: Widen the discussion and spread the word. MWC is a transcontinental and transdisciplinary community, including writer and filmmaker Hassan Blasim, artists Outi Pieski, Leena Pukki, Lorenzo Sandoval and curators Giovanna Esposito Yussif, Christopher Wessels and Bonaventure Soh Bejeng Ndikung, amongst others. Inspired by Nigerian poet Esiaba Irobi's understanding of miracles as means for spiritual and political resistance, MWC seeks to construct an exhibition that is critically engaged and widely accessible – it will coincide with a series of public events across Europe. While it remains unclear what aesthetic this will take, it is certain that ideas of collectivity, community and national representation will be fundamental. And perhaps this mindset will one day feed back to the commissioning country – miracles can happen. 
– Carina Bukuts, Publishing Trainee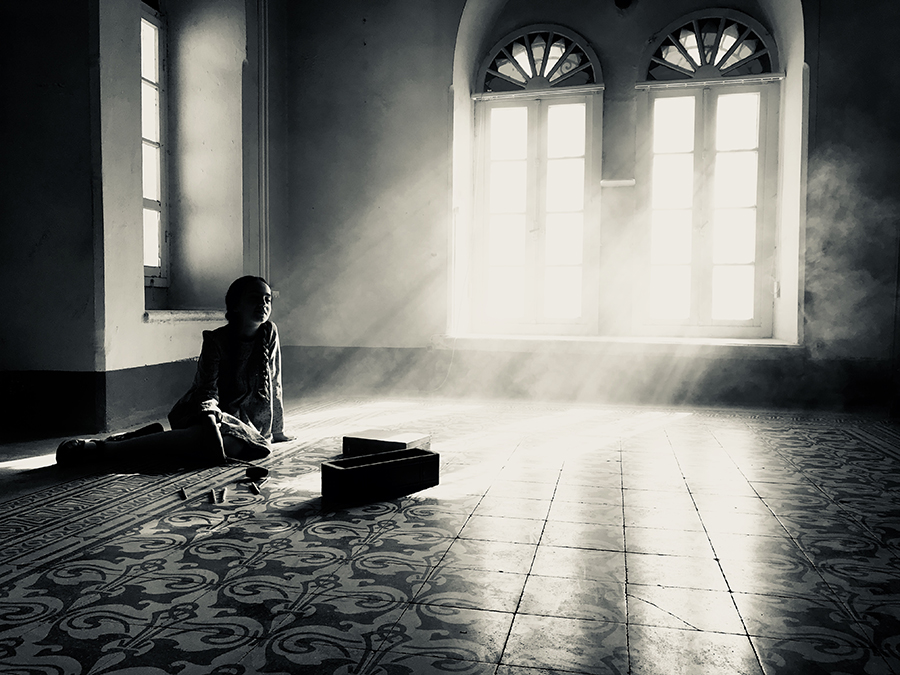 Larissa Sansour
Danish Pavilion,Giardini 
I first saw Larissa Sansour's work at the Barbican in London in 2017: haunting, relevant and political, her fictional video essay, In the Future, They Ate from the Finest Porcelain (2015), meditates on nation-building and belonging, archaeology and mythology. The Jerusalem-born, London-based artist is representing Denmark at this year's Venice Biennale with 'Heirloom', a solo show curated by Nat Muller. Working across various media, Sansour creates science-fiction worlds and futures that reflect on current political issues – often relating to the conflicts affecting Palestine – as well as enduring notions of displacement, memory, history and identity. For 'Heirloom', she is presenting a two-channel video, In Vitro (2019), set in Bethlehem decades after an environmental disaster, alongside an architectural intervention in the pavilion and a sculptural installation reproducing an object from the film on a monumental scale. Sansour describes the premise on the Danish Pavilion's website: 'The dying founder of a subterranean orchard is engaged in a dialogue with her young successor, who is born underground and has never seen the town she's destined to replant and repopulate. Inherited trauma, exile and collective memory are central themes.'
– Caroline Marciniak, Editorial Co-ordinator 
Natascha Süder Happelmann
German Pavilion, Giardini
We never quite know what to expect from Natascha Süder Happelmann – or, rather, the Berlin-based artist Natasha Sadr Haghighian, who donned a new moniker for her German Pavilion this year. (It's surely one of the only times in the history of the Biennale that an artist has dissimulated themselves in this way.) I've followed Haghighian's work closely, but the conceptual sleight-of-hand here filled me with glee: the new name is based on auto-correct and a decades-long history of misspellings of her given name. The act claws at the ridiculous soft-power nationalism of the entire Venice hullabaloo, and the acts of cultural stereotyping that they inspire. Like Happelmann/Haghighian, I'm a Berlin import, and I know that Germany is a place of considerable cultural tolerance; but life there remains an experience in cultural essentialization and brusque national micro-aggressions. But Happelmann goes beyond this, bristling at the imperative to 'represent', tout court.
The mind behind this, Haghighian, is one of several artists today spearheading what seems to be a critical revival of institutional critique – and whatever she shows at Venice will merit attention. In the past, Haghighian has founded a web-based service scrambling artists' CVs and résumés, cultivated multiple artistic autobiographies (for Documenta, she was a male British architect born in 1966) and produced works meticulously examining, say, the lucrative export of arms from Germany. The German pavilion, itself a Nazi edifice, is enshrouded in a repugnant political history and, like most of Europe, Germany is regressing into nationalism and xenophobia. With her project (commissioned by Franciska Zólyom, who runs Leipzig's Museum of Contemporary Art), Happelmann pops the pomposity of 'representation' like a balloon; in press conferences, she has appeared with a papier-mâché rock on her head. Her works don't elicit much visual allure, but her spectral imagination is much-needed in an age of easy essentialisms and moralism.
–  Pablo Larios, Senior Editor
'Mr. Stigl' (Panos Charalambous, Eva Stefani and Zafos Xagoraris)
Greek Pavilion, Giardini  
What happens to the official book of history when forgotten stories are rediscovered? Artists Panos Charalambous, Eva Stefani and Zafos Xagoraris explore this question in the Greek pavilion for their exhibition 'Mr. Stigl'. As a long-time collector of rare vinyl, Charalambous is known for rescuing voices from the dusty corners of history. (The artist once played found records using unconventional styluses: eagles' claws, rose thorns and agave leaves.) In Venice, Charalambous will construct a stage – or an enormous musical instrument – from 20,000 drinking glasses. At the opening on Friday 10 May, an ecstatic, ultrasonic dance will be performed, and throughout the biennale, visitors will be invited to walk across the installation and activate the artwork.
Eva Stefani focusses on quiet, everyday events. For the biennial, she presents three films: Only Men, Window and Mouth (all 2019). The latter sets archival footage of momentous moments from the past – including grand national parades and public celebrations – to a script which flits between public and private registers of speech. Xagoraris will complete the Greek pavilion with an installation connecting events which happened concurrently in 1948. That year, Greece was in the final throes of its devastating civil war, precluding them from participating in the Venice Biennale. Their pavilion was given over to Peggy Guggenheim's collection of modern art. Xagoraris's sculptural installation combines these two events, which happened far apart, but shaped a collective history.
– Figgy Guyver, Digital Content Co-ordinator 
Motoyuki Shitamichi, Taro Yasuno, Toshiaki Ishikura, Fuminori Nousaku
Japanese Pavilion, Giardini
These days, the question, 'What will the earth look like in one billion years?', doesn't feel much different to asking 'What will the earth look like in one year'? The political, cultural and environmental shifts of recent times have created a cragged landscape that continues to surprise us. The Japanese Pavilion at the 58th International Venice Biennale, curated by Hiroyuki Hattori, seeks to create a space to ponder coexistence during the brink of extinction. The exhibition, titled 'Cosmo-Eggs', centres around how the people of Japan can create an ecosystem which allows humans and nonhumans to successfully coexist and takes its lead from 'tsunami stones', natural rocks that hold the memories of natural disasters. Participating artist Motoyuki Shitamichi has been documenting the stones, which also hold religious, mythological and folklore connotations, for several years after a 2015 visit to Yaeyama Islands in Okinawa. Shitamichi, born 1978, will work alongside composer Taro Yasuno, anthropologist Toshiaki Ishikura and architect Fuminori Nousaku to build a public square and a unified tranquil space filled with music and speech in an attempt to collectively create an experience that explores the fundamental issues of the here and now. With Shitamichi likening the stones to monuments, and his past work focusing heavy on scenery, we can expect a sense of grandeur to the show.
– Kadish Morris, Digital Assistant
Itziar Okariz and Sergio Prego 
Spanish Pavilion, Giardini
Once, in a pastiche of male territorial pissings, the Bilbao-based artist Itziar Okariz went through New York lifting her dress and urinating in public and private spaces: in subway stations, on the Brooklyn Bridge, on cars and in fountains. The work, To Pee in Public or Private Spaces (2001–04), placed her in a lineage of fractious artistic dissenters – from Carolee Schneemann to Judi Chicago to, more recently, Klara Liden – showing how patriarchical asymmetries of power are waged within public space. Today, Okariz's political concerns find their output through video, performance and sound; last year, in some of Spain's best institutions, Tabakalera (San Sebastián) and CA2M (Madrid), Okariz presented works involving yoga breathing techniques, workshops and iterative, text-based performances.
This year, Spain's Pavilion pairs Okariz's work with that of Sergio Prego, also a Basque-born artist who came to prominence in the 1990s. (Insiders will note that the two are former long-term romantic partners.) Like Okariz, Prego has made video works that bristle at social complacence: Lightbox (2001), for instance, is a short video in which he shows himself, in slow-motion, spewing café con leche. But Prego is perhaps better known for his sculptures: intestine-like objects made of cast concrete, which are coiled together and hung vertically on walls. His own works follow a specific (and brawnily masculine) tradition of Basque abstract sculpture, stemming from Eduardo Chillida and Jorge Oteiza and continuing today through superb young artists such as June Crespo or Asier Mendizabal. By pairing these two artists approaching biopolitical concerns head-on, the Pavilion's commissioner, the critic and editor Peio Aguirre, has intelligently drawn attention to gender expectations with regard to media in contemporary art. The show is not a betting contest, but my own vote goes for Okariz.
– Pablo Larios, Senior Editor
Pauline Boudry / Renate Lorenz
Swiss Pavilion, Giardini
There are several ways to navigate a film. In order to watch it, you first need to press play. Once this step has been taken, there are numerous possibilities: pause, rewind, fast forward, repeat. In most cases, I don't even think about these control functions but, when I look at the work of Berlin-based artist duo Pauline Boudry and Renate Lorenz, I become aware of the power that lies in such navigation. It provides the chance to create a different – perhaps even a new – narrative.
In their work, Boudry and Lorenz challenge the accepted traditions of filmmaking as well as the given narratives of history. Their installation I Want (2015) – which is part of their current exhibition at Julia Stoschek Collection Berlin – comprises two films projected next to each other that start off with almost identical camera settings. But, as performer Sharon Hayes switches between the identities of poet Kathy Acker and former intelligence analyst Chelsea Manning, recombining text fragments from both, the camera views also differ from each other. While one camera zooms in, the other zooms out, angles change and, ultimately, the medium that is supposed to document becomes a performer itself. In Telepathic Improvisation (2017), the artists pushed this idea even further by inviting viewers to send telepathic signals to all elements of the installation – including smoke machines, lights and performers – in order to activate them.
Looking at this year's Swiss pavilion, it seems that Boudry and Lorenz will develop this approach further with their film installation, Moving Backwards. Immersed in a space and atmosphere recalling a nightclub, visitors will form part of a choreography created by animated objects, performers and film loops. A collaboration with performers Julie Cunningham, Werner Hirsch, Latifa Laâbissi, Marbles Jumbo Radio and Nach, the work will investigate backwards movements as an alternative form of political resistance. While others would probably prefer to skip our current political situation and move forward, Boudry and Lorenz explore the potential of revisiting the past and pressing 'rewind'.  Sometimes you have to take a step back to move forward.
– Carina Bukuts, Publishing Trainee
Martin Puryear
US Pavilion, Giardini 
Martin Puryear is a titan of modern sculpture. Madison Square Park Conservancy's Kamin Rapaport, who organized the US Pavilion, suggests in a press statement that, 'issues of citizenry, allegiance, democracy, liberty and responsibility have long propelled the artist'. To wit, the title and central theme of the exhibition is Liberty/Libertà, a collection of recent work. The centrepiece of the pavilion will be a new wooden armature, a colossal array of sinuous lines radiating from a central roundel and joined by interstitial grids. But liberty is a relative term. Is it the freedom to create, or the freedom from oppression? Is this liberty as a texture of American life, or as a something to strive for anew? It is worth asking such questions in light of the US's use of abstraction on the world stage as a metonym for the individual liberty so central to its self-identification during the Cold War and beyond. The duality of Puryear's work (like a great deal of abstraction) is that it is simultaneously a conduit for its idiosyncratic creator, and a vessel for the projections and associations of the viewer. What it gains in scope, it often loses in addressing itself to messier, quotidian concerns.
– Ian Bourland, Contributing Editor
Bárbara Wagner & Benjamin De Burca
Brazilian Pavilion, Giardini
Bárbara Wagner and Benjamin de Burca's first film, Faz que Vai (Set to Go, 2015), documents four dancers as they perform traditional moves from Pernambuco, in northeast Brazil, where the artists live and work. Frevo was originally performed on the streets by freed slaves, and reflects black resistance to slavery and oppression; today it has become a tourist attraction and is mainly choreographed for the stage and the camera. In all their work, the artist duo considers the social implications of music and dance genres rather than simply their aesthetics; their intimate portrayals depict empowered individuals whose strength resists historical injustices that are always palpable just off-screen.
The artist duo are fully aware of the ambivalence that certain kinds of ethnographic portrayals can have, and never force their subjects to take moral stances. The title of their new commission for the Brazilian Pavilion, Swinguerra, is a portmanteau of swingueira, a popular dance movement in the northeast of Brazil, and guerra, or war. The artists have once again collaborated with performers in an attempt to reveal the important role dance competitions play in the identity and self-representation of black and non-binary bodies, particularly at a moment of extreme social and political tension in Brazil.
– Fernanda Brenner, Contributing Editor
The Arsenale di Venezia hosts the Pavilions of Albania, Argentina, Chile, China, Croatia, United Arab Emirates, Philippines, Georgia, Indonesia, Ireland, Italy, Kosovo, Latvia, Macedonia, Malta, Mexico, New Zealand, Peru, Singapore, Slovenia, South Africa, Tunisia and Turkey.
Pablo Vargas Lugo
Mexican Pavilion, Arsenale
In 2018, Pablo Vargas Lugo installed a four-metre manhole in the floor of LABOR gallery in Mexico City under a matching skylight. Rain drizzled in, as did the afternoon light amid the sounds of the neighbourhood. This work, Cenote (2018), nods, in its title, to the limestone aquifers of central Mexico, what the Maya believed were gateways to the afterlife. Like much of Vargas Lugo's work, it makes use of a modern system – in this case, Mexico City's plumbing – while drawing on the mythic obscurities of the past to create a sculpture of eerie, almost Robert Gober-like simplicity and quiet. (Read frieze editor Evan Moffitt's review of the exhibition here.) In Venice, Vargas Lugo will present the film Actos de Dios (Acts of God, 2019), organized by frieze contributing editor and independent curator Magalí Arriola. This work, which is based in part on the Synoptic Gospels, will continue Vargas Lugo's ongoing study of the interrelation of ancient and contemporary systems of thought (and their visual symbols) to highlight the flirtatious nature of knowledge and art. Whenever Vargas Lugo looks to the past, whether it be Mayan or Christian or simply his own, we can always expect to see the present – and future. 
– Andrew Durbin, Senior Editor
'Our Time for a Future Caring'
Indian Pavilion, Arsenale
For its second-time presence at the Venice Biennale – and after an eight-year hiatus – the India Pavilion takes the theme 'Our Time for a Future Caring' to revisit the philosophy of M. K. Gandhi, on the 150th year of his birth. As polls open for the Indian general election 2019, the political moment is ripe for a critical reflection of Gandhi's contemporary legacy. This is particularly true of his writings on non-violence – the recent past has proven to be a violent time in the Indian subcontinent. Nandalal Bose's tempera on paper panels, commissioned by Gandhi in 1938, open the show with scenes of village life. These are accompanied by Rummana Hussain's 1993 sculptures made of tiles, mirrors, terracotta and gunpowder, and Jitish Kallat's installation Covering Letter (2012), which takes Gandhi's 1939 letter to Hitler as its protagonist. The group show of seven artists, also including works by Atul Dodiya, Shakuntala Kulkarni, GR Iranna and Ashim Purkayastha, is the result of a historic public-private initiative between the Indian Ministry of Culture, the Kiran Nadar Museum of Art (which has curated it), the Confederation of Indian Industry, and the National Gallery of Modern Art.
– Skye Arundhati Thomas
'Ghana Freedom', curated by Nana Oforiatta Ayim
Ghanaian Pavilion, Arsenale
One of seven African nations represented at this year's Biennale, Ghana will introduce its maiden national pavilion. Catherine Afeku, until recently the head of Ghana's Ministry of Tourism for Arts and Culture, has commissioned a masterful team, including curator Nana Oforiatta Ayim, architect David Adjaye as well as the late critic and curator Okwui Enwezor, who acted as as a strategic advisor. The exhibition's title 'Ghana Freedom' is borrowed from the 1957 song, composed by E.T Mensah on the eve of independence from Britain. 
Provisional sketches show Adjaye to have been inspired by the earth houses of Sigiru, a town in Upper East Ghana, whose adobe walls are intricately decorated with geometric designs. Locally-sourced earth will line the exhibition walls and each elliptically-shaped space will be dedicated to one of the six artists spanning three generations of Ghanaian creativity. Felicia Abban, considered to be Ghana's first professional female photographer, and the distinctive painter Lynette Yiadom-Boakye will offer approaches to representation with their works of portraiture. Large-scale, lustrous works from El Anatsui and Ibrahim Mahama will be installed, as well as a three-channel video work from John Akomfrah and a film sculpture by Selasi Awusi Sosu. 
Four hundred years after the first enslaved Africans arrived in the British colonies in America, 2019 has been signposted by Ghana's the Ministry of Tourism as the 'Year of the Return'. A programme of initiatives has been launched to ignite Ghana's growing cultural sector and to consolidate relationships across the global African diaspora. 'Ghana Freedom' will travel to the National Museum in Accra in December. 
– Rianna Jade Parker, Contributing Editor 
Mawande Ka Zenzile, Dineo Seshee Bopape and Tracey Rose
South Africa Pavilion, Arsenale 
Dung is likely to make an appearance at this year's South African Pavilion. It's an ambivalent metaphor in the work of Mawande Ka Zenzile and Dineo Seshee Bopape. The former artist uses it as ground for his haunting paintings of war and torture victims, modelled on documentary photographs from Vietnam, Iraq, Afghanistan and South Africa's own struggle to end apartheid. Seshee Bopape's packed earth and dung sculptures – which, in her 2017 Future Generation Art Prize show in Venice, were gilded and adorned with the cinders of burnt offerings – reference African spirituality and vernacular building materials. Tracey Rose, meanwhile, has become internationally renowned for her riotous brand of feminist performance. Unafraid to throw metaphorical dung at the racists and misogynists of the world, she seems the perfect addition to what will likely be a powerful and provocative exhibition. 
– Evan Moffitt, Associate Editor 
Charlotte Prodger
Scotland + Venice, Arsenale Docks
Last year's Turner Prize-winner Charlotte Prodger's pretty, iPhone-shot film BRIDGIT (2016) – named after a Neolithic god – showed the environs of Aberdeenshire, set to a rich, auditory fabric of quotation, narrative and the soundscapes of the rural Scottish council. In her solo exhibition at the Arsenale Docks, organized by Linsey Young with the residency Cove Park, Prodger will again return to the Scottish wilderness to probe polyvocal queerness, identity and the porous nature of borders, as well as nature itself. 'Growing up in the rural, agricultural environment of Aberdeenshire as a young person, I understand landscape and queerness as inherently linked,' she writes in the announcement for the show. 'And, as someone who identifies as queer, I'm excited by the fluid borders of identity – especially the perceived edges of gender and geography. The productive crux of this new work is precisely where all these things come into contact with one another.' This new work will likely follow BRIDGIT into a wilderness of ideas and memory.
– Andrew Durbin, Senior Editor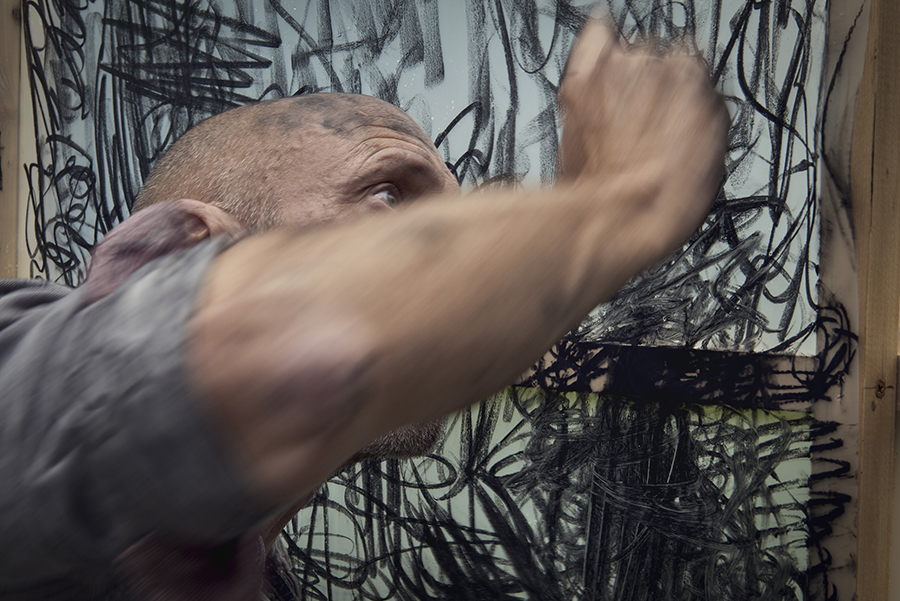 'Maleth / Haven / Port – Heterotopias of Evocation'
Maltese Pavilion, Arsenale
Why does Odysseus leave Calypso? The question at the heart of Homer's great epic of homecoming, which strands the hero on the enchanted island of Ogygia as he strives to return home to Ithaca following the sack of Troy, revolves around the feeling of trouble in paradise. The nymph Calypso resides in a cave, nestled in rich forest, bubbling springs, wildflower meadows, such that 'even a god who came to that place would marvel'. And yet Odysseus wastes his life away, weeping on the beach. More than loyalty, or sheer homesickness, the scholar CDC Reeve describes how it is his very loss of identity, a world that 'gives him meaning', which Odysseus mourns. At this year's Maltese pavilion, curated by Hesperia Iliadou Suppiej, three artists articulate the emotions triggered by the pursuit of refuge, referencing their island's maritime history and 'in-between' identity.
The dust-laden backrooms of the Malta Maritime Museum, filled with model boats, puppets and punch clocks, becomes a stage set for Vince Briffa's film Outland (2019). A multi-narrative work, Outland revolves around the figures of Odysseus and Calypso, and the desires for shelter and departure – what the artist describes to me as 'the particular emotion of dislocation'. The connecting lines through Klitsa Antoniou's Atlantropa X (2019), composed of film projections and seaweed, are a utopian idea by the early 20th-century German architect H. Sörgel who proposed the partial draining of the Mediterranean and the creation of a new supercontinent, and the artist's own childhood in Cyprus through the Turkish invasion of 1974. Meanwhile Cave of Darkness – Port of No Return (2019) by Trevor Borg is inspired by a prehistoric Maltese cave, Ghar Dalam, and its fossil record of ancient dwarf elephants and pygmy deer – the artist presents a collection of 3-D printed bones (and a few from his own imagination too) on a pristine black pedestal.
– En Liang Khong, News and Comment Editor
Rugilė Barzdžiukaitė, Vaiva Grainytė and Lina Lapelytė
Lithuanian Pavilion, Calle de la Celestia, Castello 30122
Italy is far more than the home of the Venice Biennale: it is the birthplace of opera. Since the 17th century, the Italian opera has contributed greatly to our contemporary understanding of this art form, providing us with masterworks such as Giuseppe Verdi's La traviata (1853) and Giacomo Puccini's La bohème (1895). For this year's Lithuanian Pavilion, Rugilė Barzdžiukaitė, Vaiva Grainytė and Lina Lapelytė will present their own durational opera: Sun & Sea (Marina). Located in the Marina Militare, a former navy site next to the Arsenale, the opera will be performed on a beach built from 35 tons of imported Lithuanian sand. From an elevated viewing platform, the audience will gaze down as the chorus lounge on beach towels in colourful swimsuits. (A little like Kylie Minogue's video for Slow, 2003, but with less lip-syncing).
While, at first, passers-by might mistake the durational performance for tourist entertainment alone, Sun & Sea (Marina) focuses upon weightier stuff: global warming, for instance, and the fallout from the Anthropocene – topics that concern every visitor of the Biennale, but especially Venetians. In 2016, UNESCO warned Venice that, if it didn't take immediate action to counteract the effects of environmental pollution caused by cruise ships, the city would risk losing its World Heritage status. A wake-up call to act quick and act loud, if ever there was one.
– Carina Bukuts, Publishing Trainee 
FutuRoma
Fondamenta Zattere Allo Spirito Santo 417
How can a diverse group, whose predicament is tied to a legacy of long-standing discrimination and exclusion, present work to an international art audience on its own terms? This is a question for 'FUTUROMA' – an exhibition of Roma contemporary art, collateral to the Venice Biennale. Curated by Daniel Baker and commissioned by the European Roma Institute for Arts and Culture (ERIAC), it has been organized predominantly through a Roma-led, community-based initiative – the first of its kind. 2007 and 2011 saw the first two exhibitions of works by Roma artists at the Biennale. Supported by the international grant-making network, Open Society Foundations, these initial shows were largely oriented towards non-Roma audiences, challenging stereotyped preconceptions of Roma identity.
Since then, the conversations around Roma culture have shifted and expanded. In 2017, ERIAC, the first research centre dedicated to Roma culture in Europe, was established, while in 2019, RomArchive, a digital platform engaged in archiving Roma and Sinti arts and history, was launched. These community-led initiatives have opened up novel ways of thinking about Roma culture, fostering both a grassroots and cosmopolitan discourse.
Futurity is the theme of the exhibition at Fondamenta Zattere allo Spirito Santo. 'By re-contextualizing our past, the works on display create the foundations for re-imagining our futures, futures in which we are fully recognized for our participation as valued citizens,' notes Baker. Bringing together works by 14 artists from eight European countries, aged between 27 and 95, the show's intergenerational, transnational approach resonates with the flow of Roma history. 
Resisting the forces that delimit their rights and identity, these artists are reclaiming national idioms in ways that hark back to the techniques and traditions of Roma diasporas far and wide. Selma Selman's photograph Self-portrait (washing machine) (2016) captures the artist hacking the eponymous appliance with an axe in The Hague, while Delaine Le Bas's performance Romani Embassy (2015–ongoing) documents the artist holding a hand-written cardboard sign bearing the work's title in different cities. As we face a newly divided Europe and the rise of nationalisms and violence against marginalized groups, these gestures of deviant assimilation feel all the more pertinent. 
– Mimi Chu, Editorial Assistant
Leonor Antunes
Portuguese Pavilion
Palazzo Giustinian Lolin, Dorsoduro 3228 (near Ca'Rezzonico)
The Palazzo Giustinian Lolin, on the Grand Canal, provides a fitting counterpoint to Leonor Antunes's ongoing exploration of modernist architectural forms and the stories they contain. Built in the Venetian late gothic style, the Palazzo was renovated in the 17th century by Baldassare Longhena, whose other designs include the church of Santa Maria della Salute and Ca'Pesaro, now an art gallery. Ca'Pesaro was the favourite, on account of its Japanese art collection, of the architect Carlo Scarpa, Venice's most famous modernist son and a longstanding subject of Antunes's research.
Scarpa is one of two architectural protagonists in 'a seam, a surface, a hinge or a knot', Antunes's solo project for the Portugal Pavilion. The other is Egle Trincanato: the first woman to graduate from the Architecture University in Venice (in 1938), who went on to become the director of the Palazzo Ducale and president of the Fondazione Querini Stampalia. While at the Palazzo Ducale, Trincanato did much of the exhibition design for the shows she staged. Antunes has isolated one of Trincanato's display elements – a thin aluminium column, powder-coated white – to line the walls of the three rooms where her exhibition will take place, creating a clean, modernist skeleton to frame her works. Rather than hang from the ceiling, as Antunes's sculptures have often done previously, their sinuous lengths will be mounted to wooden columns whose volumes are derived from elements in Scarpa's Casa Zentner in Zurich. (And made in Venice by the same carpentry that Scarpa himself used.) His only project outside of Italy, the house belonged to Savinia Maseiri whose attempt, in the 1950s, to commission Frank Lloyd Wright for a building along the Grand Canal precipitated an international controversy between conservatives and modernisers about what was architecturally appropriate for the world's most famous waterway. 
Antunes's elegant framework-within-a-framework approach is partly a necessity: conservation regulations limit interventions into the fabric of historic buildings. But it also restages an ongoing dialogue between tradition and modernity that is key not only for the architectural context of Venice but the craft-focused materiality of Antunes' own work.
–  Amy Sherlock, Deputy Editor 
Igor Grubić – Traces of Disappearing (In Three Acts) 
Croatian Pavilion 
Calle della Regina
Sestiere Santa Croce 2258 (near Mercato di Rialto; San Stae vaporetto stop)
To my mind, two of the best – toughest, compelling, political – pavilions of recent Venice Biennales (Belgium in 2015 and Denmark in 2011) were curated by the Greek, Brussels-based curator Katerina Gregos. This year, she's returning with the artist, documentary-maker and producer Igor Grubić's project for Croatia, Traces of Disappearing in Three Acts (2006-2019). Thirteen years in the making, it comprises three inter-related photo essays and an animation and explores the 'postwar, transitional reality in Croatia, particularly the fundamental shift from socialism to capitalism, from a central, stated-planned to a free market economy.' According to e-flux, the work 'highlights the new situations that are coming to replace the old, while subtly inviting us to think about future ways of imagining – and inhabiting – our world'. Timely. 
– Jennifer Higgie, Editorial Director
Yun Hyong-Keun - 'A Retrospective'
Palazzo Fortuny
San Marco, 3958 (near S. Angelo vaporetto stop, off Canal Grande)
To coincide with the 2019 Venice Biennale, the low-lit, richly textured rooms of the 15th-century Palazzo Fortuny – formerly the atelier of belle époque couturier and set designer, Mariano Fortuny – will host the first European retrospective of Korean monochrome painter Yun Hyong-Keun, who died in 2007. Curated by Kim Inhye of the MMCA Seoul, where an iteration of the exhibition was on show last year, it brings together 55 works, which will be installed across three of the museum's four floors.
Whilst affiliated with the dansaekhwa movement that has received huge international attention (and commensurate market prices) in recent years, Yun always forged his own path. Having lived through the traumas of Japanese colonial rule and the 1950–53 Korean War, he was imprisoned for freedom of expression four times by the postwar military dictatorship, at one point miraculously escaping execution by firing squad. Yun came to painting in the 1970s, already in his 40s, applying highly diluted dark pigment to canvas in successive layers such that his seemingly monochromatic, monolithic forms bleed around the edges, suggesting hidden depths within.
The exhibition will also feature a re-creation of Yun's studio, presenting works by friends and mentors including Choi Jong-tae and Kim Whanki. Though the darkness of Korean politics of the era is deeply felt in Yun's canvases, the studio nods to influences further afield: it includes a wall piece by Donald Judd, whom Yun met on a trip to New York in 1974 and whose spaces at 101 Spring Street and in Marfa would host Yun's first US exhibitions.
– Amy Sherlock, Deputy Editor