Featured in
Brand New
Berlin-based dancer and choreographer Adam Linder and his reinterpretation of Jean Cocteau's seminal ballet Parade
There is a wealth of anecdotes about Parade, the 'ballet réaliste' from 1917 that went down in art history as the first experimental ballet: a seminal encounter between Cubism and dance. The impresario of the Ballets Russes, Sergei Diaghilev, played a central role, instructing Jean Cocteau to 'Amaze me!' From this moment on, Cocteau wanted nothing more than: 'to astonish this maneater, this holy monster, this Russian prince for whom life only seemed bearable as long as he could feast on its wonders.' Pablo Picasso was hired to realize the set and costumes, Erik Satie the music and Léonide Massine the choreography. Like Le sacre du printemps (1913), also produced by Diaghilev, the production was greeted with wild rioting – this time not on the grounds of its archaic vulgarity, but because of the work's perceived banality. With Parade, street entertainment had entered the theatre; the circus had entered the ballet.
Discussing this with Adam Linder, one realizes how easy it would be to get lost in the dense tangle of references when reinterpreting this work. The dancer and choreographer possesses the needed discipline, however. Having grown up in a community of Eastern European Jews in Australia – 'with schnitzel and matjes' – he moved to London as a teenager, studying at the Royal Ballet at the same time as diving into house music and the art scene of the yBA's. By then, ballet already struck him as a museum of living objects. But he was captivated by its strict, process-oriented work ethic, and the perfectionism of classical dance is something that has stayed with him.
Following a neo-classical phase in the Michael Clark Company, he moved to Berlin, initially working with Meg Stuart, whom he describes as 'the mother of somatic self-encounter'. Today, however, he is not interested in using himself as the subject of his performances. Instead, he seeks out links between the canon of classical ballet and positions of contemporary dance – two disciplines now almost completely separate from each other. In Linder's works, a sense of tradition and an approach based on critical reception are conjoined – the body is always also commentary.
With this approach, Linder successfully stages works not only in theatres, but also in galleries and museums. In 2012, Berlin's Silberkuppe gallery hosted the premiere of Ma Ma Ma Materials – a remix of poses throughout history: from the hieroglyphs of ancient Egypt to backstage scenes with a Nan Goldin-like aura. Later, the piece was shown at, among others, the Halle für Kunst in Lüneburg and at Kunst­verein Nürnberg. From Silberkuppe, one can also purchase Some Cleaning (2013), a service-based piece paid for by the hour during which Linder visits clients to execute movements resembling, for example, dusting.
In the new version of Parade, his most elaborate work to date (premiering in October 2013 at Hebbel am Ufer, Berlin), he examined the way marketing and reception affect the character of artistic works. He speaks of the 'stage version of a press release'. This may sound like pretty dry fare for the audience, but it overwrites the original in an entirely distinctive formal language – straddling mannerism and minimal dance, mimesis and surrealism.
The piece was produced in close cooperation with artist Shahryar Nashat – the two have collaborated previously – who has in turn made a film adaptation for the current 8th Berlin Biennale (Parade, 2014). Nashat also designed the set that recalls a stand at an industrial trade fair. Instead of Picasso's Parisian street scene, here one sees partition walls printed with a fake marble effect, bearing the word 'Par-ad-e' as a kind of neurotically recurring brand logo.
Since Germany's Federal Cultural Foundation launched its Heritage Dance Fund, there has been a revival of historical dance pieces across the country. Linder's skeptical: 'the reproduction of a narrative and its historical significance has caused certain names like Sacre [for modern ballet] or Judson Church [the birthplace of conceptual dance] to become brands in institutional jargon. Associations with historical works become cultural capital. I wanted to reinterpret a historical work as a way of addressing this branding. The content itself plays second fiddle, with the main focus on the communicative apparatus: the press release, the teaser, the social network – all this becomes more important than the piece itself.'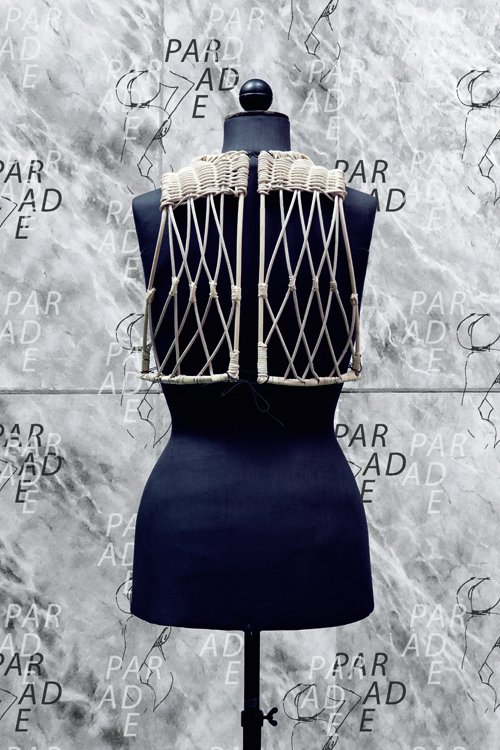 The characters in the original have been largely retained – inclu­ding a variation on Picasso's famous parade horse. Rather than circus people, however, they now represent stylized types from contemporary dance. The costumes were designed by Swiss artist Tobias Kaspar based on the 2013 spring collection by Dolce & Gabbana: highly aesthet­icized, object-like wickerwork cor­-sets affording the dancers more freedom than Picasso's stacked box dresses. Nashat, meanwhile, took the object nature of the costumes and the material quality of the figures to extreme lengths, fitting two characters with his signature chrome green polyhedra. As 'auratic magnets', they fulfill the role of the original 'barkers' whose job was to pull in an audience for the circus. In the film version, they are reawakened, rapping critical comments taken from Linder's libretto that relate to contemporary dance and art in general: 'this is like totally a self-portrait. My work is my person and my person is my work.'
In Cocteau's original libretto, instructions were also included. For those who had a problem with Satie's music, where the style changed in almost every bar – from ragtime to waltz to imitations of everyday sounds – he offered some proto-postmodern advice: Everyone hears what they want to hear, creating a piece of their own. 'Cocteau was seriously meta!', Linder blurts out appreciatively at one point during our conversation. The same might be said of him.
Translated by Nicholas Grindell