Featured in
'We Want to Be the High Fashion Version of Supreme'
With fans from Lizzo to Kandis Williams, genderless No Sesso is a brand on the rise
It's an unseasonably warm morning in mid-November when Pierre Davis, No Sesso's creative director and designer, walks through the door of her West Hollywood showroom. A 30-year-old black transgender woman, she wears a vintage caramel-coloured skirt, yellow knee-high socks emblazoned with her brand's name – Italian for 'no sex' or 'no gender' – and a white No Sesso × Bephie T-shirt, featuring a pink screenprint of a line drawing she recently made. The illustration depicts four women rocking bold nameplate necklaces – like the one that spells 'Pierre' in gold cursive hanging around the designer's own neck – and the bouffant, asymmetrical, 1990s-era hairstyles that have informed Davis's art practice since childhood. Laying a black bag screenprinted with the same glamazon design in neon green on the table, Davis explains that she first gained an interest in art and fashion reading her hairstylist mother's magazines (notably Blackhair and Hype Hair), in her hometown of Charleston, South Carolina.
'Blackhair is a whole story in the South. People really got into it, especially in the 1990s, and the styles from the '90s were my favourites. I got a lot of inspiration from them,' says Davis. But it was two-year stint studying fashion design at the Art Institute of Seattle in the late 2000s that prompted her to launch her genderless brand in 2013. The Art Institute 'asked us to go to a few basic retail stores, like Nordstrom, to get inspired and come up with a collection', as Davis recalls. 'I wasn't inspired, so I started No Sesso.'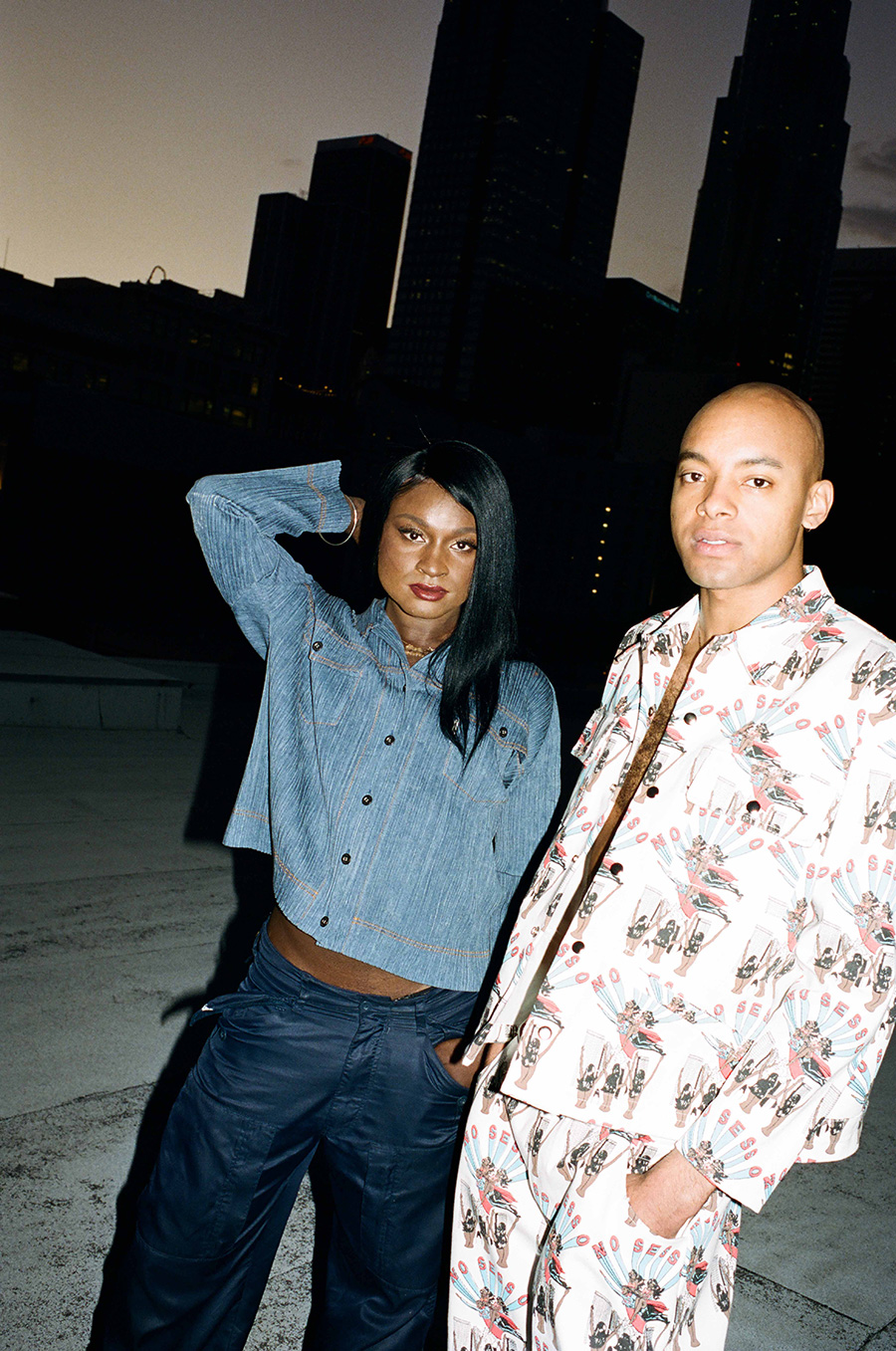 Over the past six years, No Sesso has staged shows everywhere from the fountains of the Getty Center in August 2018 – with musician Kelsey Lu live-scoring the procession of black models and dancers, clad in corseted rococo ballgowns made from custom basketball jerseys (an attempt, Davis told me, to 'dismantle all of the whiteness that was in the Getty and make a space for black creatives to see themselves') – to the runways of New York Fashion Week where, in February 2019, Davis became the first trans woman to be included in the official schedule of the Council of Fashion Designers of America. Along the way, No Sesso has assembled a 'family' that includes A-list entertainers like Lizzo and Billy Porter, esteemed curators such as the Hammer Museum's Erin Christovale and the Museum of Modern Art's Lanka Tattersall, as well as emerging artists including Janiva Ellis and Kandis Williams – both of whom have also been No Sesso collaborators. Indeed, in some ways, No Sesso functions more like an art collaborative than an international fashion brand. Aside from a few accessories and some merchandise, all of Davis's garments are unique and need to be custom-ordered. 'I guess it's like buying a painting,' she says, playing with a gold ring that also spells out 'Pierre'. 'Our clothes are a little bit different, more avant-garde, so I would rather have customers come directly to us; it shows that they really want it.'
This singular approach to production has been part of No Sesso from its inception, when Davis first meticulously embroidered and tailored items from repurposed denim and leather. Rather than model those first pieces on runways, Davis preferred to exhibit them as sculptures installed at art venues like the boutique-exhibition space LoveCityLove in Seattle and the artist-run Los Angeles gallery Sade. At an offsite exhibition for No Sesso's first pop-up, which Sade's co-founder Alberto Cuadros helped organize, Davis exhibited a soft sculpture 'jacket', made from a patchwork of fabrics and padding, which hung from a white architectural pillar 'like a crazy stuffed animal', she says. 'It's not that [No Sesso clothing] wasn't meant to be worn; I just didn't want to display it on people because that's what everyone does. No Sesso is art. The way that it's worn on a body does just as well in a picture frame or installed in a gallery.' Some art collectors have even worn No Sesso garments once to a gala, and then installed them in their homes like rare tapestries. It makes sense: a custom No Sesso design can take up to six months to produce.
While Davis focuses on the design, production and sales in Los Angeles, her business partner, Arin Hayes, 25, handles PR, marketing and casting out of New York. The two met in Los Angeles at MOCA's 2015 'Step and Repeat' festival, where Davis did a reading invoking slave play as part of a Juliana Huxtable performance. Hayes was modelling at the time, while studying at USC School of Cinematic Arts, and offered to edit a No Sesso campaign video. The bicoastal partners have been evolving No Sesso ever since. From this point forward, says Hayes, 'it's a matter of us doing what we're doing, but building the capital and the social power to do it in a way that is resourceful and can reach and impact a lot of people. We want to be the high fashion version of Supreme, and do literally anything and everything.' This includes a series of panel discussions No Sesso has plans to launch with friends in (and interested in) their community. Meanwhile, Davis and Hayes will continue to show 'somewhat theatrically' on the runway in New York (in the vein of the shows once produced by their fashion icon, Alexander McQueen), but also hope to expand their more libertine presentations in Los Angeles or Tokyo, where they showed with a group of emerging New York talents last spring. 'When we show in Los Angeles, it's a free, no-invite-only deal, so there's no crazy fashion politics,' says Davis. 'But with that come thousands of people. We did a collaboration in 2018 with Come Tees and 2,000 people showed up to this warehouse space in Chinatown.'
That crowd of 2,000 is testimony to No Sesso's resonance with the wider culture, as well as the scope for the brand's evolution. 'There are more brands starting to make unisex clothing, but is that really genderless fashion?' wonders Davis. 'I feel like a lot of brands just make really boxy clothing and consider that unisex. But it's all about the tailoring, the cut of the silhouette, who wants to wear it. Any garment can be genderless, in a sense; it's about how you wear it and how you identify yourself. Once the trend is done, there will still be people like me.' 
Main image: Arin Hayes of No Sesso, Downtown Los Angeles, November 2019