What the 'mirror museum' says about the Louvre Abu Dhabi
The ghostly museum in Walid Raad's performance Kicking the Dead hints at the real challenge facing the Louvre's new Middle East outpost
Along with France's centenary commemoration of World War I's Armistice day, this Saturday 11 November marks the opening of the Louvre Abu Dhabi. Announced in 2007, and initially scheduled to be completed in 2015, this is the first Louvre-branded museum outside of France. The inaugural show will present 600 works, half from the Louvre's collection and half from 13 partner museums in France. The Louvre breaks ground for forthcoming neighbours Guggenheim Abu Dhabi and the Zayed National Museum on Saadiyat Island – the USD$27 billion cultural district project manifesting Sheikh Khalifa bin Zayed Al Nahyan's ambition to give Abu Dhabi the enlightened facade its authoritarian regime is lacking. Saadiyat Island, in Arabic, translates as 'Island of Happiness'. 
In Kicking the Dead (2017), a work performed during the Steirischer Herbst festival in Graz this September, Walid Raad weaved lengthy plots around the creation of the Louvre Abu Dhabi. Drawing from extensive research and documentation on a variety of issues (World War I, Islamic art, financial scandals, the skyscraper index, historical personalities, the study of colour, and much more) Raad delivered his findings through objects and story-telling – in the artist's practice, medium and subject-matter never quite fit a static definition. Referred to as walkthroughs or presentations, the audience was invited to follow the artist through the gallery rooms, who took on the role of tour-guide,. Ultimately, as this viewer came to realize, the audience would be taken on a more extravagant performative ride than initially anticipated.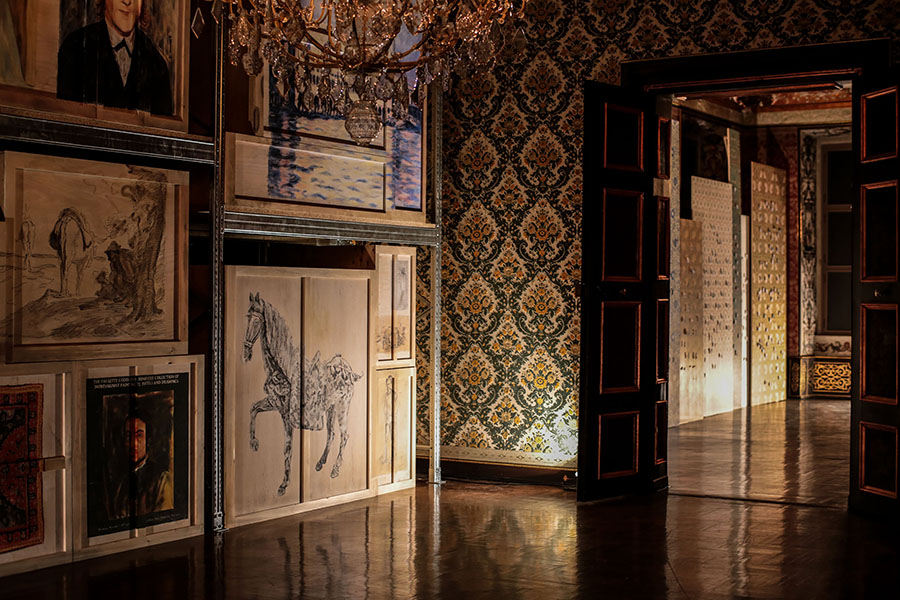 Raad is a member of the Gulf Labor Artist Coalition, an organization that has been petitioning the UAE and its institutional partners to improve the living and working conditions of the workers on Saadiyat Island since 2010. The artist has been denied entry to the UAE since 2015, along with two other members, artist Ashok Sukumaran, and NYU professor Andrew Ross. He only mentions this in passing in Graz, speaking rather about a fictional institution that maximizes profits literally from workers' sweat: by making them wear suits that transform sweat lactate into electrical energy, and store it to power AC units for the workers' village in so-called 'bio-batteries.'
Raad talked about shape-shifting artworks that travelled from Paris to Abu Dhabi and changed their appearances, as well as their shadows – a real-imagined mystery. This story was a hard sell to the crowd I was in, but Raad proved it by showing exhibited models where the 'original' shadow was painted on a coloured panel while the 'new' ones were made by the display lights. Leveraging his three-year collaboration with the museum in Paris, Raad proved his credentials by providing a voice over to a video of a Louvre employee transporting crated artworks.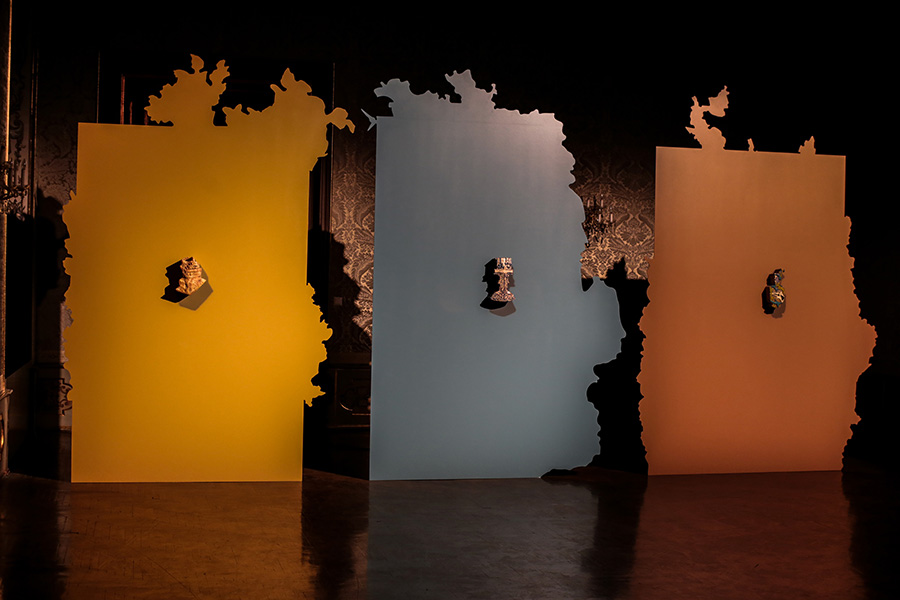 Through a series of narrative loops and well-timed connections in his plot, Raad mentions the Louvre Abu Dhabi acquiring the collection of Yves Saint Laurent and his partner Pierre Bergé, as well as the Versace art collection. He introduces the fictional character of Hanan, an art advisor to Sheikh Khalifa in charge of filling the empty museum, who makes the mistake of acquiring the painting collection of German novelist Erich Maria Remarque and film star Paulette Goddard (judged too Western by the Sheikh), and subsequently has trouble getting rid of it. Raad recounts Hanan's peregrinations as she finds out the paintings themselves are actually undead, which explains why they keep reappearing in their original crates each time she sends them to each of Remarque's former residences, from Osnabrück in northwestern Germany to Porto Ronco in Switzerland.
In the end, after unsuccessfully following advices from physicians, fortune-tellers, and art historians, Hanan listens to a local sheikh, and sends the paintings to Ypres in Belgium (a place with many World War I ghosts, as detailed in an earlier story, and where Remarque was injured during the war). Having trained herself as a colourist, Hanan paints mirror images of each painting on their corresponding crates. The undead are rebuffed by their own reflection, thus preventing the paintings from coming back to life.
In an interesting segue, this notion of mirroring is used by a researcher of the Gulf-region, Alexandre Kazerouni (who has previously collaborated with Raad), who proposes the notion of the 'mirror-museum'. The term denotes a strategy whereby nation states in the region, no longer content with cultivating local heritage, use internationally visible cultural institutions to deflect attention from their internal political and social affairs. So while in France, critics against le Louvre des sables (Louvre of the Sands) lament the slipping away (some worry about the conditions in which works will be transported and kept) and the commercialization of their cultural patrimony, a serious challenge remains: that these shiny new museums prove themselves more than mere cultural mirages.
Main image: Louvre Abu Dhabi. Courtesy: Louvre museums; photograph: Roland Halbe