What To See in Central London During Gallery Weekend
From Kate Dunn's quasi-religious vision of the rave to Alicia Henry's unique take on portraiture, these are the best shows in the West End  
Rachel Whiteread
Gagosian Grosvenor Hill
2 April – 6 June
'Internal Objects' marks a departure for the Turner Prize-winning artist Rachel Whiteread. Rather than casting monumental architectural elements in traditional sculptural materials, as she has often done in the past – such as House (1993), the cast of a Victorian terraced house that won her the Turner – Whiteread has built two dilapidated sheds entirely from salvaged objects: wooden slats, wire mesh, beckoning branches. With every surface and crevice white-washed with house paint, which initially conceals countless subtle details – a squashed tin lid, a doorknob, stones on a windowsill – the structures take on a haunting quality befitting their titles: Poltergeist (2020) and Doppelgänger (2020–21). The smaller wall works also merit closer inspection. What at first passes for a flattened cardboard box, for instance turns out to be hand-painted bronze, hammered paper-thin (Untitled: Yellow Relief, 2020–21). These are uncanny triumphs of beauty and technical prowess that invite you to devise your own ghost stories.
Frank Bowling
Hauser & Wirth
5 May – 20 July
For Frank Bowling's first show with Hauser & Wirth since he was signed to their roster last year, the gallery has divided the exhibition between their spaces in New York and London – two cities the artist has lived and worked in over the course of his six-decade career. 'Frank has redefined the course of abstract painting by merging American abstraction with the essence of English landscape tradition,' said Neil Wenman, a partner with the gallery. In London, this fusion is demonstrated through a show of eight works, painted between 1985 and 2020, which are a testament to the impressive physicality, sensuality and delicious deployment of colour that make the Guyana-born artist so special. On stitched canvases, thick impasto slides and swirls, bubbles and erupts, hardens and cracks. Acrylic gel is frozen in waves, while found objects find their place under pearlescent pigments. The layers and luminosity point to the influence of 18th-century British landscape painters like J.M.W. Turner, Thomas Gainsborough and John Constable, who Bowling has consistently cited as major influences. The show at once justifies Bowling's place in history after years of relative obscurity, while affirming the 87-year-old's enduring modernity.
Kapwani Kiwanga
Goodman Gallery
8 May – 12 June
Canadian artist Kapwani Kiwanga, who was awarded the prestigious Prix Marcel Duchamp last year, has built her practice around an affinity for unconventional materials and the complex structures they represent, informed by her anthropological research into colonial histories and speculative Black futures. At 'Cache', Kiwanga's first show in London since her 2015 UK debut at South London Gallery, these dual interests are brilliantly on display in a series of fabric pieces, small mixed-media paintings and sculptural installations. In Sisal #1–4 (2021), hanging steel frames carry stiff fibres made from the eponymous agave plant, native to Mexico and transported to Tanzania in the 19th century by German agronomist Dr Richard Hindorf as a cash crop for the former colony. They practically beg to be stroked, while speaking to a dark economic and social past that spans continents. In Triangulation: 1, 2 and 3 (2021), cotton fabric, treated with pigment and Atlantic sea water, depicts the coded symbols that were sewn into quilts and hung along the Underground Railroad to provide direction to enslaved people in the US. Each work is an incredible fusion of beauty and backstory that brings marginalized narratives to the fore.
Kate Dunn
TJ Boulting
2 June – 3 July
Inspired by the concept of collective effervescence – a term coined by 20th century sociologist Émile Durkheim to describe the state of group euphoria achieved in moments of social union – Kate Dunn has combined elements of the chapel, the nightclub and the gallery for her debut installation, The Tabernacle – Welcome to Pharmakon (2021), at TJ Boulting. In the works on view, UV-reactive paint is boldly brushed and splattered across arch-shaped canvases like psychedelic stained glass, taking on new appearances as the lighting changes from standard bulbs to UV to darkness over the course of seven minutes – all to a pounding soundtrack by Shoobz Darg. Dunn says she first discovered gabber – the aggressive and divisive high-BPM strain of techno – while developing the show and found herself drawn not only to its 'harsh, loud and distorted' sound, but also to the way that its fans 'seemed not to escape their bodies, but to expand or explode them' on nights out, pushing themselves past the point of exhaustion in order to keep up with the music's unrelenting pace. This ties into the artist's vision of the rave as a quasi-religious space of transcendence which contains, as the philosophical concept of 'pharmakon' proposes, both toxic and curative properties.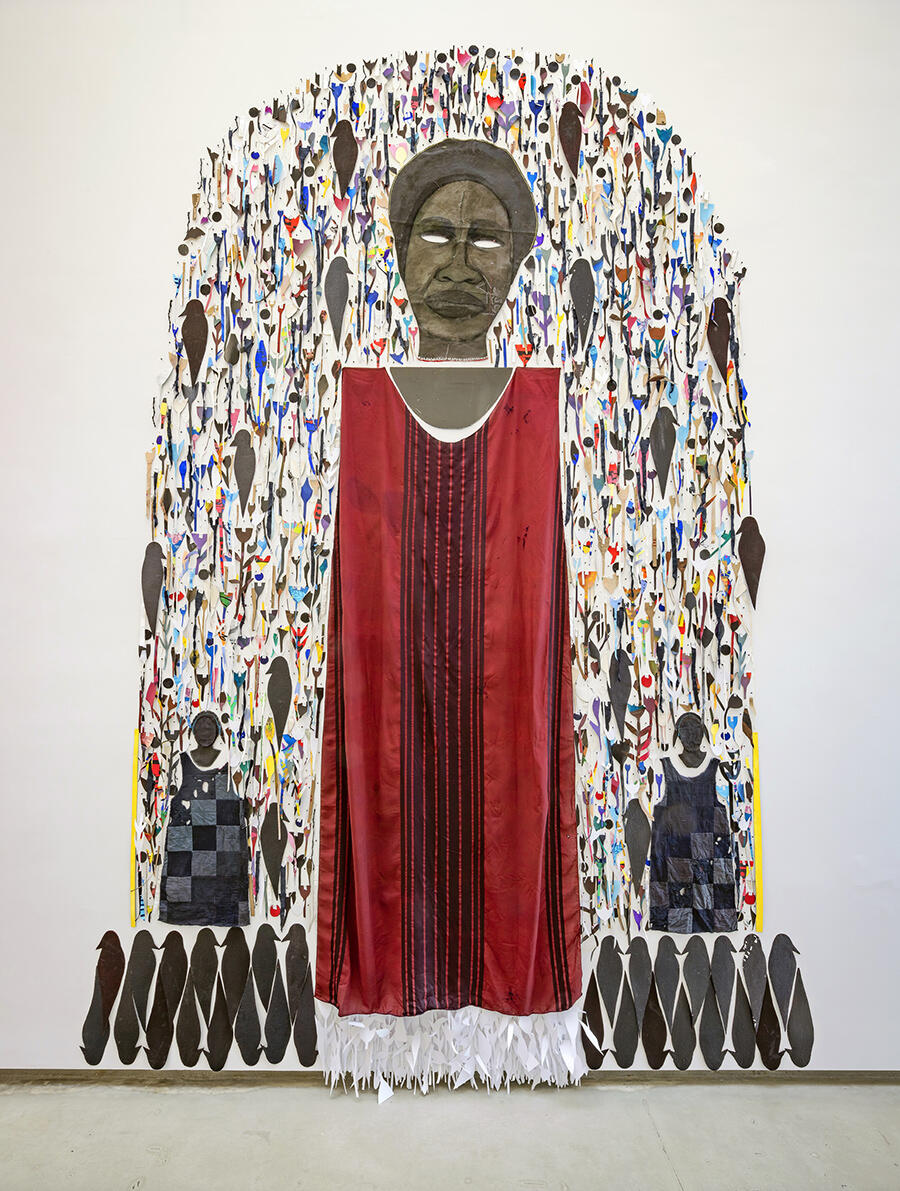 Alicia Henry
Tiwani Contemporary
26 May – 3 July
With her first solo exhibition in the UK, American artist Alicia Henry introduces visitors to her unique take on portraiture: assemblages that challenge individualized Western conceptions of the genre. Constructed by hand from layers of felt, cotton and linen, often with voids where eyes and mouths should be, her subjects are affixed to the wall like spooky paper dolls, unseen traumas seemingly lurking beneath their surfaces. Notably, none of Henry's figures are identifiable as real people and the works, which range in date from 2015 to 2020, are all untitled. Rather, these are composites of characters and styles, weaving together elements of West African mask-making, American minstrel shows, European clowning tradition and Henry's own memories.
Hilary Pecis
Timothy Taylor
14 May – 26 June
Los Angeles-based painter Hilary Pecis's first UK solo show features still lifes, cityscapes and landscapes, but it's her colourful interiors imbued with the expository qualities of portraiture that will stop you in your tracks. Here, you'll find stacks of books with faithfully re-created spines, artwork on the wall and a child's painting on the mantle (Dolly's House, 2021), as well as a remote learning set-up complete with ticking alarm clock, fresh flower arrangement and an abandoned snack (Breakfast Nook, 2021). Painted from photographs Pecis has taken both in her own home and in friends' houses, each canvas is covered with the fingerprints of its unseen occupants. Pecis told me: 'They feel a bit like either a portrait of the person inhabiting the space, or of the person they're aspiring to be.'
Main image: Frank Bowling, Wobbly V with Bunches, 2020, acrylic and acrylic gel on canvas with marouflage, 180 × 255 × 5 cm. © Frank Bowling; courtesy: the artist and Hauser & Wirth; photograph: Thomas Barratt