A Year in Western Australia
With three major commercial galleries closing in Perth, exploring Western Australia's cultural struggles and successes
It's traditional to begin examinations of Western Australian economics, politics or culture by invoking the state's geography, making particular reference to the isolation of its capital city, Perth. In the interest of avoiding well-worn, perhaps worn-out centre-periphery dichotomies and as pragmatism, especially in the early 21st century, should suggest means by which such isolation can be transcended, it's worth nodding to this tradition before quickly moving on. The state is larger than most countries, its population concentrated in the south-west, and the Indian Ocean to our own west is wide. South East Asia is closer than Australia's Eastern states and London, but those latter map-points tend to remain engraved on our instruments of cultural measurement. There, it is done.
It's relevant to invoke geography again here only in so far as it remains a popular rhetorical explanation for Western Australian art's struggles with contemporaneity but an internal audit is perhaps more pressing than an examination of external relationships. The last few years have seen the rug pulled out from under the contemporary art 'industry' of Perth, a city that has for the equivalent time been flush with the mineral wealth generated by the far north, although that wealth remains elusive to many of the capital's cultural interests.
2012 and 13 saw the closure of three of Perth's major commercial galleries, Galerie Dusseldorf, Goddard de Fiddes and Gallery East, leaving close to 100 local artists – many of whom had ceased to exhibit either regularly or outside of Western Australia – without a reliable venue. One of those galleries, Goddard de Fiddes, has tentatively re-opened, operating from the residence of its directors. A number of newer commercial spaces that might have filled that vacuum have also since closed their doors. Unsustainable visitor numbers prematurely and publically ended a high-profile partnership between New York's Museum of Modern Art and the Art Gallery of Western Australia, cutting AGWA's four-year exhibition series of International modern and contemporary art short before it had sunk its teeth into the 21st century. A wave of redundancies and restructuring has washed through the university art schools, ending training in a number of disciplines at Curtin University and the Fine Art degree itself at the University of Western Australia. Soul-searching abounds, although it is mostly focused on modes of reception rather than an analysis of what is being produced, exhibited and promoted.
What is being produced and exhibited in Perth varies vastly for a relatively small scene, concentrated in disparate pockets of activity that each avoids reaching critical mass. A group of mostly established painters working in revised streams of modernism have pooled their resources post-closure of their various galleries to form Art Collective WA, a not-for-profit organization that looks and operates like an inner-city commercial white cube. A younger generation of artists and curators takes for granted the idea that one must produce not only the work but also its ultimately ephemeral context. Temporary exhibitions and studios, often at once, cannibalize shop-fronts, office high-rises, apartment lounge rooms and back-yard garages, or experiment with alternatives modes of distribution. Slivers of emergent 'network' discourse, however, remain stubbornly interested in the physicality of the image and highly localized distribution networks, in the artist book, boutique printing or the digital-made-sculptural. What happens to and for these artists after self-generated exhibition options are exhausted is a question yet to be answered.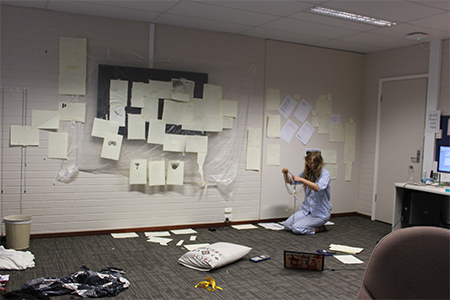 Experiments on the borders of discipline remain quietly successful. From a laboratory at the University of Western Australia, SymbioticA offer a 'Masters of the Biological Arts' and a seminar series in ethics and practice that attracts both international, and local attention. Sarah Rowbottam's 'Proximity', a festival of one-on-one performance annually occupies various arts institutions, producing an intimate, site-specific and participatory art/theatre hybrid. Spaced, directed by Marco Marcon, facilitates a program of residencies placing both local and international artists in regional cities and towns. The often collaborative results, exhibited locally and in a major touring exhibition, the second of which will open in February of 2015, serve as a reminder of a means by which remoteness might be discussed without provincialism, and of another central-periphery spilt that often characterizes Western Australian art discourse: between the capital and the roughly 2.5 million square kilometres of everything else.
Regional Western Australia produces its own vibrant contemporary art. Recent exhibitions of paintings from the Indigenous Martu people of the far Western Desert – 'We Don't Need a Map' at Fremantle Art Centre –and a series of expansive collaborative paintings on show at the Museum of Contemporary Art in Sydney present an aesthetic complexity and vibrancy both transcendental and grounded in a unique and inherent understanding of Country. Paintings, glass, textiles and photographs produced by Indigenous artists from the community of Warburton, roughly 900km north east of the goldfields town of Kalgoorlie, have toured Chinese museums for the last 3 years – a project supported like many in remote regional WA by mining giant Rio Tinto – but have returned home to the closure of the art centre that assisted in their production.
Attempts to theorize a Western Australian discourse of contemporary art tend to falter against such fragmentation. In trying to summarize it I keep returning not to the landmass or the landscape or the impact of the tyranny of distance but to a 30-second video recently exhibited at the Perth Institute of Contemporary Art by Western Australian expat George Egerton-Warburton, who is now based in LA.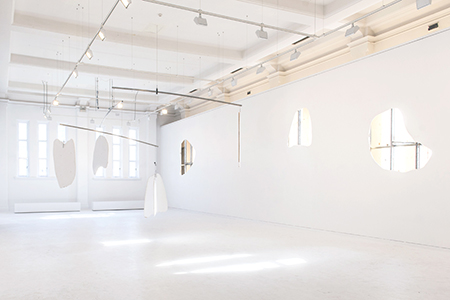 The central work of Egerton-Warburton's solo exhibition, 'Administration is Just Oulipian Poetry', was a large mobile from which shapely cutouts of the gallery's false walls had been suspended. Their absence revealed the colonial skin of the grand, repurposed boys school and through large, usually concealed windows, the ever-expanding boom-time city skyline, washing the gallery space with uniquely bright Australian light. In his written 'Apologia' for the exhibition, Egerton-Warburton quoted Franco 'Bifo' Bernardo: 'money and language have something in common, they are nothing and they move everything' – but the expensive and ultimately ephemeral gesture of the mobile was counterpointed with an video unmentioned in the text that seemed to reinforce the power of a third element. The video consisted simply of footage appropriated directly from a television advertisement for insurance reshot in-situ as it played on the screen of a macbook. In the ad, two men discuss a kitsch sculptural volcano erected in a backyard. One describes it as a metaphor for his savings, at which point the other thrusts his hands into it, receiving surprisingly real and horrific burns.
For me, trying to explain Western Australia, that metaphor becomes another metaphor. Here, we have high hopes for the impact of dialogue, earnestly discussing the best way forward, and we see first hand the impact of money, but we're still collectively ambivalent about the impact of practice itself.