This Year's London Film Festival Is Wild at Heart
Across the programme, animals are at the centre of the drama
There's a scene in John Skoog's Ridge (2019) when a teenage boy finds two dairy cows in a lush forest. They've escaped the farm and stand at odds amongst the ferns; out of place, away from the herd. 'People say they keep getting wilder,' a voice tells us in the film's opening moments. 
There is an uncertain, estranged wildness – by turns, alienating and seductive – at the heart of many of the films at this year's London Film Festival. While it's unwise to draw too tight a circle around such a broad festival, having spent enough time in dark screening rooms to make a spelunker blush, there were noticeable echoes to be found across the programme in the attention paid to animals: as adversaries, as icons for unknowable forces and as cyphers for authentic experiences inaccessible to human characters. In an age of climate anxiety and global political tensions, many films tap into current conversation around nature: our place in it and our ability to control it. 
Ridge, Skoog's feature-length debut, is built around poetic vignettes of life in his home village, a rural community in southern Sweden. In elliptical scenes we are shown agricultural machinery, immigrant Polish workers new to the region, young boys playing a farming video game. In one dreamlike sequence, a tree cutter seems to float amongst a dark forest like a vengeful spirit. There are sections that bring to mind Debra Granik's masterful Leave No Trace (2018), when that film's forest-dwelling father and daughter are grudgingly brought to work on a Christmas tree farm. Machines wrap bales of hay and eat up fields with relentless efficiency, while teenagers teeter towards feral drinking and dairy cows long to be wild. 
A cow also plays a crucial role in Alejandro Landes's Monos (2019). The film is a fever dream of frenetic beauty, shot through with otherworldly images, underpinned by strong performances and Mica Levi's pulsing score. Its story of child soldiers has shades of Apocalypse Now (1979) and Beau Travail (1999), but Landes's filmmaking is its own thing, at turns claustrophobic, vast and mythic. 
Monos begins in the remote Colombian mountains, where a group of teenagers, identified only by their noms de guerre (Dog, Wolf, Lady, Bigfoot, Rambo) watch over a prisoner of war. When their overseer gifts them a dairy cow, a chain of events is set off that will see the fickle structure of their unit break apart, as they descend from the vantagepoint of the mountain into the confusion of the jungle. The guerrilla warfare of Monos is far from the machinated farming of Ridge, but there is a shared attention to the temptations of escaping order and going wild, finding a more authentic existence amongst the trees. With its ambiguous sense of place and archetypal character names, there is a mythic quality to the story, with the likes of Dog and Lady cast as primeval figures acting out a great fall. 
Primeval forces also bubble beneath the surface of Lijo Jose Pellissery's Jallikattu (2019). Once again, an animal is at the centre of the drama – in this case, a buffalo that escapes a makeshift slaughterhouse in a south Indian village. What starts as a slapdash attempt to capture the rampaging animal builds into something altogether stranger, as a growing mob of men pursue the buffalo in a frenzy of violence. You don't have to look hard to see the critique of masculinity, as the hunt for the buffalo transforms into a proxy for status anxieties and toxic manhood in the community. It's about as subtle as a hammer, but Jallikattu is a thrilling experience, clamorous and rabid, pitching its community as a hair's breadth from brutality, restless for barbarism. 
Start looking for beasts and you'll see them everywhere. Robert Egger's expressionist, Beckettian thriller The Lighthouse (2019), for example, also pivots on a slaughtered animal as a gateway to its characters' descent into wildness. Kleber Mendonça Filho and Juliano Dornelles' satirical western, Bacurau (2019), on the other hand, sees the inhabitants of its titular Brazilian village treated like big game by wealthy American tourists. The lines between human and animal are confused. Things get wild. 
It would be clumsy to argue that these disparate films have a clear and unified focus, either aesthetically or politically. But they have all been produced at a time when extinction is in the air, when the effects of late capitalism on the world's ecosystem are more keenly felt than ever, when political discourse is becoming increasingly savage and the place of nature in our lives is very much in flux. Perhaps they speak to fears or fantasies of social collapse or a failure to live in a sustainable way with animals. Perhaps they dig at the roots of authenticity, looking to the natural world for myths and ways of living that transcend humanity.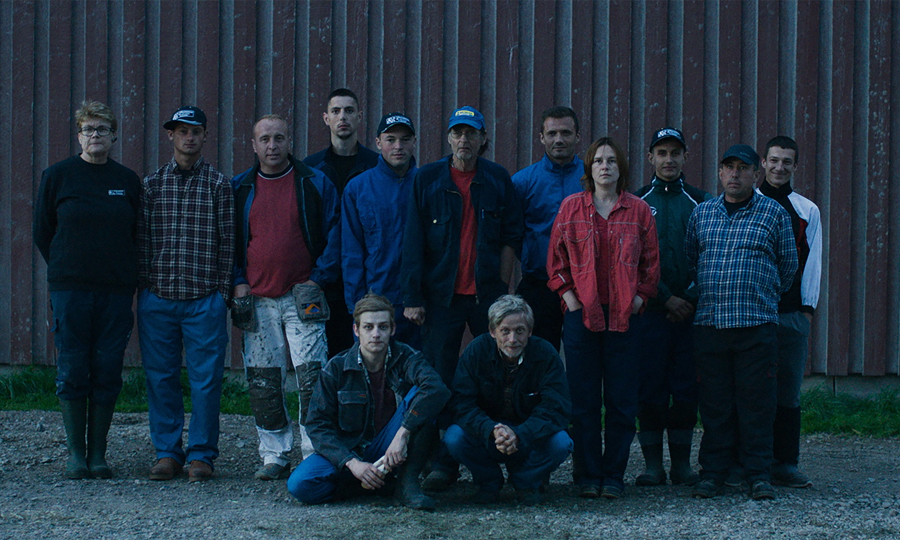 The most enigmatic film at the festival to touch on these ideas was Krabi, 2562 (2019), directed by the British artist Ben Rivers and the Thai filmmaker Anocha Suwichakornpong. Set in a Thai coastal town, it follows a series of characters through oblique scenes that weave together fiction and documentary. There are no rampaging buffalos or hunted humans, no escaped cows, but it, too, makes a connection between animal life and a sense of truth. In one sequence a number of life-size statues of tigers and elephants are surrounded by forensic scientists, in another a tour guide takes a trip to a beekeeper for the purposes of finding a location visiting tourists might like to visit. In a series of surreal visions, a pair of Neanderthals are seen secretly living in a cave. What is real and what is fiction? What is tamed and what is wild?
In one scene, an unnamed woman who says she is a movie location scout pays a visit to a cinema. The building's owner lets her inside, even though the complex has been closed to the public for years. In a sublime shot, we see the screen, worn in places and framed by two red curtains. A hundred flecks dart back and forth, and it takes a second to realize that the cinema is full of birds. 
Main image: John Skoog, Ridge, 2019, film still. Courtesy: BFI, London