'You Have to Be There': The Power and Presence of Robert Motherwell's Large-Scale Paintings
In a show at Kasmin Gallery, New York, size reveals not the late painter's ego, but rather his belief in personal engagement 
'The supreme gift, after light, is scale', wrote Robert Motherwell in a letter to the poet Frank O'Hara in 1965. As demonstrated by an exhibition of his large-format paintings that opened at Kasmin Gallery's recently-inaugurated 509 West 27th Street space last month, the artistic possibilities of scale were a constant concern throughout Motherwell's long career. This exhibition of work is the first to focus solely on the monumental in his oeuvre, and features eight paintings: some, like Dublin, 1916, with Black and Tan (1963-64), take great joy in expanses of chromatic juxtaposition while others, such as Forced Entry (1981), exercise just a handful of brushstrokes to construct a rudimentary painterly gesture. Each of the eight captivate.
The ambition to scale up paintings was shared by Motherwell's fellow Abstract Expressionists, some of whom had cut their teeth making public murals for the Works Progress Administration in the 1930s – and these artists increasingly 'reject[ed] the easel and yearn[ed] for the wall', as the critic Clement Greenberg memorably put it. But Motherwell's version of the large-format canvas remained committed to personal and ethical responsibility, not merely blown up for the sake of brashness or ego. For him, it entailed being present with the painting, rather than a photograph or reproduction, in order to engage with its reach and dimensions up close – and in so doing recover what he called a 'sense of the sublime and the tragic that had not existed since Goya and Turner.'
The exhibition's opening work, which occupies a central frontal wall, is also its most compelling: The Grand Inquisitor (1989-90) (earlier title: Catalonia), a painting completed by Motherwell in the year before his death, and perhaps the best example of his Hollow Men motif. Its horizontal blacks and red are overpowered by ochre oblongs and scribbles, and a yellow background that suggests paint peeling from a chipped plaster wall. Photographs taken by painter Joan Banach of Motherwell completing the work in his Provincetown studio reveal the physical demands it placed on an arthritic Motherwell as he painted while kneeling or at full-stretch, moving side-to-side to build up gestural movement.
On the reverse of this dividing wall, we return to Motherwell's long-time engagement with Spanish themes and to one of three fine examples of works from his 'Open' (1967-1991) series, typically conceived as single-colour surfaces on which the artist constructed simple yet beguiling line formations, usually in charcoal, that have often been read as an opposing image to his more gestural and curvilinear 'Elegies' (1948-1990). Open No. 97: The Spanish House (1969), an architectonic build-up of vertical rectangles and tilted lines that imply figural allusion to Mediterranean windows and a roof, set against an incandescent orange sunlight, was inspired by a tatty photograph of a harbour house in Cadaqués that Motherwell had on constant view in Provincetown. Like many paintings from the 'Open' series, The Spanish House succeeds as a kind of abstracted realism, drawing out fundamental visual correspondences but never relinquishing its own unique spatial mystery.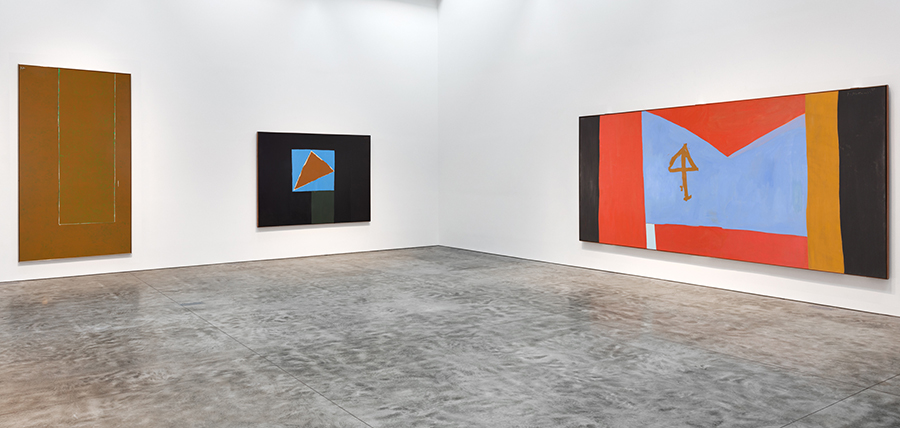 While the paintings in this exhibition as a whole are unapologetically monumental in scale, they all shy away from a version of monumentality that desires to represent a definitive or absolute testament to a particular place, text or idea. Five of the eight displayed works are listed as having been produced over several years, as Motherwell revised and altered before, after and sometimes even during exhibition display. 'That is a genuine artistic practice', notes the show's director Eric Gleason, and 'if Motherwell were still working today, I think it's safe to assume he wouldn't care how his paintings looked on Instagram.' These monumental paintings had been at least partly executed to challenge the domesticity of easel painting, moving the scaled-up artwork into new and public spaces, but that does not preclude their intimacy. Far from it: you have to be there.
'Sheer Presence: Monumental Paintings by Robert Motherwell' is on show at Kasmin Gallery, New York, until 18 May. 
Main image: Robert Motherwell, 'Sheer Presence: Monumental Paintings by Robert Motherwell', installation view, 2019. Courtesy: Kasmin Gallery, New York; photograph: Diego Flores