Join Frieze for Anniversary Sessions: 30
Become a member to access the Anniversary Sessions and join the community that champions art. Gain unlimited access to frieze.com, priority booking on fair tickets and other benefits along the way when you sign up. Join here​
Celebrate three decades of Frieze with Anniversary Sessions, a three-day online festival bringing together some of the leading voices in art and culture since 1991. Because conversation is better over drinks, chefs from the fairs' award-winning partner restaurants will show us how to mix their favourite cocktails in a series of specially commissioned videos. And on Friday evening, the singer-songwriter Arlo Parks will play us out with an exclusive acoustic set from her new album.  
Line up:
Wednesday 17 February: 7pm GMT / 2pm EST / 11am PST
Lubaina Himid & Jennifer Higgie on influence 
Find out more
 

Wednesday 17 February: 8pm GMT / 3pm EST / 12pm PST
Cocktail Hour with Rita's (London) featuring Missy Flynn creating an El Sol en Soho
Find out more
Wednesday 17 February: Midnight GMT / 7pm EST / 4pm PST
Anicka Yi & Hari Kunzru on art & the non-human
Find out more
 

Wednesday 17 February: 1am GMT / 8pm EST / 5pm PST
Cocktail Hour with Frankies (New York), featuring John Burns Paterson making a Frankies Spuntino Olio Martini
Find out more
Thursday 18 February: 2pm GMT / 9am EST / 6am PST
Jeremy Deller & Ralph Rugoff on art & politics
Find out more
Thursday 18 February: 7pm GMT / 2pm EST / 11am PST
Rirkrit Tiravanija & Philippe Parreno on exhibitions as events
Find out more
  

Thursday 18 February: 8pm GMT / 3pm EST / 12pm PST
Cocktail Hour with Locanda Locatelli (London) featuring Giorgio and Plaxy Locatelli creating a Cranberry Margarita
Find out more
Thursday 18 February: Midnight GMT / 7pm EST / 4pm PST
Matthew Barney & Ariana Reines on art & mysticism
Find out more
 

Thursday 18 February: 1am GMT / 8pm EST / 5pm PST
Cocktail Hour with Roberta's (New York) featuring Jason Kraft making an A$AP Julio
Find out more
Friday 19 February: 7pm GMT / 2pm EST / 11am PST
Kara Walker & James Hannaham on sex & sacred cows
Find out more
Friday 19 February: 8pm GMT / 3pm EST/ 12pm PST
An exclusive performance from singer-songwriter Arlo Parks
Find out more
Friday 19 February: Midnight GMT / 7pm EST / 4pm PST  
Collier Schorr & Jeremy O. Harris on from eternity to performance
Find out more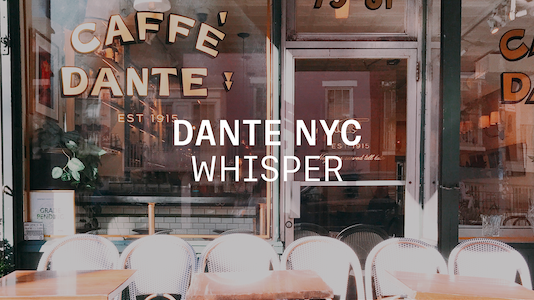 Friday 19 February: 1am GMT / 8pm EST / 5pm PST  
Cocktail Hour with Dante (New York) Chris Moore creates a Whisper 
Find out more
​