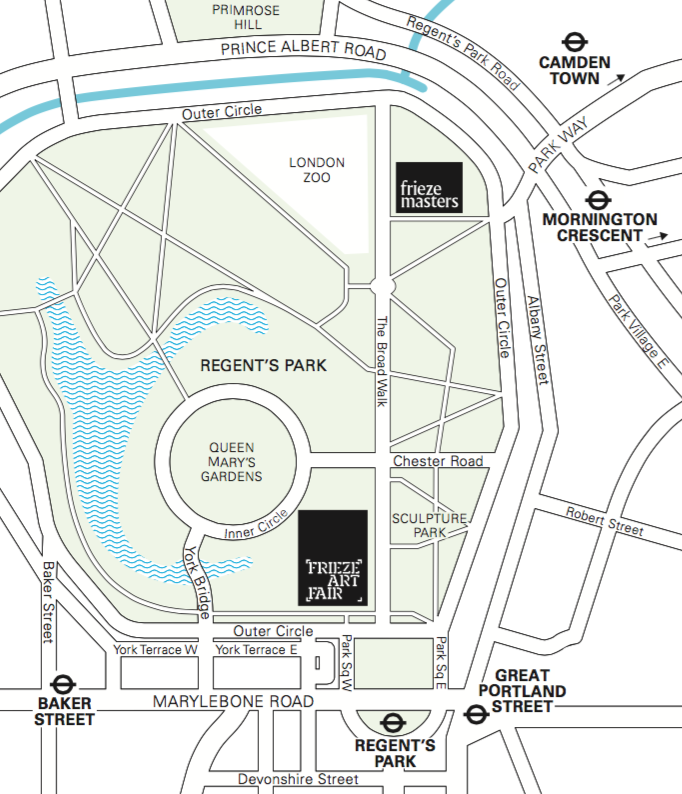 fairs-and-events-fl2016-regentspark-map.pdf
Frieze Sculpture is located in the English Gardens in the south of The Regent's Park, with entrances off Park Square East and Chester Road. The postcode is NW1 4LL (Google Maps). 
Frieze London is located in the south of The Regent's Park, with the entrance off Park Square West. The postcode is NW1 4LL (Google Maps).
Frieze Masters is approximately 15 minutes walk from Frieze London, located in the north-east corner of The Regent's Park close to London Zoo. The postcode is NW1 4HA (Google Maps).
Heathrow, Stansted, London Luton, Gatwick and City Airport are all within two hours of The Regent's Park. Connect from Heathrow Airport via the Paddington Express.
St Pancras International (Eurostar) and all mainline stations are within easy reach via bus or tube.
Tube
Frieze London & Frieze Sculpture: 5 minutes walk from Regent's Park tube station. Baker Street and Great Portland Street stations are also close by.
Frieze Masters: Ten minutes walk from Camden Town and Mornington Crescent tube stations.
Bus
Frieze London: 2, 13, 18, 27, 30, 74, 82, 88, 113, 139, 189, 205, 274, 453 & C2.
Frieze Masters: 24, 27, 29, 31, 88, 134, 168, 214, 253, 274 & C2.
Bike
Bike racks are provided within the park. The nearest docking stations for Transport for London's cycle hire scheme are located next to the tennis courts in The Regent's Park, towards Baker Street on Marylebone Road, next to Great Portland Street underground station or on Albany street.
Taxi & Cab
Addison Lee: Tel 020 7387 8888
Dial A Cab: Tel 020 7251 0581
Radio Taxis: Tel 020 7272 0272
Green Tomato Cars: Tel 020 8568 0022
Climatecars: Tel 020 7350 5960
Car Parking
Public transport is very convenient for the fair and we recommend you use it where possible. However, if you drive to the fair, there are a limited number of Pay and Display parking spaces in the park.
Alternatively, if you want to pre-book your parking, Frieze visitors can receive a 20% discount through JustPark with the code FRIEZE20. Offer only available to new users and limited to £5 discount. Their nearest spaces can be found here.
Frieze Masters is outside the central London congestion charging zone. For further information about the boundaries of the zone and how it may affect your journey, please visit cclondon.com or call 0845 900 1234.
Bus coaches are not allowed into the park. The nearest drop-off point is Baker Street Station.
Walking (download map)