Featured in
The Quiet Radicalism of Lynette Yiadom-Boakye's Tate Britain Show
'Fly In League With The Night' is brimming with characters we can feel, but whose stories remain tantalizingly out of reach
Lynette Yiadom-Boakye's mid-career retrospective, 'Fly in League with the Night', opens with a work I keep returning to: Black Allegiance to the Cunning (2018), a beaming young man in a deep-sea-green shirt, welcoming me into the space. He is perched on a stool with a fox at his feet, his mischievous grin reminding me that I am just a visitor in this fictional world. Yiadom-Boakye's figures have a warm and intimate relationship to each other that we can only observe. It is like being a plus-one at a party where you don't yet know the host or the rest of the guests – you're just at the precipice.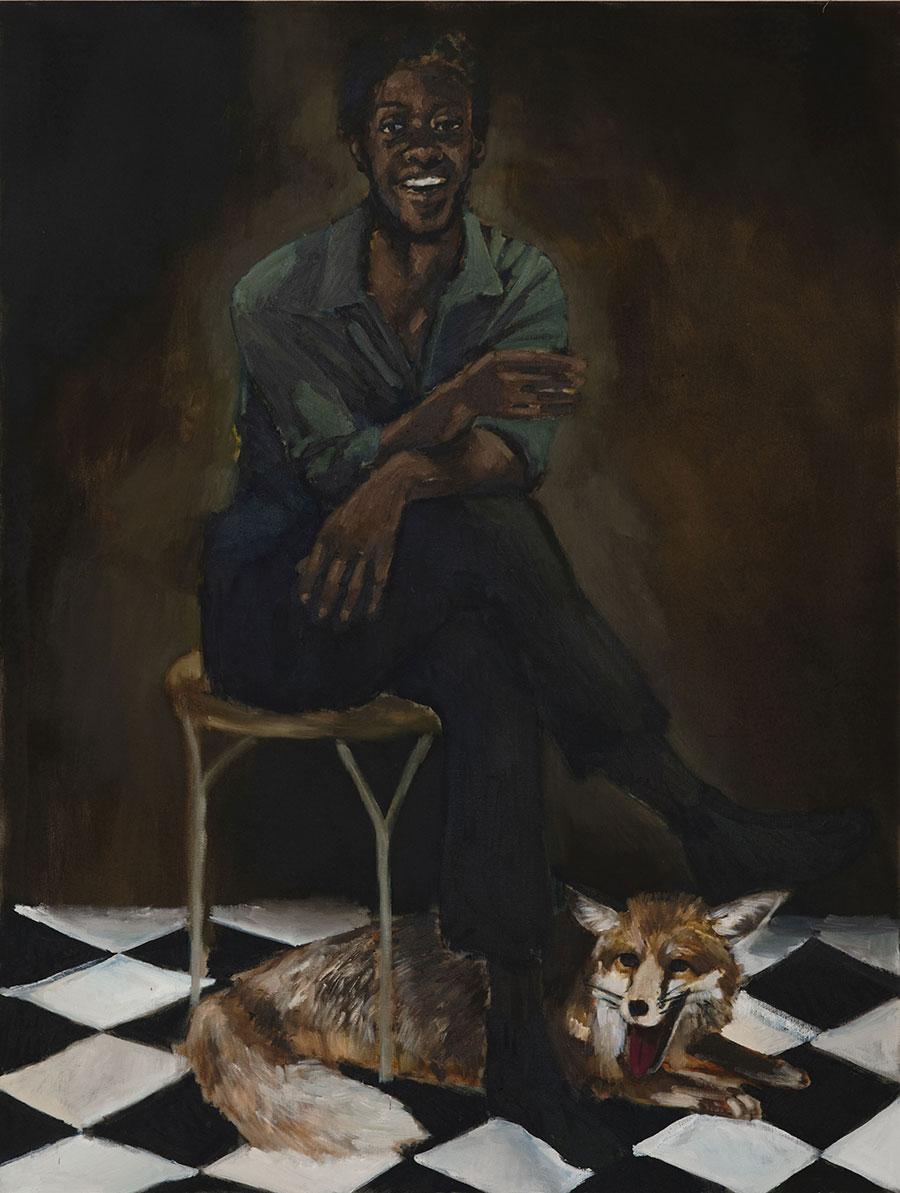 In her 2017 profile for The New Yorker, Zadie Smith describes Yiadom-Boakye's practice as 'novelistic', with figures 'push[ing] themselves forward into the imagination – as literary characters do'. While Yiadom-Boakye's characters speak to us, and to each other, in the manner of a fictional text – aside from being a painter, the artist is also a writer of poetry and prose – they do not cohere in a single arc. I see them more as subjects in an anthology of short stories, self-contained, but nonetheless existing in the same universe.
Even with few clues for context, Yiadom-Boakye's figures seem a distinctly bohemian bunch, who might fit in anywhere from the Harlem Renaissance in the 1920s, to the Bloomsbury set in the interwar years, to the Mbari Club in 1960s Ibadan, Nigeria. It's a shame the playlist Yiadom-Boakye curated – shared on Spotify and played in the lobby – isn't incorporated as a soundtrack in the gallery: the featured artists similarly span time, location and genre. I imagine 'Cranes in the Sky' (2016) by Solange playing alongside A Whistle in a Wish (2018), in which a pensive woman with a sea-green collar emerges from the shadows, her face slightly obscured by a plume of smoke from the cigarette she is holding. Or John Coltrane's rendition of 'My Favorite Things' (1961) surrounding another woman, this time in a black-and-white striped dress (6pm Madeira, 2011), as she kneels on an armchair.
Yiadom-Boakye was born in London to Ghanaian parents, and saw some early success in her career after completing her MA degree at the Royal Academy of Arts in 2003. Charles Saatchi acquired several of her works in 2005, and, in 2007, critic Ekow Eshun profiled her as 'one to watch' in The Independent.
Yiadom-Boakye has drawn on portrait painters Walter Sickert and John Singer Sargent as influences in her use of colour and shadow. But there is also something baroque in her technique – the chiaroscuro effect that comes from dark, tonal backgrounds, with the colour white only appearing as a flash of bared teeth or a shirt collar. Particularly in her early work, some figures look spectral, while others have a somewhat grotesque, distorted quality, such as the man in First (2003), who meets our gaze, unabashed, and whose pose and splayed-open scarlet robe recall depictions of Christ showing his wounds. The subjects of Yiadom Boakye's paintings are Black, but it would be too simplistic to place her work simply in a lineage of European art history, with Black figures replacing white ones.
The artist with whom I see the clearest affinity is American painter Barkley Hendricks. Not in technique or style, but in spirit, boldness and audacity. Hendricks's figures stare at you directly, utterly sure of themselves, and Yiadom-Boakye's have that same conviction. Look at me, or don't, they seem to say; the audience is incidental. But Yiadom-Boakye's works do not share the clean crisp lines, white backgrounds and flat bright colours of Hendricks's paintings. Her brushstrokes are more impressionistic and, although figurative, resist any degree of hyperrealism. The work is not over-laboured: she does enough to show us what she needs to show, and nothing more.
Not only is Yiadom-Boakye the first Black British woman to receive a solo exhibition at the Tate, she was also the first Black woman to be nominated for the Turner Prize in 2013, for her solo exhibition 'Extracts and Verses' at Chisenhale Gallery in 2012. It is not insignificant that the artist had already had a solo show at New York's Studio Museum in Harlem in 2010, a historic institution that exhibits the work of Black artists.
There is nothing inherently radical about Yiadom-Boakye's subjects being Black; why would there be, when these are fictional characters, composed of photographs and clippings, of real people and the artist's imagination? Apart from the occasional eccentricities such as a ruffled collar, or the unexpected appearance of a fox or parrot, they are just living, just being. I believe this is what the artist is getting at when, in an interview with Antwaun Sargent in Tate Etc., she speaks of the language of painting not trying to say something but to feel. And we believe in these characters because we can feel them.
Yiadom-Boakye employs a muted palette of earthy shades of black, deep brown and green, with occasional bursts of vibrancy – the delicate pale yellow of a canary, or the brilliant red, blue and yellow feathers of a parrot. The background spaces are described by curator Isabella Maidment in the exhibition catalogue as flat, but I would argue they have a depth that is deliberately obscured, like opaque film laid over a window for privacy.
Instead of being hung chronologically, 'Fly in League with the Night' is structured to allow for open dialogue between the works, which leaves me wondering what is going on outside the frame, what conversations are left unheard. Although some figures are more contemplative than others, they have an overall ease, whether laughing, lounging or deep in thought. 'If they are pathetic, they don't survive,' states the artist in the exhibition catalogue. 'If I feel sorry for someone, I get rid of them. I don't like to paint victims.'
Mild moments of tension appear, like in To Improvise a Mountain (2018), where a young girl in a pale-blue collared dress – a familiar school uniform – stands barefoot with her back turned on a checkerboard floor, facing a reclining woman. The girl's right hand is raised and scratching her head, as if she is scrambling to think of what to say, perhaps caught in a moment of mischief. It feels like glancing through the open curtains of a house while walking along a residential street. Yiadom-Boakye is skilfully sparing with her brushstrokes, allowing specks of canvas to peek through as highlights, suggesting a source of light outside the painting.
Although specific locations are unclear, the coast is a frequent backdrop. In Condor and the Mole (2011), perhaps one of the artist's best-known works, two little girls examine a rock on an overcast beach. In Hard Wet Epic (2010), three men in trunks walk from a choppy horizon. And the titular character in The Woman That Watches (2015) wears a bathing suit as she observes something through binoculars far out of the frame. Is she surveying some distant seaside scene, perhaps the children playing on the rocks, or the men returning from swimming? Is she alone or is she in a group with others? Perhaps the man lying on the clifftop in 6pm Cadiz (2012) is her companion? She is watching, but we are watching her. There are no real markers of time period or era, but she has a mid-20th-century elegance, her wide-brimmed hat evoking the glamour of the French or Italian riviera.
Yiadom-Boakye leaves plenty of room for us to make our own presumptions about her characters – who and what we want them to be – but that's by the by. The true radical nature of the work lies in the figures' quiet resistance to the audience's gaze and expectations of Black subjects. For those who are open to it, here lies a real possibility of magic and delight just beyond the confines of reality.
Main image: Lynette Yiadom-Boakye, A Whistle In A Wish (detail), 2018, oil on canvas, 75 x 70 cm. Courtesy: © Lynette Yiadom-Boakye