ruby onyinyechi amanze's Choreography of Lines
At Collezione Maramotti, Reggio Emilia, the artist's largest paperwork to date explores the notion of movement 
Occupying the entire central wall of Collezione Maramotti's Pattern Room, HOW TO BE ENOUGH (2021) is ruby onyinyechi amanze's largest work to date. Comprising 15 panels and extending to 3 x 18 m, the piece can be read in its entirety or as individual drawings. Dancers, divers, swimming pools, motorbikes and architectural elements inhabit the work in graphite, black and white photographic transfers, acrylic and ink on paper. They are, at once, graceful figures in a non-linear narrative and calculated arrangements in space.
This duality is evidenced in the artist giving each panel two titles: one lyrical, one descriptive. In OUT. SHE EXITED QUIETLY, BUT DECIDEDLY or [ada] edge, left, we see a segment of a female diver caught mid-air, back arching into space, arms outstretched, her bathing suit an intricate pattern of geometric shapes, her body highlighted neon yellow. In ARRIVE AT THE BOTTOM AND BREATHE and/or [windows + pool #1] travel left-right, a shimmering pool of varying hues of deep-blue ink lies below two minimally rendered windows, receding grids of lines.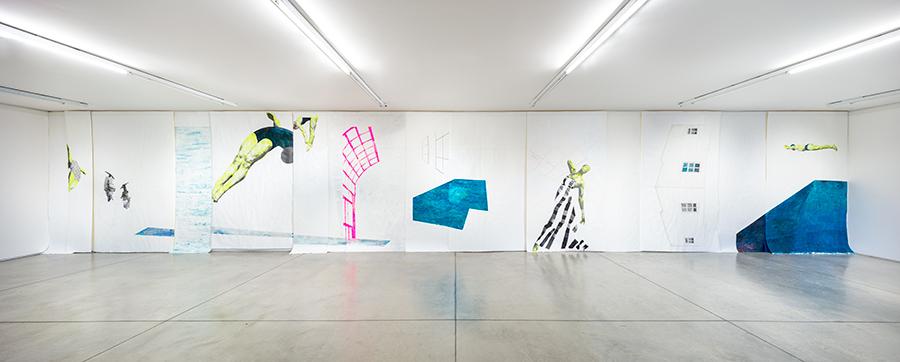 For amanze, who has been working exclusively on paper since 2012, thinking about space and movement prefigures all else.  It seems fitting, therefore, that her early love of dance has also entered the forefront of her practice. In a documentary released by Collezione Maramotti to mark the artist's first Italian institutional solo show, amanze sits in her Philadelphia studio, long sheets of paper unfurling across the floor around her, discussing her choreography of lines – vestiges of which she leaves here and there. She approaches the material with the mathematical discipline and vision of an architect-cum-choreographer. The longer you look at 'HOW TO BE ENOUGH', the more it seems like flatness of the surface becomes alive.
ruby onyinyechi amanze, 'HOW TO BE ENOUGH', is at Collezione Maramotti, Reggio Emilia, Italy, until 25 July.
Main image: ruby onyinyechi amanze, HOW TO BE ENOUGH, 2021, installation view, Collezione Maramotti, Reggio Emilia. Courtesy: the artist and Collezione Maramotti, Reggio Emilia; photograph: Roberto Marossi