Featured in
Sophie Reinhold Suggests There's No Such Thing as an Innocent Picture
At Sophie Tappeiner, Vienna, the Berlin-based artist presents a series of painted false idylls
From the outside, Galerie Sophie Tappeiner in Vienna is currently hard to tell apart from the nightclubs and brothels in the neighbourhood, its mirrored windows suggesting striptease poles on the other side rather than a painting exhibition. Even before entering the gallery space it's evident that Berlin-based artist Sophie Reinhold's show 'MENACE' is an attempt to rethink strategies of presentation and how these play with our expectations.
At the centre of the exhibition is the eponymous six-part series of paintings depicting enchanted ruins (MENACE (E), all works 2021), lush foliage (MENACE (M)), a rocky crag with a castle and a torrent of water (MENACE (C)) – scenes reminiscent of illustrations in storybooks. Despite their historical appearance, the hazy pastel palette and perfectly painted arabesques make it difficult to attribute these settings to a specific period. Familiar but lacking context, it's easy to give in to this idyllic imagery. The works are kind on the eye and thanks to the opaque mirror foil on the gallery's windows, the outside world stays outside. This peacefulness, however, is deceptive: taking a step back, Reinhold's richly detailed paintings resolve into letters that also reflect in the windows, spelling out the word 'MENACE'. An abyss opens up: are we really safe here?
With their combination of typesetting, writing, landscape and architecture, these new paintings bring together different strands of the artist's cosmos. Taking pleasure in the historical, in ornament and in visual clichés of the romantic, Reinhold's paintings have a peculiar eccentricity, a playfulness coupled with tongue-in-cheek cutesiness. The works flirt with a naïve sentimentality whose witty casualness is almost improper – but also great fun. In MENACE (M), for instance, a group of ducklings swim in a pond while a bizarre figure wearing underpants and a floppy hat points a gun towards a ruin in MENACE (E). Although lacking pious earnest, these paintings are nonetheless deeply serious, a successful balancing act between ironic performative distance and a sincere passion for the medium of painting; disciplined virtuosity of execution is coupled with the casual humour of awkwardly jotted lines and childishly rendered subjects.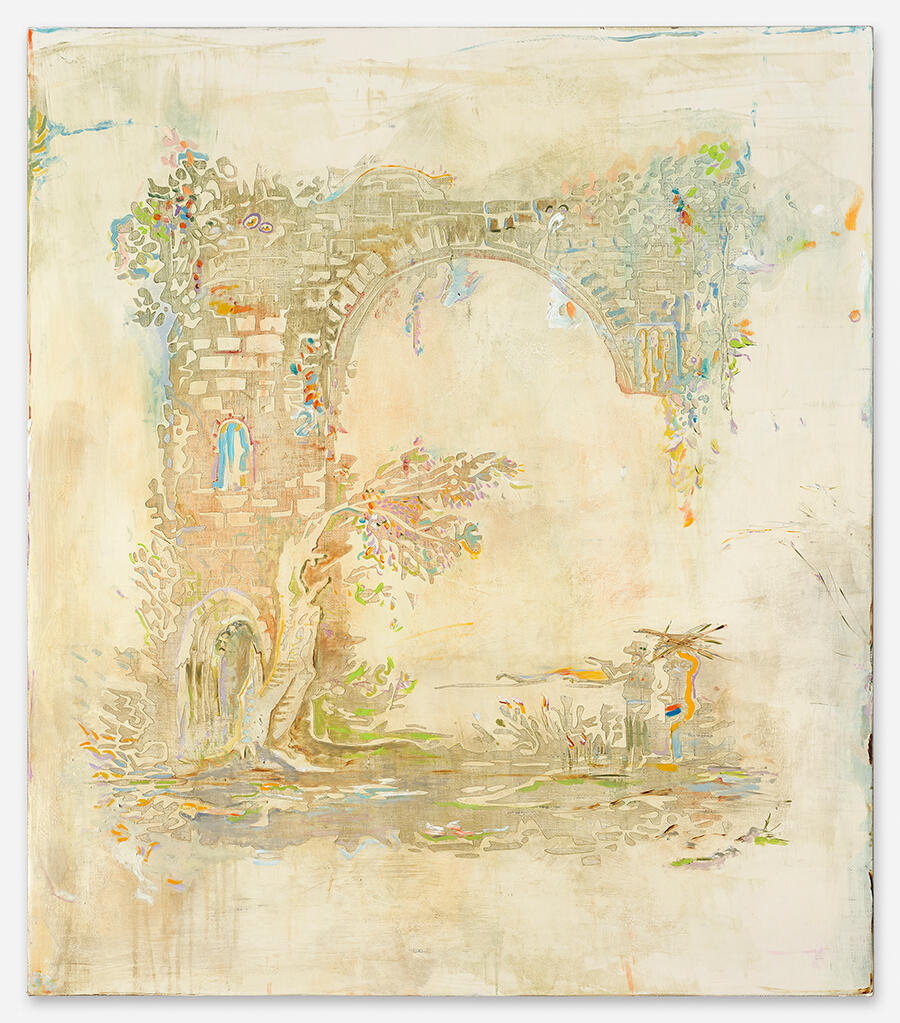 The way the gallery's architecture is incorporated into the presentation of the paintings creates intermedia tensions. As in a drawing, the pictorial content stands out against the white background, preserving the lightness of a sketch. At the same time, this relief structure gives the paintings a sculptural quality, which is further highlighted by Reinhold's choice of materials. She works with ground marble, applying it in several coats and then removing it in places, scraping forms out of the material. Different painterly modes are orchestrated on the canvas: mark-making in rhythmic lines and finger-smudged traces; sealed surfaces of fetish-like smoothness with precisely positioned cutaways that bare the textile weave of the canvas, revealing the picture's constructed quality, unmasking their seductive illusionism. The familiarity of Reinhold's paintings switches all too quickly into the uncanny, due in part to their many aspects, oscillating between figuration and abstraction, between letter and picture, between material and sign, declaring every manifestation of meaning temporary and latent.
With their allusion to ornamental capitals, Reinhold's letter paintings refer to the narrative potential of pictures and to the writing of history and stories more generally. Having grown up in former East Germany, and thus between two grand narratives or promises – socialism and capitalism – Reinhold is a witness to the power of ideology that is rarely able to tolerate ambivalence and contradiction, which come all the more disturbingly to the fore in her exhibition. This much is clear: there is no such thing as an innocent picture.
Translated by Nicholas Grindell
Sophie Reinhold, 'MENACE' is on view at SOPHIE TAPPEINER, Vienna, until 27 November 2021
Main image: Sophie Reinhold, MENACE (A) [detail], 2021, oil on marble powder on jute, 160 × 140 cm. Courtesy: the artist and SOPHIE TAPPEINER, Vienna; photograph: Matthias Kolb