'Twice as Tall' by Ibrahim Mahama: A Unique Work for the Frieze x Deutsche Bank Emerging Curators Fellowship
An exclusive artwork on sale to support a placement for Black and POC emerging curators at the Whitworth
Twice as tall
Ibrahim Mahama, 2022
Jute sacks, metal tags
2 x 2m x 2m
Artwork © the artist. Courtesy White Cube
Ibrahim Mahama uses the transformation of materials to explore themes of commodity, migration, globalisation and economic exchange. Often made in collaboration with others, his large-scale installations employ materials gathered from urban environments, such as remnants of wood, or jute sacks which are stitched together and draped over architectural structures.
Twice as tall (2022) is a new work that employs Mahama's characteristic jute sacks, originally employed for transporting cocoa beans, layered together with smock fabric and adorned with metal tags, which originally served to economically authenticate the beans. The tactile surface of the work bears traces of the materials' former use, with marks of domestic daily life.
The work is available for €150,000 +VAT, with the sale contributing towards funding the Frieze x Deutsche Bank Emerging Curators Fellowship, a national initiative supporting emerging Black and POC curators.
For additional information about this artwork and to register your interest, please contact Julia Maria Podkowinski on fellowship@frieze.com.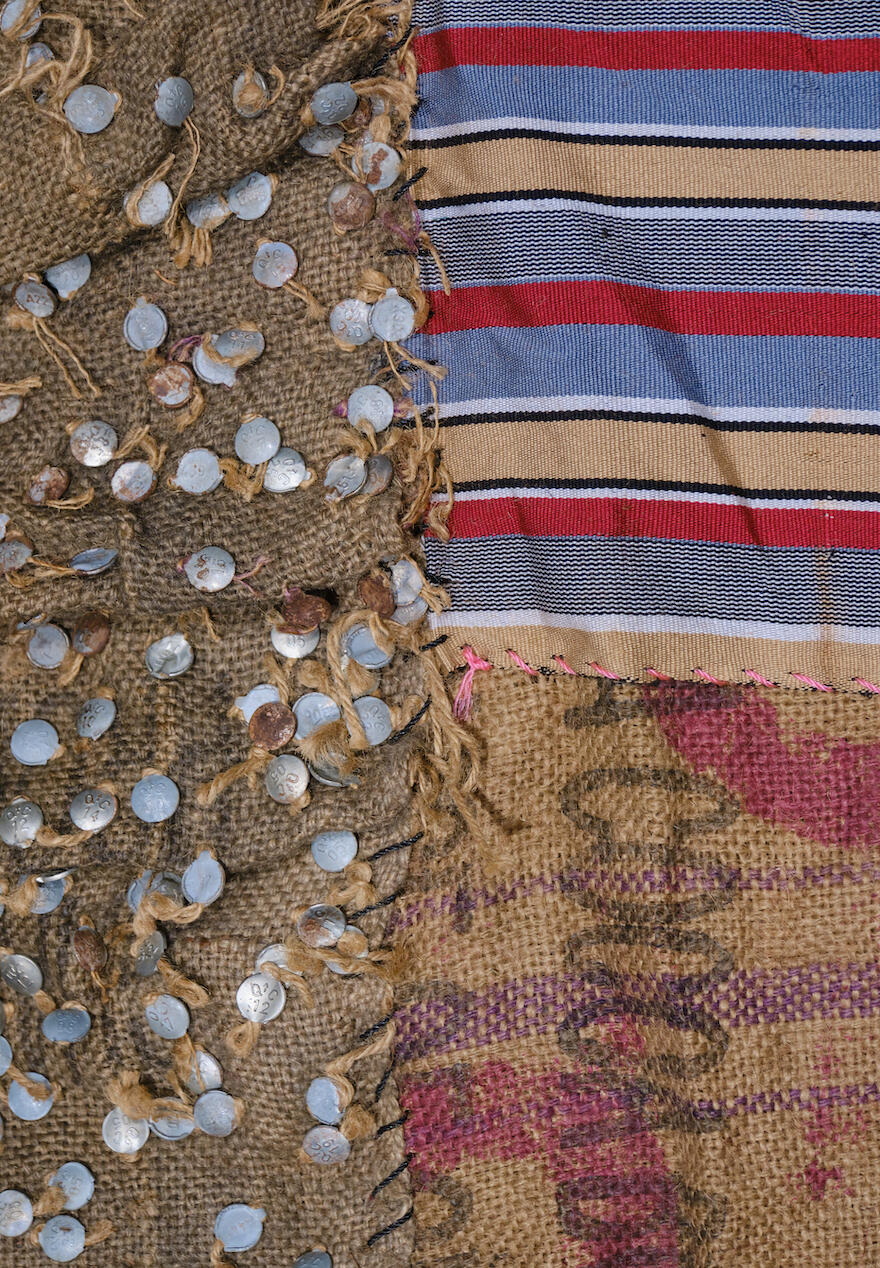 About the Frieze x Deutsche Bank Emerging Curators Fellowship
This year realized in partnership with the Whitworth, the Frieze x Deutsche Bank Emerging Curators Fellowship brings together artists and organizations across the non-profit and private sector to increase accessibility, representation and social mobility within the arts as well as creating an opportunity to grow and deepen curatorial practice in some of the UK's leading public art institutions. This is the fourth iteration of the initiative, following successful fellowships in institutions including V&A East, Chisenhale Gallery and BALTIC.
The Whitworth is an institution committed to decolonizing art and its spaces through practices of care, accessibility, representation and social mobility. The fellow will join the Collections and Exhibitions team and will work on the gallery's programme reflecting the University's bicentenary as a core piece of their work throughout 2023-24. They will also have the opportunity to receive funding to carry out a piece of practice-based research as part of the Fellowship. The Fellow will have access to mentoring sessions with the members of the Frieze team and Deutsche Bank Art and will undergo practical training, one-to-one mentoring as well as continuous professional development in the role.
An Edition of 30, On a spaceship, 2022, by Ibrahim Mahama will also be on sale to support the fund. Learn more about the Edition here.
The Unique work and an Edition will be displayed onsite at Frieze London 2022.
About Ibrahim Mahama
Mahama was born in 1987 in Tamale, Ghana. He lives and works in Accra, Kumasi and Tamale. His work has appeared in numerous international exhibitions including NIRIN, 22nd Biennale of Sydney (2020); tomorrow, there will be more of us, Stellenbosch Triennale (2020); Future Genealogies, Tales From The Equatorial Line, 6th Lubumbashi Biennale, Democratic Republic of the Congo (2019); Parliament of Ghosts, The Whitworth, University of Manchester and Manchester International Festival (2019); Ghana Freedom, inaugural Ghana pavilion, 58th Venice Biennale, Venice (2019); Labour of Many, Norval Foundation, Cape Town (2019); Documenta 14, Athens and Kassel (2017); All the World's Futures, 56th Venice Biennale, Venice (2015); Artist's Rooms, K21, Düsseldorf (2015); Material Effects, The Broad Art Museum, Michigan (2015); An Age of Our Own Making, Kunsthal Charlottenborg, Copenhagen and Holbæk (2016) and Fracture, Tel Aviv Art Museum, Israel (2016). In March 2019, Ibrahim Mahama opened the artist-run project space Savannah Centre for Contemporary Art (SCCA) in Tamale, Ghana, followed by the opening of a vast studio complex, Red Clay, in nearby Janna Kpeŋŋ in September 2020. Encompassing exhibition space, research facilities and an artist-residency hub, both sites represent Mahama's contribution towards the development and expansion of the contemporary art scene in his home country. In April 2021, Mahama opened a renovated silo, Nkrumah Volini, in Tamale. This is the third educational institution he has opened in Northern Ghana since over the past two years.
About Frieze London
Find out more about Frieze London 2022 here.
To keep up to date on all the latest news from Frieze, sign up to our newsletter at frieze.com, and follow @friezeofficial on Instagram, Twitter and Frieze Official on Facebook.
Ibrahim Mahama, Twice as tall, 2022. Jute sacks, metal tags. 2 x 2m x 2m. Artwork © the artist. Courtesy White Cube