Featured in
Wu Tsang's Renewal of the Collective
Two new films by the artist and her cohorts, on view at Lafayette Anticipations, Paris, speak to joint struggles and why collaboration is key
In the second volume of his Prison Notebooks (1926), Italian communist Antonio Gramsci suggests that critical consciousness stems from the understanding that one's identity is shaped by historical processes 'which [have] deposited in you an infinity of traces, without leaving an inventory.' The notion of an infinitely mutable mosaic of identities that we carry with ourselves (class, gender and race) is at the heart of 'Visionary Company', the exhibition by filmmaker and performance artist Wu Tsang and her multidisciplinary collective Moved by Motion, currently at Lafayette Anticipations in Paris.
A second major guiding theme is the renewal of the collective. Collective action and creation but also community building are brought to the forefront via the content and collaborative mode in which Tsang and her associates work. The show comprises a series of multi-media installations from 2019 and 2020. Two films, The Show is Over and The More We Read All that Beauty, the More Unreadable We Are (both, 2020) are fruits of the first year of a three-year-long residence at Zurich's Schauspielhaus Theatre.
In The Show is Over, a collaboration with Tosh Basco, dancers glide across a dark stage. Their silhouettes are shaped by identical, loose-fitting grey suits. The atmosphere changes from graceful to lugubrious as; in one scene, the dancers trudge through mud which obscures the limit between clothing and flesh. Elsewhere, a woman kneels to pick up red apples that have spilled across a pristine white floor. Others scurry into the scene, snatching up the apples before she can reach them. In the panic, she drops the fruits that she has already collected. The anxious tension of this scene is mediated by two voices, one softer and more effeminate, the other a baritone, reciting passages from Fred Moten's poem 'come on, get it!' (2018).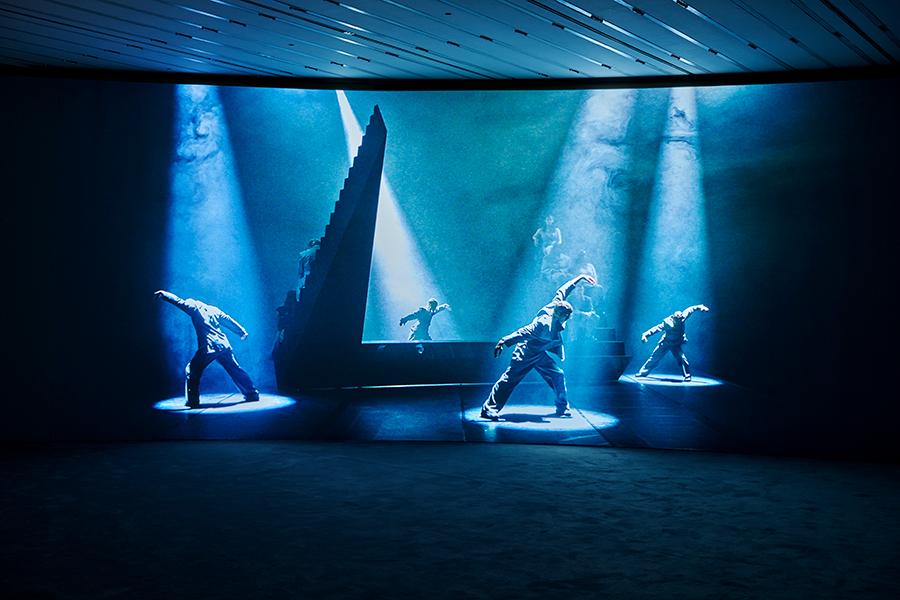 In the exhibition booklet, Tsang cites James Balwin's 1966 essay 'A Report from Occupied Territory' as an important reference for both the video and Moten's poem, underscoring that the murder of George Floyd at the hands of Minneapolis police in June 2020 coincided with the film's completion. Snippets of 'come on, get it!' that overlay certain scenes roll to the rhythm of Beat poetry, channelling the rebellious, counter-cultural energies and reviving them with allusions to the Black Panthers and Marxism. At one point we hear the deep voice say: 'We make cars, the league of Black revolutionary workers might say; but really what we're making is the league of Black revolutionary workers.'
In addition to the richly textured contrasts, eerie throbbing musical scores and multi-layered narrative structure, the film alludes to the embodied experience of otherness in a way that resonates with the global struggle against police violence. This allusion to Baldwin's essay, in which a Harlem man is so savagely beaten by police that he loses an eye, also recalls current public debates in France, where the ferocity of police repression of popular movements has led protestors to suffer similar disfigurements.
Baldwin reappears in The More We Read All that Beauty, the More Unreadable We Are, which presents a montage of archival scenes, comprising an interview with writer Edward George and scholar Dhanveer Singh Brar on the subject of post-colonial music and a fictitious interview with actress Lena Schwarz as young Betty Davis. In the latter, Schwarz stares down the viewer through the camera – her gaze and its uncanny likeness to Davis's are suggestive of the vulnerability and impenetrability of our exterior selves.
This characteristic blend of reality and fiction – what Tsang likened to 'magical realism' – has long existed as a strategy for activist cultural creators. Here, the relevance of this strategy is restored. 'Visionary Company' presents an inventory that might, at last, allow us to assemble our 'infinity of traces', thereby lifting the multitude of discrete human experiences into a rousing battle cry.
Wu Tsang, 'Visionary Company' is on view at Lafayette Anticipations, Paris, until 2 May 2021.
Main image: Wu Tsang, 'Visionary Company', 2020, exhibition view, Lafayette Anticipations, Fondation des Galeries Lafayette, Paris. Courtesy: the artist and  Lafayette Anticipations, Fondation des Galeries Lafayette, Paris; photograph: Pierre Antoine