The Best London Shows to See Post Frieze Week
From Rhea Dillon's reflections on labour to the best of Black British fashion, Frieze New Writers have selected the top shows to see this season
Frieze Week in London may have finished for another year, but there is still time to catch many brilliant, recently opened exhibitions across the city. This Critic's Guide has been written by the eight participants in the inaugural Frieze New Writers programme – a free-to-attend four-week course for aspiring art writers led by Frieze's editorial team. This initiative is part of Frieze's wider commitment to amplifying diverse voices within the art world and is supported by our membership scheme.
Ibrahim Mahama
White Cube Bermondsey
15 September – 7 November
Ibrahim Mahama's solo exhibition at White Cube Bermondsey continues his exploration of history embedded in materials – be they the dilapidated remnants of Ghana's post-independence industrialization efforts or used school desks and sewing machines from the 1960s. In 'Lazarus' – a nod to the biblical figure brought back to life by Jesus – resurrection is a key theme. History lingers in eerie ways and Mahama looks to capture this haunting presence in his installations, sculptures and collages. Lazarus (2021), for instance, features giant hanging replicas of bats re-created from photographs the artist took of the living creatures that had made their homes in the abandoned grain-storage silos that Ghana's first president, Kwame Nkrumah, bought more than 50 years ago. Yet, in this recognition of the country's failure, Mahama also captures a hope for the future and the potential for regeneration. Remembering what could have been, and how we got here instead, is a step towards imagining anew.
– Yaa Addae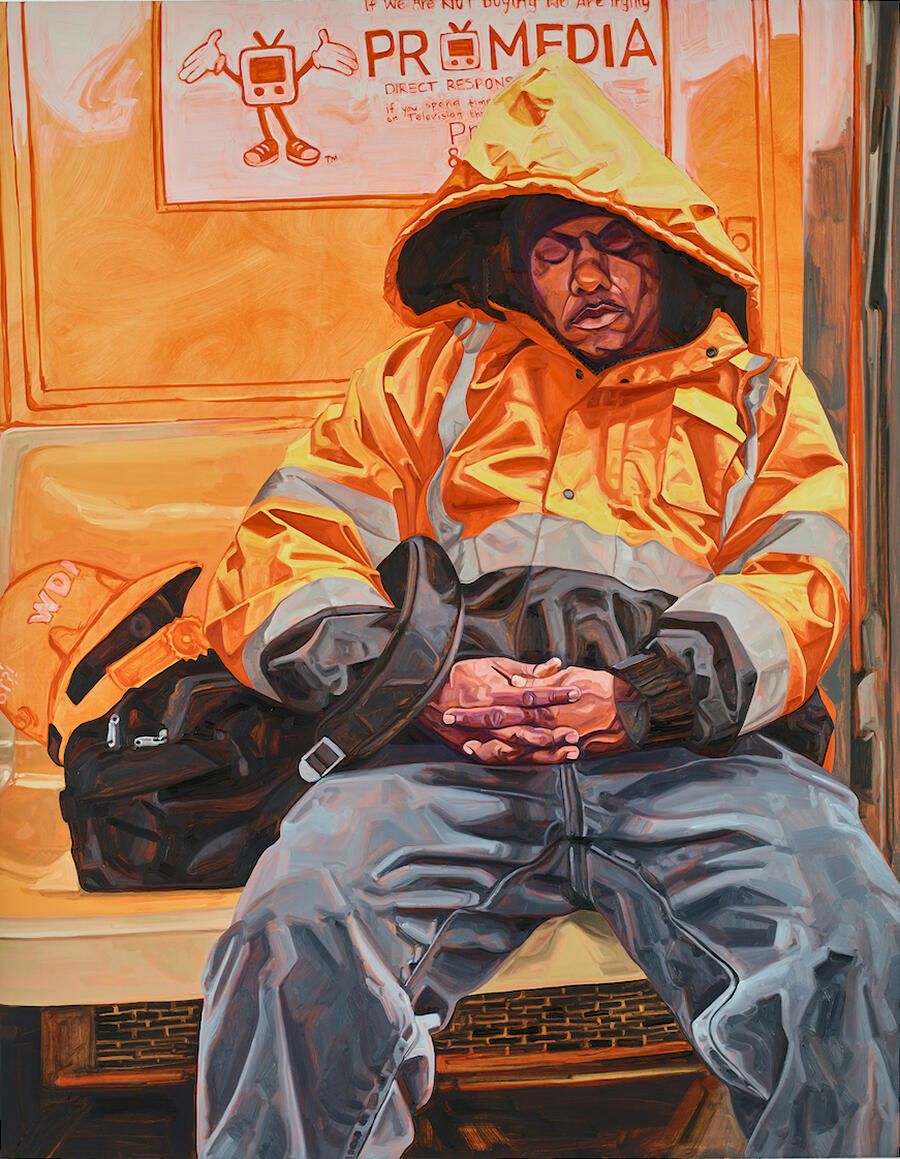 Jordan Casteel
MASSIMODECARLO
11 October – 17 November
For everything, there is a season. This belief animates Jordan Casteel's first UK solo show, an exhibition concerned with ephemerality and small instances of connection. The nine works on display offer a representative sample of the artist's luminous painting, from portraits of fellow passengers ('Subway Series', 2019–ongoing) through to landscapes (Nasturtium, 2021) and domestic tableaux (Still Life [at home with Yvonne and James], 2021). These are big, colourful paintings, but they depict quiet, intimate encounters, as Casteel looks from the train carriage to the suburban garden, the sidewalk to the windowsill. Attention becomes a kind of prayer. Everything is accorded special significance under her brushstrokes: a newspaper headline, an Adidas logo, the chicken nugget in a kid's Happy Meal, blue footprints gleaming in the snow. 'There Is a Season' is a brilliant, blazing monument to the passing moment, resting on Casteel's sensitivity to scenes that could so easily be overlooked.
– Tara McEvoy
Özgür Kar
Emalin
08 October – 10 November
Best viewed alone at dusk, Özgür Kar's exhibition 'Storage Drama' quickly abandons the façade of spookiness suggested by its talking skeleton, eerie music and proximity to Halloween to reveal a depth of meditative purpose. Kar's first solo exhibition at Emalin presents the fourth iteration of his digitized skeleton character, inspired by the Death figure popularised in the medieval Danse Macabre. Three, freestanding screens play simultaneously in a seamless loop. Each entombs a skeleton performing a different instrument – a clarinet, a flute, a bell. The music, which is novel to Kar's practice, shifts anxious energy around the space, creating a tension that is periodically broken by an absurdist monologue on loneliness and futility. As the loop repeats, an entrancing calm intensifies. You may find yourself smiling amid the macabre as you make your peace with the bleak weirdness of it all, of what is in front of you and beyond.
– Salena Barry
 
Elisabeth Wild & Vivian Suter
Proyectos Ultravioleta at 9 Cork Street
8 – 23 October
In Frieze's new space at 9 Cork Street, Proyectos Ultravioleta's presentation of work by Vivian Suter and her late mother, Elisabeth Wild, is an oasis of optimism. Suspended from the ceiling, Suter's fluid, unstretched paintings allow you to become hidden in swathes of canvas. In this soft, brightly coloured maze you could be amongst trees or in the middle of a childhood game. Bordering Suter's canvases on the gallery wall are Wild's compact, bold and equally playful collages. In an untitled 2018 work from Wild's 'Fantasías' series, the BP logo, still palpably recognizable, becomes unbranded when placed in the centre of larger, simpler forms. While nodding toward ongoing environmental devastation, Wild's fantastical layering of shapes, spaces and perspectives gives us glimpses of other possible worlds: an invitation to think hopefully (and god knows, we need it). If you're suffering from ennui, 'Nina's Wishbone' is the closest you'll get in Mayfair to forest bathing.
– Elspeth Wilson
 
'Armour'
HOME
30 September – 21 November
HOME, Ronan Mckenzie's north London space, imbues its latest exhibition, 'Armour', with a sedative warmth. Time seems to slacken within its tan walls; soft music floats around an elegant décor: I find I don't want to leave. The exhibition is a presentation of 11 Black British designers, whose garments hang from the ceiling like a sea of beautiful ghosts. New designer Àrámidé catches my eye. She showcases a handknitted dress, its multicoloured stitching winding with the curves of the object it swaddles. The piece seems to exemplify the spirit of the exhibition. Àrámidé, still a student at University of the Arts, London, stands shoulder-to-shoulder with established labels such as Walé Adeyemi and Martine Rose. 'Armour' is a celebration of Black British talent, fashion newcomers besides industry vets. It feels fresh and exultant, reflecting HOME's own rise as a pioneering, Black-owned gallery space.
– Aidan Esien
 
Rhea Dillon
V.O Curations
15 October – 11 November
Do you know who cleans the seats on London buses? Ruminating on the erasure of Black British labour, Rhea Dillon fastidiously weaves together painting, sculpture and found objects in her debut solo exhibition, at V.O Curations. Playing with a material tension between durability and fragility, Dillon references members of her British-Jamaican family who have worked for Transport for London. She covers bus seats in ghostly translucent plastic and transforms framed seat backings into fragmented manuscripts. A glass heirloom passed down by her grandmother morphs into hands of service when precariously balanced on a broken breeze block, referencing the makeshift architecture of many Jamaican homes. Affecting, abstracted and, at times, mystical, Dillon's family history becomes a tribute to the ignored and unseen manual work of the Windrush Generation. In light of the dire lack of post-Brexit lorry drivers, the work is a topical reminder of Britain's unacknowledged reliance on immigrant labour. Dillon's consideration of Black Britishness lingers far beyond the bus ride home.
– Donna Marcus Duke
 
Diamond Stingily
Cabinet Gallery
9 September – 30 October
Diamond Stingily's first UK solo show, 'dead Daughter', is filled with ghosts. At Cabinet Gallery in Vauxhall, long plaits of hair trail down the walls, at times interwoven with metal chains. The plaits form a ladder, drawing us from the hands of one body to the head of another: in the centre of the gallery, fingers that might once have nimbly braided crawl across a pink carpet, knuckles bent, spidering between matching pink plinths, topped with bouquets of artificial flowers. These are replicas of bouquets that adorned Stingily's aunt's salon in West Chicago, where the artist herself learned to braid hair. Alongside the eerie forms of armless hands, legless feet and headless braids, spectres of the high street pervade the show; like shops that have ceased trading, the gallery windows are covered with old newspapers, the light masked by redundant headlines. A shrine to family businesses and the preservation of inherited knowledge, Stingily's show is filled with memories that hover above bouquets and carpet, with some creeping out of the door behind you as you leave.
– Lisette May Monroe
 
Tacita Dean
Frith Street Gallery, Soho Square
17 September – 13 November
Visiting Tacita Dean's latest show is like creaking around a living room populated by the most precious ephemera. At Frith Street Gallery's Soho Square space, nothing is larger than could be held by both hands. But the work's domestic scale is not the sole cultivator of intimacy. Spurred by her discovery of a letter written by Claude Monet to Camille Pissarro on which was written 'hate tacita', Dean and her long-time friend and collaborator, Martyn Ridgewell, have created an 'exhibition in a box' of 50 objects, guided by chance encounters, luck and serendipity. The installation, which arranges objects in constellations, draws symbolic correlations between keys and locks of hair, letterpress prints, index cards and softly spoken recitations on vinyl, forming material channels of communication between past and present. The collective effect is of being wrapped in secrets, or of overhearing snippets of a whispered conversation between friends.
– Ronnie Angel Pope
Main image and thumb: 'Armour', 2021, exhibition view. Courtesy: the artists and HOME, London