On 20 May 1498, the Portuguese explorer Vasco da Gama first set foot ashore south-west India's Malabar Coast in search of 'Christians and spices', most notably pepper. (It was the ruinous price of piper nigrum, in particular, that had forced the Portuguese to find a sea route to India, thus bypassing the rapacious Italian middlemen who controlled overland trade.) This fateful date in the history of East/West relations – as momentous a milestone marking the dawn of the modern era as the more widely cited 1492, the year Christopher Columbus reached the 'New World' – was immortalized, 400 years later, in a painting by the Portuguese artist Jose Maria Veloso Salgado, celebrating Da Gama's arrival in the Keralan port of Calicut and his meeting with the city's Hindu ruler, Zamorin. That painting's crude Orientalist fantasy cast a curiously long shadow over the 2nd Kochi-Muziris Biennale, the subcontinent's leading contemporary art event, which is organized in the city of Kochi, the one-time Portuguese colony south of Calicut where Vasco da Gama was buried in 1524, before his remains were returned to his native Portugal in 1539.
In this year's edition – the second – tellingly and punningly titled 'Whorled Explorations', two different artists reimagined the aforementioned primal scene, both quite literally: the young Australian artist Daniel Boyd rendered Da Gama's meeting with the Zamorin in a suite of shimmering, mildly psychedelic black and white oils and charcoal on linen, while the Bangalore-based photographer and video artist, Pushpamala N., restaged the symbolic and physical encounter between East and West in one of her signature high-definition tableaux vivants, The Arrival of Vasco da Gama (2014), in which the artist herself plays the role of the imperious Portuguese discoverer. (The room in which her large-scale photograph was displayed was filled with the props that were used to stage the scene, like so many afterthoughts of a museum's self-scrutiny.) Luckily, the two artists' works were housed in very different venues, both exquisite colonial-era structures. The occasional slip into redundancy – one cosmic pun or example of naval imagery too many, say – coupled with a tendency towards the literal and a correspondingly cautious handling of present-day politics, were perhaps the primary flaws of this sprawling, richly textured exhibition. Trade routes, travel, the transmission of goods and ideas, of ideas as goods; the spinning, spiralling and mirroring of heaven and earth, and the predilection for astral fantasy and speculation that unites East and West, were the main themes undergirding artistic director and curator Jitish Kallat's selection of the work of 96 artists across eight venues.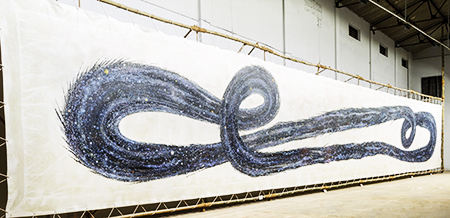 NS Harsha, Punarapi Jananam Punarapi Maranam, 2013, installation view at Aspinwall House, Fort Kochi
An art exhibition that sought much of its inspiration in the adjoining disciplines of astronomy, mathematics and trigonometry (fields in which the scholars of medieval India far outshone their European contemporaries) – refracted through the lens of colonial and post-colonial history – will inevitably tend towards an aestheticization of the language of numbers and natural phenomena, as was attested by highlights in the shape of powerful or simply beautiful works. These included NS Harsha's Punarapi Jananam Punarapi Maranam (2013), a 40-metre-long swirl of paint depicting the infinite loop of the known universe; Anish Kapoor's Descension (2014), a roaring whirlpool housed inside a room overlooking the serene expanse of the Indian Ocean; Dinh Q Lê's Erasure (2011), an installation comprising a fishing boat stranded on a sandbank of waste paper and archival photographs; Xu Bing's Background Story (2014), a 16-metre translucent Chinese landscape painting composed primarily of biodegradable debris; Charles and Ray Eames's iconic film, Powers of Ten (1977) and master painter Gulam Mohammed Sheikh's trippy take on the mappa mundi (also featuring Da Gama). Among a younger generation of artists, contributions such as Shumon Ahmed's 'Metal Graves' (2014), beautiful sepia-toned photographs of a boneyard in Chittagong, Bangladesh, where some of the world's largest ships go to die; Lavanya Mani's Travellers Tales – Blueprints (2014), an installation created from traditionally painted textiles to resemble a phalanx of sails on the open sea; and Benitha Perciyal's The Fires of Faith (2014), a deliciously fragrant installation conflating the history of the spice trade with the legend of the apostle Saint Thomas's travels to India, and Christianity's ancient roots in Kerala in particular) each, in their own way, responded to the luscious lure of the local.
Gigi Scarias, Chronicles of The Shores Foretold, 2014, installation view at Pepper House, Fort Kochi
Politics in this arch-atmospheric corner of the subcontinent is often romanticized, or the melancholy subject of nostalgic anecdote, as in 'Logic of Disappearance' (2014), the suite of 90 charcoal drawings of Vladimir Lenin, Chairman Mao and Karl Marx, as well as more traditional religious imagery by fêted Keralan filmmaker K.M. Madhusudhanan in Vara/Thira (2014). Other highpoints were the newly commissioned comic-book-like sketches recounting episodes from Kochi's colonial history by KM Vasudevan Namboodiri, another towering veteran of left-wing Keralan political life; and the fine installation of black and white photographs of everyday activist life, Perpetual Stills (2014), by Punaloor Rajan, formerly a member of the Kerala People's Arts Club (KPAC) and an alumnus of the All-Union Institute of Cinematography in Moscow.
Throughout my two-day stay in Kochi I was struck by the number of hammer-and-sickle flags on proud, unchallenged display across the city and its hinterland – a potent reminder of the vibrancy of political life in a country that, in the West, is now too often and all-too-easily associated with the monolithic spectre of socially conservative Hindu nationalism. In the biennale, the most powerful synthesis of aesthetics and practical, present-day political pre-occupations was to be found in the work of Mumbai-based video artist Navjot Altaf, who is known for her long-term work with an indigenous community in the central Indian state of Chhattisgarh. Her monumental interactive installation, Mary Wants to Read a Book (2014), is a library of more than 2,000 books made from recycled paper (Kerala is known nationally for its high literacy levels), which charts 2,000 years of continental climate change. A poignant intimation – whorled expectations – of the planetary ramifications of certain localized phenomena typical of the so-called Global South.
Julian Charrière, We Are All Astronauts, 2013, installation view at Durbar Hall, Ernakulam
Kallat must be applauded for the breadth of the exhibition's reach across this vast country, so attentive to the life of art outside the narrow confines of the established Delhi-Mumbai axis. But for a visitor such as the undersigned, with so little knowledge of modern and contemporary Indian art, this biennale's real gift may well have been its delicate highlighting of the work of various elders – some statesmen, some gifted amateurs. I am thinking here of the work of artists born between 1924 and 1949: Akbar Padamsee's exquisite animated concrete poem Syzygy from 1970; the luminous painterly realism of Sudhir Patwardhan; the angular glyphs of modernist master KG Subramanyan; and Vasudevan Namboodiri's sketches. Paraphrasing and undermining, if not contradicting, Martin Creed's neon-lettered Work No. 232 (2000), which was was installed on the facade of one of the Kochi Biennial's whitewashed venues ('the whole world + the work = the whole world'), here, in fact, was work that opened up a whole new world worth exploring.