55th Venice Biennale: the British Pavilion
A sense of magic pervades the main exhibition of this year's Venice Biennale. In the Central Pavilion, curator Massimiliano Gioni has chosen to present a number of artists whose working methodology comes through esoteric influences, spirituality, private mysticism and personal fetishism. So the title of Jeremy Deller's British Pavilion, 'English Magic', was fitting. If Gioni's dextrous presentation often looks to historical inspiration, Deller's anthropological take on all things English is rooted firmly in the present.
A large mural of a hawk clutching a red Range Rover in its talons, A Good Day for Cyclists (all works 2013), greets visitors, who today were queuing up to get in. To the right, another mural We Sit Starving Amidst Our Gold sees the giant figure of William Morris about to spear Roman Abramovich's billion-dollar yacht ' 'Luna' – parked so ostentatiously outside of the Giardini two years ago – into the Venetian lagoon. To the left, a series of photographs of David Bowie on his 1973 tour of the UK punctuate photographs of civil unrest, protests and strikes that occurred on the days of his concerts that year. Facts and fictions intermingle. This is a serious-minded, cultural history lesson but one that has a lightness of touch: the still-recent history of the scramble for shares in the newly privatized Russian oil and gas companies in the early '90s is presented, museologically, with cheques, coupons and certificates accompanied by helpful wall texts implicating the oligarchs (so openly welcomed into the UK) at the centre of the scandal. A snaking line of prehistoric flint arrow heads traces the wall space on an erratic, seemingly purposeless, trajectory. A map of Britain pinpoints the events highlighted in the Bowie series like something out of Crimewatch. Clearly Deller's typically interesting research has included visits to that very English of institutions: the provincial museum.
In presentation, then, this has the feel of the quaintly old-fashioned show but its content focuses on tough issues from recent history. In one room, photo-realist portraits drawn by prisoners – many of whom are former veterans of the recent wars in Iraq and Afghanistan – give a who's who guide to the central figures involved in the coverage of these conflicts in the British media. Among them is Dr David Kelley, the weapons expert who queried the legitimacy of the British government's claim that Saddam Hussein had weapons of mass destruction, as well as Tony Blair and Reg Keys, father of a killed soldier and outspoken critic of the war in Iraq. Photographs of Harrowdown Hill in Oxfordshire, the beauty spot where Kelly killed himself, are shown simply, poignantly, alongside.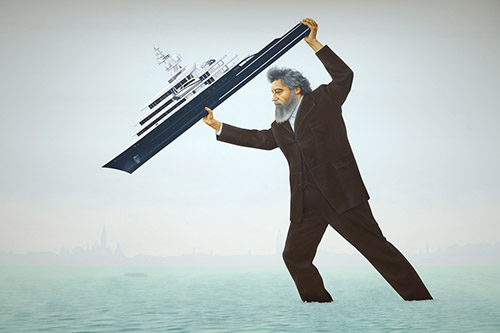 A video, promotional in feel, sees majestic birds of prey, shot in high definition and in super slow motion, landing and taking in typical English countryside scenes. You see the 'making' of the bench you sit on, a crushed Range Rover, and children bouncing on an inflatable full-scale Stonehenge, all the while accompanied by a medley of UK pop classics played by a steel drum orchestra. All very jolly, all very English. But all very middle class. Deller is careful in his politicking however – the cliches are clearly intended, the artist is in on the joke. Humour and self-effacement is a typically English tactic of self presentation, but for those not used to this particular and peculiar sensibilty, it can come across perhaps as a bit too self-satisfied. Similarly the tactic of museulogical presentation shows how easily contentious, outrageous events get stitched into the normalizing fabric of history and record – instinctively a historian, Deller himself is guilty of this. There's a danger that the satire can get lost, that the critique becomes blunted by its own means. Yet Deller is nothing if not aware of these dangers; there's enough needle in the show to guard against this. It's the antiquated, faintly ridiculous notion of the 'national pavilion' and the antiquated, faintly ridiculous notion of Englishness itself that Deller is exploring. And the almost magical way in which we so quickly forget the past.
Jeremy Deller's British Council commission is at La Biennale di Venezia until 24th November and will tour national UK venues in 2014. www.britishcouncil.org/visualarts.