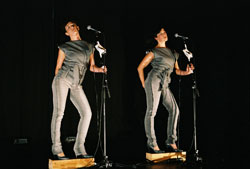 Frederique Bergholtz and Annie Fletcher, co-curators of the second edition of the extensive project 'If I Can't Dance, I Don't Want To Be Part Of Your Revolution' – for which they have organized a host of workshops and symposia, a mind- and body-expanding exhibition at De Appel, Amsterdam, and a weekend of performance art in January this year – had planned a surprise for the show's opening night. Artists and guests were ushered out of the venue into the rainy night and onto luxury coaches, and together we traded the city's picturesque waterways and winding streets for what seemed like an hour of interminably regimented sameness of Dutch freeways and suburbia.
A delightfully silly scene ensued: the coach drivers pulled up and turned us out somewhere in the somewhat drab, pre-WWII suburbs of Amsterdam-Noord. On cue the rain came down in buckets, and as our party marched on it soon became clear that no one actually knew where we were supposed to be going. Somehow, we eventually arrived at a square in which, rising up out of the surrounding ordinariness, stood the majestic Zonnehuis (Sun House). Built in 1931, this brick theatre is a local marvel: a social centre with a big Deco-inspired interior and a graceful arch over its stage, whose parquet floor has been appealingly worn by decades of dancing. In short, it was a setting well worth the hike and the soaking.
The event turned out to be a performance devised and performed by artists Alexandra Bachzetsis and Lies Vanborm. Although it constituted a kind of robotic striptease, Act (2007) didn't simply build up to a naked finale tailored for a straight male audience – although their haughty routine could easily have been mistaken for light club entertainment if it hadn't been for the critical and rejuvenating spirit of the host project. Act also consisted of a workshop for students with fashion designer Pascale Gatzen to develop costume ideas, an excursion to Paris to visit the legendary Crazy Horse cabaret club, and a meeting with an air guitarist to get some tips on technique. In addition, ten publicity campaigns for the performance were developed by Lies Vanborm's graphic design students at Amsterdam's Gerrit Rietveld Academy around the idea of an 'unannounced performance'. Without any prior knowledge of this, however, it was hard to know what to make of these 'glamour girl' artists stomping around in high heels and Euro-chic outfits with blank faces, or what was intended by their angular 1980s-model poses, the exaggerated big electronic music, the spotlights and slide projections (by Tina Bleuler). Their non-identical twin routine – a choreographed succession of walks and poses and some partial disrobing – emphasized the female body as a kind of cultural projection field and a two-way mirror. Ultimately it seemed as though these uneasy amateur showgirls were not so much critiquing some of the most extreme stylizations of women in entertainment, as claiming them, for what it's worth, for themselves.