After Image
A report on the Berlinale's 9th Forum Expanded at St. Agnes church, Berlin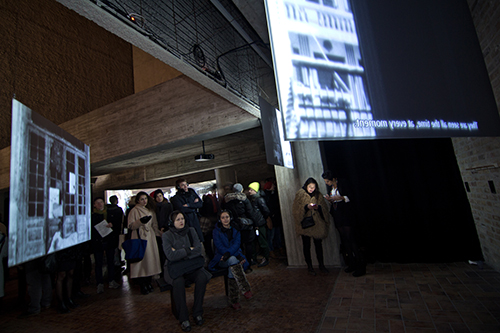 Embedded within the cavernous and imposing Berlin's St. Agnes church in Kreuzberg, the exhibition What Do We Know When We Know Where Something Is? was an industrially-scaled extension to the Berlinale's 9th Forum Expanded film programme. In contrast to the bombastic screenings at the IMAX across town – including artist's films such as Omer Fast's high-definition Everything That Rises Must Converge (2013), following a day in the life of four adult film actors in Los Angeles – the curators of this year's auxiliary exhibition (Stefanie Schulte Strathaus with Anselm Franke, Nanna Heidenreich, Bettina Steinbrügge and Ulrich Ziemons) chose to create more personalized and intimate viewing experiences by compartmentalizing the famed Brutalist structure. The diverse exhibition included works by a roster of international artists: Heba Amin, Hannes Böck, Azin Feizabadi, Robert Fenz, Malak Helmy, Judith Hopf, Ken Jacobs, Jakrawal Nilthamrong, Firas Shehadeh and Clemens von Wedemeyer.
Throughout the main space abounded film projectors of monstrous proportions and various technologies lending a somewhat nostalgic and fetishistic effect. This could be seen with the impressive 35mm projector used to display Robert Fenz's solemn portrait of reknown Berlin-based art collector Erika Hoffman-Koenige brewing and drinking tea at home (Tea, 2014), Firas Shehadeh's 8-bit digital animation of the radical Palestinian guerilla group Black September (Guerilla 8-bit, 2013) and Ken Jacob's 3D still footage of the Brooklyn Bridge (A Primer in Sky Socialism, 2013) which looked like early '90s experiments in digital art, created in response to his own 1964 film A Sky Socialist.
Reassessments of social narratives and historical memory was the focus in the filmic studies of archeological treasures by Hannes Böck (Fünf Skulpturen aus den ägyptischen Heiligtümern im Museo del Sannio, Benevento: n. 252 Hockender Pavian, Diorit; n. 253 Falke, Amphibolit; n. 255 Falke, Gabbro; n. 256 Hockender Pavian, Diorit; n. 280 Apis-Stier, Diorit, 2013), the re-enactment of a notorious Thai execution by Jakrawal Nilthamrong (Hangman, 2013) and the love story unfolding in the Museum of Modern Iranian History in Azin Feuzabadi's Chronicles from Majnun until Layla – Stage #1 & #2 (2013). But it was the preservation, effectual disintegration and uncertain future of analogue film which took centre stage in the exhibition – most clearly communicated and grounded in Clemens von Wedemeyer's Afterimage (2013). Projected onto a concave screen, the video showed a panoramic view of the multi-room Cinears studio in Rome – a family-run business that produces replicas of famous ancient sculptures for film sets. As realistic as the footage seems at first, the images of the sculptures dissolve into one another and shift in density from solidly opaque to translucent spatial renderings. To create this effect Von Wedemeyer laser-scanned the rooms and then rendered the images into a 3D cloud of pixel coordinates. In a jerky and nauseating motion, the camera continuously pans the rooms as if on the hunt for the ghosts of great Cinecittà classics.
Many of the works on view also harnessed subversive undercurrents sharing a sense of frustration and dissatisfaction with the status quo. Egyptian artist Heba Amin presented a floating three-screen installation showing perspectival views of abandoned modernist buildings in contemporary Cairo, shot in black and white on Super 8 film (Project Speak2Tweet: Case Study #1, 2011–ongoing). As a result of mismanagement under Hosni Mubarak's corrupt dictatorship, these buildings and construction sites were left unfinished and function in the film as reliquaries of socio-political instability. Overlaid on the footage were transcriptions in English of voice messages from the archives of 'Project Speek2Tweet'. This project was initiated by a group of activist programmers so that protesters could communicate with one another and to the wider public by leaving messages on an answering machine that transcribed their words to twitter feeds in response to the shut down of the Internet on January 27th, 2011 by Egyptian authorities. Through headphones the original Arabic audio recordings of these desperate voices could be heard – an intimate engagement with these solitary cries for change.
Crowded under a flight of stairs played Judith Hopf's Lily's Laptop (2013). An adaptation of the suffragette film Le Bateau de Léontine (1911), the film centres on a young au pair who destroys the apartment of her employers in a comical anti-authoritarian sketch – the au pair leaves the taps running until her owner's sterile apartment fills like an indoor pool; the water eventually flooding into the halls and overwhelming the neighbours below. As in many of Hopf's works, the characters display quirky, unpretentious and uncanny qualities that are hard not to find charming. The protest by the naïve and mischievous heroine is instantly likeable.
Up in the concrete tower of the church played a haunting multi-channel sound piece by Egyptian artist Malaj Helmy (Music for Drifting, 2013). Comprised of recordings of a messenger bird's travels across the Mediterranean and through the deserts of the Middle East and Northern Africa, this non-filmic work was the surprise addition to the exhibition. However the powerful audio transposed place and time just as well as one could wish from the best of cinematic experiences. As a final coda to the dense filmic exhibition, Helmy's work allowed for a welcome moment of reflection on ways of seeing and ways of imagining.