Featured in
Architecture
From Zaha Hadid to the Venice Architecture Biennale, the Shanghai Expo and museum extensions in Boston, Dresden and LA
Oliver Wainwright
The Buildings Editor of Building Design, he is a writer who lives in London.
2010 opened with an enormous phallic bang as the Burj Khalifa – at 828 metres high, the tallest building in the world – was unveiled in Dubai. Originally christened Burj Dubai but renamed after the uae President when Abu Dhabi bailed out its struggling neighbour, this US$1.5 billion monument to the Gulf bubble quickly came to be seen as a symbol of the decade's inflated speculative follies.
Three years into the financial crisis it was time for some moralizing. The year saw a Calvinist 'age of austerity' beckoned in with slashed spending, wholesale cuts and innumerable projects put on hold. But architecture is a slow beast, often crawling several years behind the economy, so 2010 also saw the completion of several long-awaited baubles of the boom – which, like the Burj, already stand as incongruous fragments of a bygone age.
Zaha Hadid finally received the RIBA Stirling Prize for a building that didn't deserve it, after missing out in previous years for ones that did – Stirling glory, like the profession, tending to run several years in arrears. The MAXXI National Museum of the 21st Century Arts in Rome – ten years in the making and so designed through painting and model, not parametric programming – is a formidable spatial conceit. But, as with Frank Gehry's 1997 Guggenheim Museum Bilbao or Daniel Libeskind's 2001 Jewish Museum in Berlin, it appears no-one told Hadid the building had to accommodate other people's work. The dynamically canted walls of its swooping galleries – so seductive in the barren emptiness of architectural photography – have proved rather less useful to hang things on.
2010 also saw Hadid's first major project completed in the UK in the form of a school: the Evelyn Grace Academy in Brixton. Sponsored by hedge-fund superstar Arpad Busson, and looking more like his power yacht than an inner-city comprehensive, its muscular grey bulk provides the perfect menacing image for a place of learning founded on a regime of discipline – and an apt metaphor for the increasing encroachment of the private sector. But, in its glassy extravagance, this business park on steroids marks the end of an era, when the City's furnace of excess could shed sparks of philanthropy to the needy hinterland. It is unlikely to be repeated.
Meanwhile, on a stinking, sinking island, the orgy of cocktail parties and bag-fights that is the 12th Venice Architecture Biennale provided an optimistic boost. Kazuyo Sejima, of sub-minimal Japanese practice SANAA, was chosen as its first female director and her carefully measured pacing of the Arsenale provided a refreshing antidote to the bloated formalism of Aaron Betsky's 2008 show. Alternately filling the cavernous industrial spaces with immersive installations – from Transsolar's misty ramp to Olafur Eliasson's gauntlet of hosepipes – and more process-based displays of drawings and models, the exhibition reflected a renewed emphasis on the architect's responsibility to create beautiful settings for human activity, with an economy of means.
It was a busy year for SANAA, who also won the Pritzker Prize and completed their long-awaited Rolex Learning Center for EPFL in Lausanne, Switzerland. An undulating field of open classrooms and study spaces, its gently rolling hills of concrete rise and swell to define a new fluid model of a landscape for learning. Unfortunately, furniture hasn't caught up with the floaty, freeform thinking of the Japanese duo, and, now populated, the form seems rather wilful; wedges and props are needed to stop things from rolling away.
In all its cleansing whiteness, SANAA's architecture provides a tranquilizing salve for the uncomfortable realities of the times. It is an easy way to shut your eyes and pretend everything's going to be all right. The unfortunate truth to the contrary was exhibited in all its profligate glory at the 2010 Shanghai Expo, titled 'Better City, Better Life', a vast £38 billion extravagance of pavilions and landscaping on the site of a former shipyard. 270 factories and 18,000 families were cleared for this gigantic funfair of international aspiration. And, having cost three times more than the Beijing Olympics, no one really knows what to do with this theme park now that the party is over.
The same fate is desperately trying to be avoided by the London Olympics, where more time and effort are being invested in the so-called legacy of the Games than planning for the fleeting sporting circus itself. Reflecting Mayor Boris Johnson's folksy mores, 2010's iteration of the Legacy Plan saw former mayor Ken Livingstone's vision of glassy perimeter blocks and Ramblas-like boulevards replaced with Nash crescents and 'ye olde' London terraces of family housing. But, realizing we may no longer have solvent developers to build these Photoshop visions, there was also much talk of interim 'meanwhile' use and the potentials of 'pop-ups' to fill the 200 hectares of tabula rasa. Along with free schools, localism bills and the extension of permitted development rights, the future may well be much more makeshift than we ever imagined.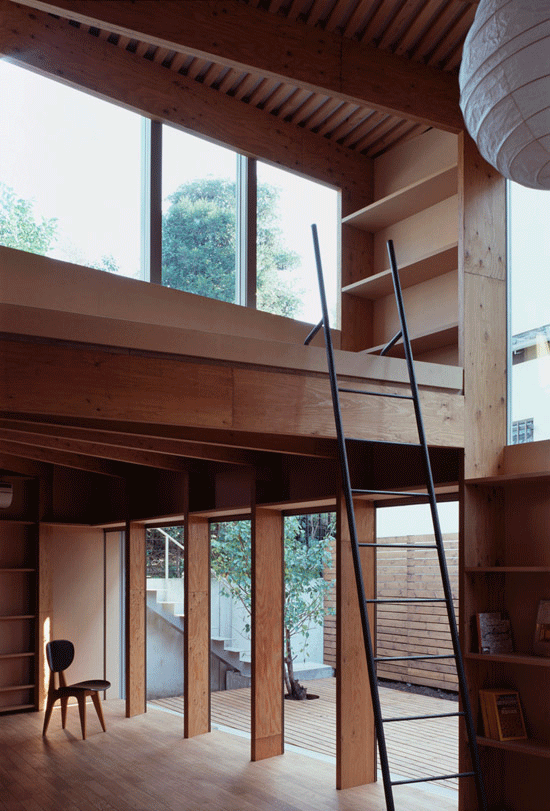 Kelsey Keith
The editor-in-chief of Architizer.com, she writes about art and design and lives in New York.
I recently returned from a trip to Tokyo, where I visited architect Shigeru Ban's office. Known for an international client base and his use of the native Japanese aesthetic of wabi-sabi, his design for the Centre Pompidou's outpost in Metz, France – opened in the summer to much praise and was described as a 'magic lantern', 'a scarecrow's straw hat' and a 'recently-landed spaceship' – is a direct reference to the woven-grass baskets laid out on the architect's desk in his Tokyo headquarters.
The commission was the highlight of a banner year for Ban. The Pompidou expanded its franchise beyond its 1977 Paris flagship and afforded Ban what critic Christopher Hawthorne called 'an intriguing experiment in urbanism, between high-design architecture and high-speed mobility', via the tgv line adjacent to the museum that stretches from Paris to Luxembourg. A commission for the new Aspen Art Museum, Colorado, is finally underway, and the finishing touches are being put on the Metal Shutter Houses in Chelsea, New York. However, when asked about upcoming projects, Ban's architects echoed what I've heard this year from firms of every size: they're not terribly occupied and always on the hunt for a new, preferably large-scale building.
The architecture industry needs solutions for surviving the economic downturn. Architects are taking on smaller, local projects and engaging in social media as a means of self-promotion. 2010 was an endurance test: succeeding in a competition-heavy environment and making smart choices about intermediate projects, all the while trying to ensure that people are informed about this hard work.
Museums, against all odds (tight budgeting, shrinking endowments, design-by-committee), are pulling their weight to preserve architectural practice as a viable medium for creative expression. The museums opened in 2010 are statement pieces, whether in execution (Ban's latticed roof) or reception (Foster + Partners' addition to the Museum of Fine Arts, Boston merited a 50-page glossy in two national newspapers following its opening). The year heralded openings in Tokyo (Nezu Museum by Kengo Kuma), Berlin (a detailed renovation of the Neues Museum by David Chipperfield with Julian Harrap Architects) and Los Angeles (another safe museum extension by Renzo Piano, this time at the LA County Museum of Art). Daniel Libeskind raised eyebrows with his still-in-process triangulated bisection of the National Military Museum in Dresden and Zaha Hadid calmed some of her snippiest critics with MAXXI, the elegantly wound contemporary art museum in Rome that collected the annual RIBA Stirling Prize.
Considering that most of these extensions are financed by the crowd most affected by fluctuating markets, it's a wonder that any have been completed. The public relations value, however, is gold. Care to expand one's traditional purview to a new location in Dundee? Make like the Victoria & Albert and hire Japanese architect Kengo Kuma. Fancy a renewed influence on fine art consumption worldwide? Expand your brand with new Louvre branches in northern France (SANAA) and Abu Dhabi (Jean Nouvel). Want to assert your small yet vibrant West Coast city as a major player on the architecture scene? Do as SFMOMA did and commission Snøhetta to do something, anything, with your Mario Botta edifice. Have more money than God and a massive art collection? Build a brand new museum in Los Angeles with Diller Scofidio + Renfro (for Eli Broad).
Thoughtfully executed art spaces are catnip for journalists and museum-goers though hardly viable for sustaining architecture practices. More than 1,000 entries were submitted to last summer's competition for the Kaohsiung waterfront cultural district in Taiwan; five were selected for the shortlist, of which one winner will finally, hopefully, reach completion before 2020. Perhaps architects will adapt the Japanese model trend of microhouses or artfully designed spaces that curtail a building's footprint without skimping on detail. Not that the bite-sized houses designed en masse by Tokyo's boutique firms (Mount Fuji Architects Studio, Akihisa Hirata, Yasuhiro Yamashita, Sou Fujimoto) are less expensive for the client. Instead, modesty of scale is superceding show-stopping volume, at least as far as single-family living is concerned.
By stretching budgets and flexing architectural ingenuity, personalities like Bjarke Ingels of BIG, in Copenhagen, and Jeanne Gang of Studio Gang, in Chicago, are building vertical suburbs: mixed-use developments that consume individual typologies for breakfast. Bicycle ramps to the penthouse floor, textured glass that repels flying birds, an entryway befitting a parkour expert – it's anyone's guess as to whether such projects will hold up in markets more tenuous than the currently booming Brazil, Denmark, and Taiwan. However one can hope that such bold design will expand the parameters of architectural practice. After all, do we not operate best under severe constraints?
We have yet to witness a sea change in how architecture is interpreted by the public at large, though the tide in social media is slowly changing. Architects are an insular bunch, and old-school critics are swift to persecute a lack of 'serious' focus in contemporary architecture consumption, especially online. Arguably this is precisely the problem: until the subject matter is energized and enthused with intelligence, why would anyone outside the industry care? And who better to infuse buildings with meaning and social relevance but architects themselves. Self-promotion is daunting, but until enough museums are commissioned to hire every architecture firm on Earth, such tactics certainly can't hurt.