With Copenhagen Art Week Now On, We Pick the Shows to See
A compilation of the best exhibitions from across Denmark's capital city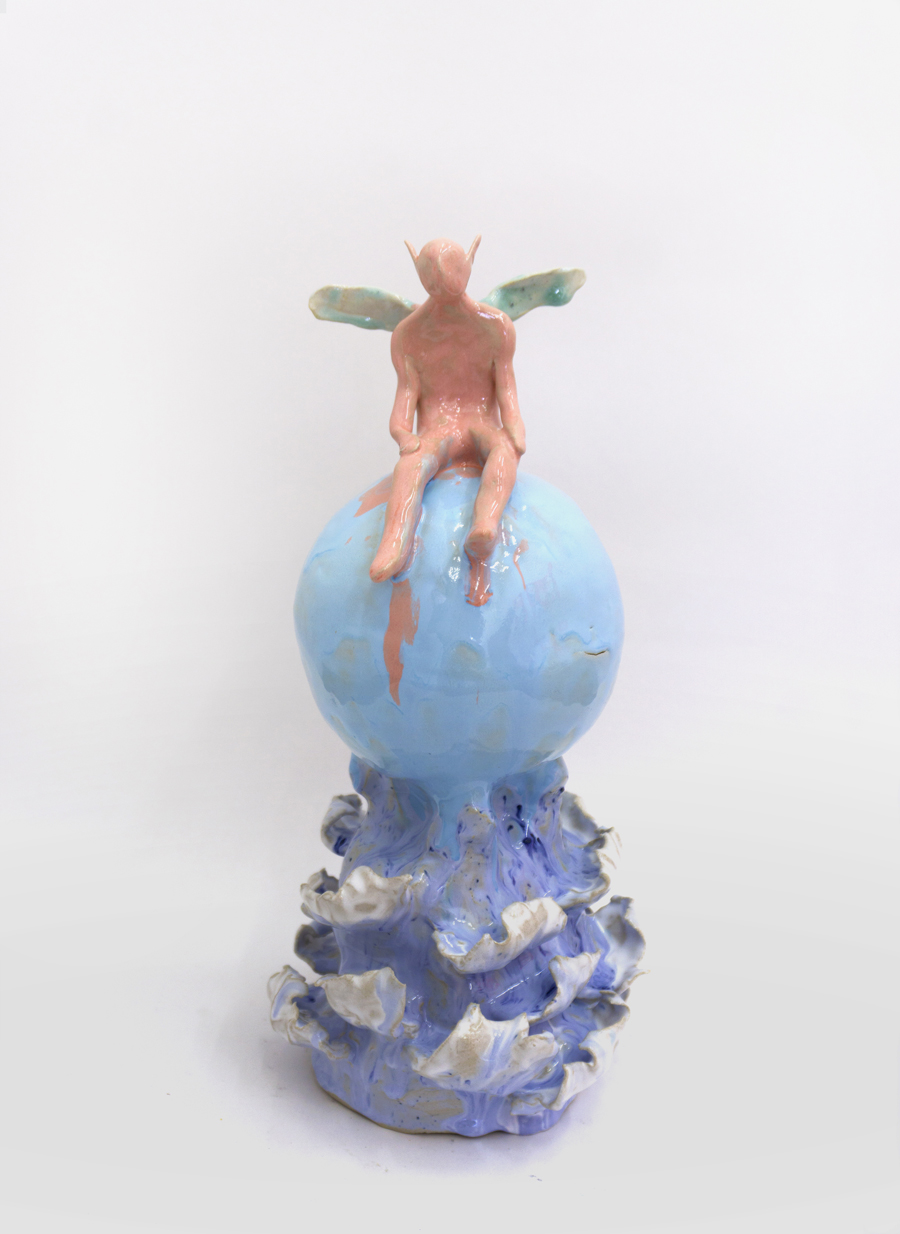 Klara Lilja
V1 Gallery
3 May – 1 June
Taking inspiration from Spanish ceramist Josep Llorens Artigas's 1079 glazing formulas, Klara Lilja presents works at V1 Gallery that showcase her vivid and grotesquely textured sculptures. Lilja, who lives and works in Copenhagen, makes work which 'combines elements of the occult, biology, manga [and] realism' and her ceramic works 'appear to be otherworldly and timeless.' Throughout the gallery space, pastel-coloured pink, green and blue pieces sit atop podiums and allude to mythical relics. Presented here is a murky, twisted world in which chimaeras, cyclopes and fused body parts take centre stage. Her fleshy glazed artworks epitomise an aesthetic that is both unsettling and enthralling; perhaps because the gnarled artworks are seductive in their eeriness.
David Shrigley
Galleri Nicolai Wallner
3 May – 22 June
British artist David Shrigley's work tries either to make you laugh or nod in agreement. His widely recognizable cartoon-esque drawings satirically comment on various aspects of everyday interactions. In this new exhibition at Galleri Nicolai Wallner, large-scale inflatable white 'swan-things' fill up with air and then later deflate in 12 minute cycles. First presented at Stockholm's Spritmuseum in 2018, the smiley faced creatures, which are loosely based upon the artist's thumbs-up sculpture installed in Trafalgar Square in London (Really Good, 2016), are a scaled-up version of Shrigley's distinct schematic drawings. A collection of colourful new works on paper are also on view and feature Shrigley's quirky observations using text and unfussy imagery. Whether philosophical deliberations or sassy quips, blunt humour is what fills the lungs of this exhibition. 
'SUMMER'
Museum of Contemporary Art
23 May – 8 September 
It's not often that you come across someone who practises both the culinary and visual arts, yet, the two have much in common; they form the fundamental constructs of a culture. Søren Aagaard brings his expertise to the table for a show titled 'SUMMER' which unites food and art as a way of looking deeper into sociological issues affecting different places while paying attention to topics such as climate, immigration and modes of production. Food is used as the material too, with the central installation hosting locally-sourced produce in a fully functioning teaching kitchen designed and built by Aagaard. In the work Hawwāh (2019), the artist has created a food truck for the post-apocalypse as a way to comment on consumption habits. Also on display is a video interview with food blogger Mary Scherpe, who discusses how 'the idea of local, authentic flavours, such as New Nordic Cuisine, can quickly be subsumed into a right-wing, nationalist agenda.' 
Marianna Simnett
Copenhagen Contemporary
8 February – 26 May
London-based artist Marianna Simnett typically uses video, watercolour and installation to 'challenge how bodies are perceived and imagined.' In her first Scandinavian solo show, titled 'SEIZURE', Simnett approaches the seemingly limitless topic of physical identity and the body. Viewers are confronted with Faint with Light (2016), a visual record of the artist blacking out through hyperventilation with bright lights on a screen responding to her gasps. The Needle and the Larynx (2016), shows the artist herself undergoing invasive surgery to achieve a 'radical transformation': she has Botox injected into her larynx which deepens her voice for several months. The work captures current conversations around gender and stifling expectations imposed on women's bodies. 'SEIZURE' is explicit in its critique of society and through being influenced by the work of performance artists Carolee Schneemann and Vito Acconci, who delve into similar themes around bodily endurance, Simnett further weighs in on the idea that experiments on the female body bring about collective rumination on oppression and systemic violence.
Sidsel Meineche Hansen
SMK – National Gallery of Denmark
28 February – 28 July
A life-sized ball-jointed figure sits within an exhibition space at the National Gallery of Denmark. The exhibition space is locked and unlocked by an app-controlled intercom and mechanical latch system. Inside the room, a human-like sculpture (Difficult to work with?, 2019), which features oral and vaginal silicone inserts as found in sex robots, holds a mobile phone. The mobile phone displays an animated avatar performing a self-help style monologue entitled An Artist's Guide to Stop Being an Artist (2019), an appropriation of the book Easy Way to Stop Smoking (1985) by Allen Carr. What is discussed is the 'the artist's dilemma of wanting to make art while wanting to quit it as a profession.' Via these works, Hansen is attempting to explore the correlation between automatization in the sex industry and the loss of control experienced by a person navigating the cultural industries. 
'Peanuts'
Eighteen
4 May – 1 June
Ten painters including Eddie Martinez, Derek Aylward, James Ulmer, Patrick Walsh and Ulrich Wulff explore the 'contemporary language of figurative painting' in this show at Eighteen. While each artist is distinct in their aesthetic and approach, what unifies this group show is a lucid yet flexible interpretation of what the human form can be. While James Ulmer's offering is a bright skeletal figure before a black backdrop, Eddie Martinez's confident use of colour and mark-making provides an alternative vantage point on figuration. The voices throughout this show form not a timid choir, instead the painters demand your eyes and energy, drawing you in with a diverse selection of works that have aspirations to radical vibrancy.
'Europa Endlos'
Kunsthal Charlottenborg
21 March – 11 August
In collaboration with CPH:DOX, Kunsthal Charlottenborg is spotlighting Europe and the EU with their exhibition 'Europa Endlos'. Using the UK's scheduled 29 March 'exit date' from the European Union and the European Parliament elections on 23–26 May as a starting point, the show explores democracy and the uncertain future looming ahead for millions of people. Works by Jeremy Deller, David Weiss, Olafur Eliasson and Wolfgang Tillmans have been selected by curator Henriette Bretton-Meyer, whose aim is to consider themes such as identity, labour, borders, community and migration. From Bouchra Khalili's film work The Tempest Society (2017), which addresses the refugee crisis, to Tillmans's and Deller's respective anti-Brexit poster and T-shirt campaigns, the show is a sign of these politically disorienting times. 
Main image: Jeremy Deller, A selection of Fuck Brexit T-shirts, 2017. Courtesy: the artist; photograph: Anders Sune Berg