Critic's Guide: Dublin
A round-up of the best shows in the city, ​ahead of the second edition of Dublin Gallery Weekend
Inaugurated last year, the Dublin Gallery Weekend has become a keenly anticipated event in the Irish capital. Rayne Booth, who came up with the scheme, wisely sidestepped the bloated biennale route, and instead looked to the existing infrastructure, inviting galleries and museums to collaborate in hosting a programme of events, talks, performances and parties over a single long weekend. With 32 participating spaces, as well as a strong exhibition programme, the only surprise is that it hadn't happened sooner, but cooperation requires a leap that isn't always straightforward to some. Another good example of beneficial collaboration is in the Monto group of galleries: ArtBox, The LAB, Oonagh Young, Talbot Gallery and Fire Station Artists' Studios; all of which are based in what was once Dublin's infamous red light district and get together to synchronize openings and other events. There's strength in numbers and everything to be gained. www.dublingalleryweekend.ie
Damien Flood, 'A Root that Turns as the Sun Turns'
Green on Red Gallery
19 October – 27 November
Damien Flood's enigmatic paintings tantalize and beguile. Like a forensic investigation of a Hieronymus Bosch, in which the earthly and unearthly delights have been atomised, Flood's fragments of disembodied shapes and forms, hover and cluster on perfectly balanced canvases. There are recognizable elements: leaves, the edge of a jug, faces or masks, a match that smokes from its unlit end. But there are also less easily identifiable shapes that, begging for resolution, invite satisfying speculation. The artist places us on the edge of stories with multiple meanings. He is brave with colour too, in Family (all works 2016), glowing green, sharp red and vibrant blue emerge from a pale yellow-green foggy ground, which might or might not bear figures. Shadow and Pear is a reversed black-primed canvas in which the shadow is disconnected from the pear, separated across an inscrutably symbolic field. In this, Flood's fourth solo show with Green on Red, he has pared back his canvases, to make works that invite your questions to linger. They are all the more satisfying for their open-endedness.
Yuri Pattison, 'sunset provision'
mother's tankstation limited
16 November – 21 January
Fascinated by surveillance, Yuri Pattison was this year's winner of the Frieze Artist Award, and his subsequent installation Insights (crisis trolley) (2016) was a mesmerizing insight into the world of data gathering and its visualization. For his first solo show in his native Dublin, the London-based artist investigates another all-consuming contemporary obsession: sleep. Extrapolating this to explore ideas of time, loneliness, productivity demands and automations; and the corollary of these – the marketing of panaceas and placebos to counteract our increasingly fraught relationship with this most natural state. In memory foam memory (all works 2016), a basic foam mattress is set up on the floor, with the accoutrements for sleep in easy reach. These are not your old fashioned book and glass of water, but instead comprise a light therapy mask, dawn/ dusk simulation dimmer, white noise sound unit, travel adaptors and a unit creating melatonin vapour. Beside this (infinite corridor, infinite) Sunset Provision is a projection onto a transparent dust sheet (a highly effective technique) of "MIThenge" – the moment the sun filters through the so-called 'Infinity Corridor' at Massachusetts Institute of Technology. Nature and culture clash and coalesce, but there is the nagging sense of increasing isolation and alienation; that the things we invent to enable either sleep or waking, may actually drive us further from the intended goal.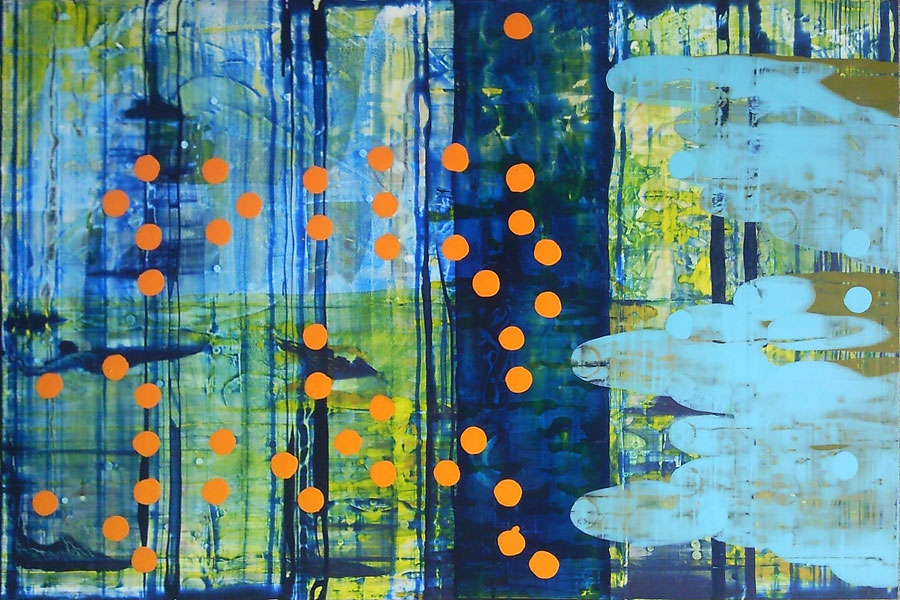 John Cronin
Royal Hibernian Academy
16 November – 21 December
If Yuri Pattison looks at how technology both abets and overwhelms, John Cronin draws ideas of artificial intelligence and augmented reality into his lush abstract oil on aluminium paintings. Endeavouring to explore, and depict, how evolving technologies shape and alter perception, the results are a feast. At first, the 14 works simply shimmer and attract. There are rainbows worth of rich and vibrant colours and, with the largest pieces more than five metres long, there's a lot to grab the attention. Spend time with them, and patterns emerge. The ZXX of the works' titles (all except for two earlier pieces Augmented Reality (2011) and Standard Deviations (2013)) refers to the US Library of Congress category for books which contain 'no linguistic content,' as well as to a covert typeface, designed by Sang Mun, to avoid optical character recognition. ZXX (8) (2015) hints at patterns or reflections of trees on water, or perhaps recurring lines of blue-green data, overlaid with bright orange spots – either interference or perfectly spherical algae. Again, in ZXX (15) (2016) the forms are either teeming amoeba or patterns of code. Cumulatively, Cronin has created his own abstract language that visualises the usually unseen deep data that structures our lives.
'Periodical Review 20/16'
Pallas Projects
25 November – 21 January
Starting life in an abandoned knitwear factory, the gallery and studios organization Pallas Projects, celebrate its 20th birthday this year. This is no mean feat for an artist-run space that has survived multiple moves and a major financial recession. This is the fifth iteration of their now-annual survey show, 'Periodical Review', which this year invited Sarah Glennie, Jenny Haughton, Declan Long and Brian Duggan to select work that, for them, best characterizes developments in the Irish art scene over the past two decades. Within the relatively small space of the Pallas galleries an encyclopaedic take on Irish art over the period wouldn't be possible. Instead we have a collection of personal memories, often presented through ephemera and documentation. This includes invites and printed material from the now shuttered Four Gallery, which hosted an impressive array of exhibitions during their time (2005–09). Dublin's Douglas Hyde Gallery is included too, represented by the display of some of the gallery's publications. Here you'll also find a print of Dorothy Cross' iconic Ghost Ship a phosphorescent light ship that the artist had moored in Dublin Bay in 1999. As well as documentation and ephemera, it is good to see the inclusion of works such as Clare Langan's lush and haunting film Too Dark for Night (2001) and a photographic work from Willie Doherty's 'Lapse' series (2012).
'The Wild'
Project Arts Centre
11 November – 28 January
While Pallas celebrates 20 years, the Temple Bar stalwart, Project Art Centre, is 50 this year. From its beginnings as a three-week festival at the Gate Theatre, before its move in 1974 to its current premises, Project has always been at the forefront of risk and experimentation in both art and theatre. Closing their half-centenary year, 'The Wild', is a collaborative exhibition inviting participation, performances and accumulating artworks throughout its duration. For example, Barbara Knezevic's Temporary Gathering in a Display Setting (2016) is conceived of as a sort of 'chain letter,' gathering momentum as the show continues. The works, all able to fit in an A4 envelope, are by invitation, and include, so far, pieces by Jorge de la Garza and Isauro Huizar. As befits Project's history, not all participants are artists. Broadcaster and social entrepreneur Dylan Haskins has contributed a banner: This Area is a Social Space hangs over the gallery, serving as a reminder that galleries need to shake their sometimes rarefied atmosphere to truly participate in a city's culture. A standout in the first iteration of 'The Wild'is Oonagh Kearney's film Oíche Nollaig na mBan (2016). Based on an Irish language poem of the same name by Seán Ó Ríordáin, in which the poet describes a storm of energy erupting on the night of Women's Christmas (traditionally celebrated on 6 January), Kearney conveys a vibrant, irreverent, revolutionary vitality that won't be suppressed – a perfect birthday present for Project.
Jaki Irvine
Irish Museum of Modern Art
23 September – 15 January
The artworks that have been created in response to the centenary of the 1916 Easter Rising in Ireland have for the most part been an exercise in excellence. From Garret Phelan's radio station HeedFM, to Rita Duffy's brilliantly hilarious Souvenir Shop; artists have examined the myths and legacies of the failed rebellion that led to the foundation of the Republic. Coming at the close of the year, Jaki Irvine's contribution is, fittingly, a triumph. An immersive installation comprising sound and video, with screens ranged over four connected galleries, there is no ideal viewing, or listening point. Instead, echoes travel, of music, voices, song. Centring on the stories of the largely forgotten women who fought in the rising, Irvine has used the Scottish 'canntaireachd' system of scoring to create melodies for the women's names. Female musicians perform Irvine's score on video, a stand out being Hilary Knox, whose bagpipes appear either as the barrel of a gun, or a penis: flaccid and occasionally erect with her breath. As a counterpoint to this, the only male voices come direct from the infamous 'Anglo Irish Tapes', actual voice recordings of those in charge of the now defunct bank, speaking about how they plan to defraud the State. Set against Irvine's haunting, elegiac soundtrack, their contemporary voices conjure the famous question posed by the poet of the revolution, W.B. Yeats: 'was it for this …?'
'A Different Republic'
The LAB
17 November – 5 February
A smell of oranges lingers in the downstairs galleries at The LAB. It's coming from Amanda Coogan's Can you see it, can you feel it, it's all in the air (2016), an installation that includes an old fashioned pram filled to the brim with these gently-rotting fruits. The symbolism, of oranges turning green, won't be lost in some quarters in Ireland. To underline the point, a video, on the other side of a barrier, constructed from strips of rubbish bags and emergency blankets, shows a woman pushing the same pram along one of Belfast's peace walls, ever travelling, never arriving. The exhibition, co-curated with Fire Station Artist's Studios and Arts & Disability Ireland, is a sharp-as-a-knife survey of different experiences of Irish citizenship. Corban Walker presents a series of photographs of unexpected fragments of architecture, perfectly, yet subtly demonstrating how our views can depend entirely on perspective. Suzanne Walsh screens quotations –,from Thomas McDonagh (one of the leaders of the 1916 Rising) to comments from Facebook groups – show the voices that form the fabric of society, and finds gems in their midst. A standout is Aideen Barry's A Smouldering Flock (2016), two vitrines in the darkened upper gallery. Spread out through these is a pair of concertinaed pen and ink drawings, onto which Barry has projected miniature video works. Looking at the lives of women, whether wage-slaves, single mothers on benefits, or any other woman going quietly mad with the effort of trying to appear sane, it's quite brilliant. In the semi-darkness of the gallery, some of the drawings' nuances are lost, but that darkness is nevertheless an apt metaphor for the lives of many women in Ireland over the past hundred years.
Main image: Jaki Irvine, If the Ground Should Open… (detail), 2016. Courtesy: the artist, Kerlin Gallery, Dulbin and Frith St. Gallery, London