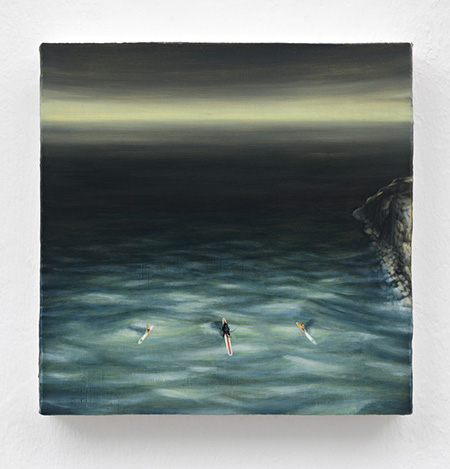 The dynamics portrayed between people and their surroundings in Dan Attoe's series of fourteen oil-on-canvas paintings in 'Landscapes with Water', currently on view at Peres Projects Berlin, feel native to locations like Gstaad, Aspen and Monaco, where privileged visitors ostentatiously try but often secretly fail to forget their human dramas, self-absorbed stresses and social anxieties. In actuality, these paintings were inspired by landscapes in Minnesota and Iowa, where Attoe grew up, and Washington, where he currently lives. Attoe's intensely felt understanding of these sublime locations is evident in his evocative depiction of mountains, turbulent skies, waterfalls, floating ice and stars in darkness. But the inhabitants of these paintings seem sadly disinterested in their majestic environments. Even without guidance from the poignant pieces of text that Attoe writes in silver paint directly on his canvases, his figures emanate self-absorbed alienation.
The tiny figures floating and pushing past each in Attoe's Mountain Swimming Pool (2013) look like bacteria in a Petri dish. Their bodies are long and uniform. Some seem to be female, because they have tiny dashes of white paint that serve as bandeau bikini tops and long brown hair; others only have short hair and bottoms. Despite being densely crowded together, they each seem isolated and self-consumed. And they all remain within the tightly defined perimeters of the clearly chlorinated pool. A few of the micro-people stick to the sides of the pool but none of them engage with the natural splendour beyond the wooden deck that seems to run straight off a cliff ringed by snow-covered mountains and crisp mountain air.
Dan Attoe, Mountain Swimming Pool, 2013, oil on canvas over MDF, 31 x 31 cm
Although the athletic, floating forms in Mountain Swimming Pool are nearly androgynous, the experiences expressed by other figures in Attoe's paintings are distinctly gendered. His sumptuous women seem narcissistically conscious of their beauty. Thus, two Kate Upton-esque girls in bikinis straddle surfboards in Surfers in Still Waters 3 (2014.) One of them wears a striped bikini that looks like peppermint candy. They are surrounded by a radiant red sunset, with dense grey clouds, a long stretch of beach, an impressive rocky mountain and blue water. Though they appear small in this context, they are still eye-catching. And like Sports Illustrated swimsuit models, they know they are the natural wonders in the image. The words that float around them, reading 'It's okay' and 'You can look at me all you want' turn them into sirens, making viewers self-conscious of their interest.
In contrast to the enticing female figures in these paintings, the males seem burdened and lost. A few, like the shaggy creature floating on a surfboard between two bodacious girls in Surfers in the Moonlight (2013), resemble Rip van Winkle with long beards, bedraggled hair and an air of profound confusion. Even when they're more clean-cut, the men in these paintings are obviously enveloped in some crippling unhappiness or a battle like the one in Ingmar Bergman's Seventh Seal (1957), which was also set on water.
Dan Attoe, Swimming Pool at Night, 2, 2014, oil on canvas over MDF, 31 x 31 cm
The worst case is a man lounging on a pool chair in Swimming Pool at Night, 2 (2013). He is seated next to a lavish bouquet of cut red flowers in a stone sculpture and faces away from a beautiful alpine view with dusky light and hearty pine trees. In front of him is an illuminated swimming pool where a voluptuous girl in a snug white bikini sucks on a banana. The words, 'I did this to myself' written next to him could be a boast about obtaining his coveted lifestyle. But he could just as easily be expressing self-chastisement and remorse. Other figures in Couple and Waterfall, Surfer in Still Water and Icy Shore (all 2013) are pictured submerged in water, drifting on water and emerging from a frozen ocean wearing a diving helmet. They each appear to be struggling, but the lone figure reclining on a deck chair in a setting suited for a high-end glossy magazine appears trapped in a desperate private conflict that, like many of Attoe's male figures, keeps him apart from the world around him.