Dispatches: Los Angeles
From growing protests over the gentrification of Boyle Heights to Schimmel leaving Hauser & Wirth, the latest from a mobilizing LA art scene
Almost exactly a year ago, Holland Cotter reviewed 'Revolution in the Making', the inaugural exhibition at Hauser, Wirth & Schimmel, with the headline 'Are All-Women Shows Good or Bad for Art?' He never really got around to answering that question, but towards the end of his piece he did raise a number of other equally pressing questions about Los Angeles' much-hyped 'moment'. Is the art scene here getting better, he asked, or just bigger and richer? 'For some years now, we've seen the same kind of growth in New York, where money drains art of blood, and slow death by gentrification is far advanced.'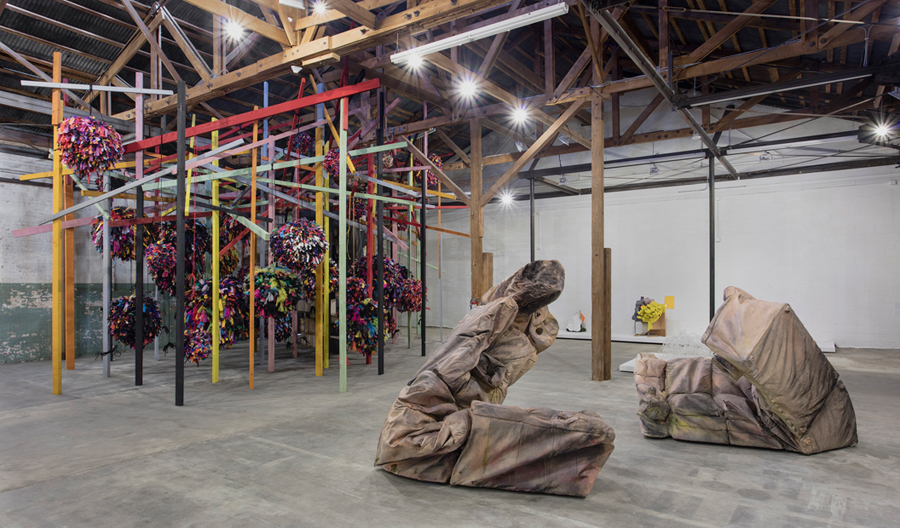 He noted the ongoing displacement of the working class Latino community from nearby Boyle Heights, while art galleries move in and rents rise. (He carefully hedged the cause and effect of that sentence, as I have here.) He observed the massive homeless encampment in Downtown Los Angeles just a few blocks from Hauser, Wirth & Schimmel. He urged the Los Angeles art world to take New York as a cautionary tale and pay 'close activist attention to itself'.
In March 2016 Cotter could not have known the calamitous national and global political ructions that would conspire over the coming year to make his comments even more prescient. Stunning developments both inside and outside the art world in recent months have been so wildly unpredictable that one might either conclude, as some have, that reality is actually a giant computer simulation that has started to get buggy, or that the global emergency of Donald Trump's election has catalyzed an Accelerationist collapse in which the establishment comes apart at the seams and a new order rises in its place.
One might have hoped that a consequence of Trump's election would be a tighter coalition of the Left; a renewed sense of mission. If we in the art world ever imagined that we were all, broadly, on the same side, recent events in Los Angeles have shown the very opposite to be the case.
On 12 February, I attended a meeting at the gallery 356 Mission convened by the Artists' Political Action Network (APAN), a newly formed group whose founding committee included LA-based artists Kathryn Andrews, Andrea Fraser, Charles Gaines, Liz Glynn, Tala Madani, Monica Majoli, Laura Owens, and architect Kulapat Yantrasast. The objective of the meeting, an invitation email explained, was 'to construct a network for artists to share information, coordinate responses with established organizations, and leverage our cultural capital to effect meaningful change in our communities, at the state level, and nationally.'
As I approached the gallery, a group of protesters pressed flyers into my hand and challenged me not to cross the 'picket line'. Flustered, I hustled inside to shouts of 'scab!' It turned out that the protesters came largely from the groups Defend Boyle Heights (DBH) and the Boyle Heights Alliance Against Artwashing and Displacement (BHAAAD), and they were objecting to the location of the meeting in a neighbourhood already aflame in controversy over its unofficial redesignation as a gallery district.
The most recent space to have opened there, UTA Artist Space – the commercial gallery of Beverly Hills-based United Talent Agency which opened in September last year with a show of Larry Clark's photo collages and paintings from his 'Heroin' series of 2014 – seemed utterly oblivious to the controversy. Compared to this and other galleries in the area, 356 Mission seemed to many in the wider art community to be one of the good guys.
As the protesters' chants filtered through the windows, the organizers took suggestions from the audience on the most urgent issues for subcommittees to organize around. LGBTQ rights, immigration, education, white-suprematism all came up as, of course, did gentrification. At one point protesters interrupted the meeting, chanting 'A gentrifying space is not a safe space!' into a megaphone. A member of BHAAAD invited attendees to join an email list and find out more about the group's position, before saying, 'You know what, fuck all you guys.'
I looked at the flyer in my hand. 'Donald Trump is a developer and so is 356 Mission', it read. On the other side was a longer text claiming that since the gallery initially promised to work with the community, it had subsequently continued business as usual. It noted that when somebody sprayed 'fuck white art' on the door of nearby Nicodim Gallery, last October, 356 Mission attended a meeting with police over the alleged hate crime. It read: 'Working with the police in any form is enacting the racist police state on a community of mostly people of color and is in direct service of white supremacy and capitalism.'
Later, I heard from a friend with ties to 356 Mission that the gallery had asked to meet with police only to try and quash the notion that the graffiti was a hate crime, which carries much heavier penalties than straight vandalism. In the days after the APAN meeting, 356 Mission released a recondite and measured response to the protest on its website which concluded: 'We recognize that 356 Mission will have to reimagine itself and we remain hopeful that the work we do can be a service to the community of Boyle Heights as well as the greater Los Angeles arts community.  This is an ongoing conversation and we don't yet have the answers.  As always, we remain open to ideas about how to proceed.'
A week later, on 18 February, Hauser, Wirth & Schimmel opened a survey exhibition by Jason Rhoades, an artist who Paul Schimmel championed early on, since Rhoades's emergence with the installation Swedish Erotica and Fiero Parts (1994) through to his early death in 2006. The über-maximalist installations by the straight, white, politically-incorrect artist seemed painfully apposite for an outing at the dawn of Trumpian America, although Rhoades' position of cheerful political ambivalence feels like a relic from another era.
On 21 February, Barnett Cohen and Jules Gimbrone, founders of the Boyle Heights-based non-profit PSSST, announced that they would close their space under pressure from the activists. Opened less than a year before, the institution – which focused on programmes by underrepresented, intersectional artists – drew fire over revelations concerning the real estate deal done by its building's anonymous owner.
On 24 February, Iwan and Manuela Wirth released a statement announcing that Schimmel was no longer partner and Vice President of the gallery. No further explanations have come to light, either from Hauser & Wirth or from Schimmel himself, although it seems unlikely that the former MOCA chief curator parted company because of his misjudgment regarding his organization of this solidly blue-chip show.
On 2 March, the ICA LA (the reincarnation of the Santa Monica Museum, opening a mile from Hauser, Wirth & Schimmel in Downtown's Arts District, across the river from Boyle Heights) announced it will relaunch on 9 September with an exhibition by Martín Ramírez, the self-taught Mexican-born artist who died in 1963, while curator Jamillah James will organize a show by Bronz-based Abigail DeVille, who also featured in 'Revolution in the Making'.
While another nascent Downtown art institution, the Main Museum of Los Angeles Art, will not open fully for three or four years, in its 'Beta Phase' it is currently hosting Edgar Arceneaux's installation Library of Black Lies (2013–16). Its community-engaged programming under director Allison Agsten seems designed to ward off any bad vibes associated with its founders, two Downtown property developers.
As Los Angeles looks forward to September 2017, when the Getty initiative Pacific Standard Time 'LA/LA' will pull focus onto the art of the region's Latinx community – nearly half the population – projects by artists of colour seem to be becoming less unusual in a city where non-white residents have long been the majority.
Despite curator Helen Molesworth's instrumental involvement in the triumphal Kerry James Marshall show that opened at MOCA last week and other recent shows by Kahlil Joseph, Mickalene Thomas and Noah Davis' Underground Museum, MOCA's recent announcement that this year's annual gala will celebrate Jeff Koons (a museum benefactor) strikes a bum note. Director Philippe Vergne has faced criticism for prioritizing white, male artists, with major Geffen Contemporary shows going to Matthew Barney, Doug Aitken and – incredibly – this coming April, Carl Andre, whose retrospective drew protests in previous iterations at Dia Beacon and Tate Modern over the artist's alleged responsibility for the death of his Cuban-American wife, Ana Mendieta. The museum's PR department clearly has its work cut out.
In the meantime, the crazy news will doubtless keep on coming. What new revelations will have hit your news feeds by the time you read this? I shudder to think.
Main image: Jason Rhoades, Tijuanatanjierchandelier, 2006, installation view, CAC Centro de Arte Contemporaneo, Malaga, Spain, 2006. © The Estate of Jason Rhoades. Courtesy: the estate, Hauser & Wirth, and David Zwirner