Featured in
Dreaming of an Older Britain: The Nostalgic Paintings of Benjamin Senior
A new exhibition at BolteLang, Zurich, is as markedly sombre as it is delightful
Leisure time on the beach, roller-skating in suburbia and other outdoor pleasures are the subjects of Benjamin Senior's exhibition, 'Under the Buttercross'. This presentation of nine works from the past two years marks a full return to painting in egg tempera after the artist's foray into oils, leaving no doubt of his deft ability. Ukelist (2018) shows two men relaxing on a beach, one of whom strums a ukulele. Before them, plastic windmills are planted in the sand marking the foreground; behind them, a wooden rowing boat has been pulled out of the water, with yachts sailing beyond and a hillside dotted with houses yet farther away. The mauvetoned forms have a quiet luminosity and, though a light wind makes sails pregnant, the scene is still; the musician of the two might be listening to his instrument's brief resonance. Senior's play with pattern, which bleeds from textiles into objects, and with form, like those windmills that crisply dominate yet disappear into their background, is unmistakeable in reproductions but, standing before the real paintings, it creeps up to surprise you. The viewpoint is generally dramatically high or low, with the potential of the latter showcased in The Puppeteer (2018). Here, the eponymous protagonist manipulates an identically dressed marionette to entertain a young boy who is crouching down to investigate. Through the artist's perspectival sleight of hand, the puppet and the people sitting some distance away outside a café are of equal height.
The subjects of Senior's paintings have evolved: where once his figures glided along autonomously like avatars, now they interact – looking at, leaning upon and competing with one another. The paintings operate on several temporal registers at once: these are contemporary scenes, if you note the functional work gloves worn by a stone carver, the African print-inspired clothing currently prevalent on the high street or a clear plastic beach ball. Yet, traces of an older Britain, and often its industrial heritage, inform the backdrops: a cast-iron bridge, a Victorian town centre edifice or mock-Tudor seafront properties. What's more, these features are emblematic rather than specific; these are snapshots from what might be a timeless, sunny idyll populated by youth and young families. But there is no timelessness in painting, nor is there artlessness – it is a medium in which artists can never elude their predecessors, as Senior evidently appreciates. The most obvious reference here is, perhaps, the inclusion of pre-Raphaelite girls in Seed Harvest (2018). Yet, while echoes of the well-worn genres of cityscapes and seaside scenes from across the artistic spectrum thrum, they do not swamp Senior's own vision.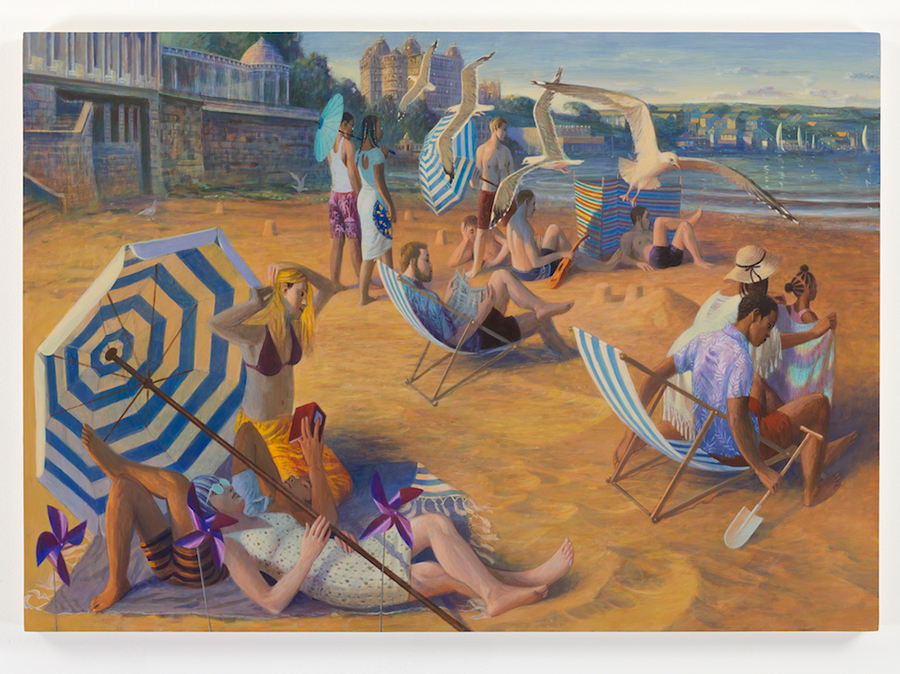 Ultimately, these paintings are as sombre as they are delightful. The young people the artist depicts inherit a Britain marked by its past grandeur. But, while it's presented as diverse and dynamic, it is a place in which notions of common space, public good and free access to knowledge are under threat. In this, their carefree lives seem anachronistic. Much as Senior revivifies the practice of painting everyday life, striving to haul the genre away from homogeneity and redistribute roles among a broader cast, to recall tradition is dangerous these days. Right now, in Britain, nostalgia is being mined for its corrosive, divisive elements. It is probably a coincidence that one figure on the beach in Gulls Over South Bay (2019) is reading a slim burgundy volume, not dissimilar to the current British passport, while birds cut through the air above. When the prospect of leaving the European Union and returning to a blue passport means such a great deal to British separatists, it begs the question: what else might soon be lost from these scenes?
Benjamin Senior, 'Under the Buttercross' was on view at BolteLang, Zurich from 30 March until 11 May 2019.
Main image: Benjamin Senior, Roll (detail), 2018, egg tempera on cotton on plywood, 60 × 80 cm. Courtesy: the artist and BolteLang, Zurich