The first time I visited Reinhard Mucha's studio at Kölner Strasse 170 in Dusseldorf was the autumn of 2009. I had the audacious idea of inviting him for an exhibition at the kestnergesellschaft in Hanover. I say audacious, but with hindsight, it was naïve. I had no idea then of the role the 'exhibition' plays in his work. He gave me an extended tour through the cool, labyrinthine corridors of his three-storey building. Room by room, Mucha showed me the storage areas for floor coverings, bicycles and footstools. He showed me his 'workpieces', as he calls his individual works of art. Towards the end of my visit, we discussed getting something to eat. 'My train leaves in an hour', I said. 'To eat properly, you need at least two', Mucha replied. He lent me a bike and we set off for a nearby Italian restaurant by the railway lines. Needless to say I missed my train.
Mucha's main concern seems to be the passage of time. His work stores the time of its making. Like the so-called 'forensic' artists of the 1970s and 1980s, artists such as Christian Boltanski, Nikolaus Lang or Anne and Patrick Poirier who focused on collective biography, Mucha too transferred a huge stock of 20th century objects into the temporary shelter of art: doors, chairs, ladders, concrete mixing tubs, cupboards, railway lamps, footstools, folding rules, archive boxes, and much more. He has reworked and used all of these as building materials, the construction always remaining visible. Yet unlike the forensic artists, Mucha's method differs significantly. He strips memory of its warming quality, sealing his objects in vitrines and capturing both viewer and surroundings via their reflections in the glass.
When I visited Mucha again five years later, in 2014, the reception to his studio complex looked unchanged: the children's shoes were still on the stool under the long workbench, the buttocks-shaped nut still on the coffee table, the half-finished piece still clamped to the felt-covered bench, the Jägermeister bottles still above the bar. Mucha rented parts of the complex in 1981, not long after graduating from Dusseldorf art academy. He shared the space with others before buying it outright in 1998. 'Paul Kahle' is written in faded letters on the building's facade. The railway line that ran behind it is now buried beneath a housing estate, reflecting the city's own change. The area was once a centre of heavy industry in the Rhineland; today, surrounded by slightly timeworn generic functional architecture, Mucha's refuge looks like a West German monolith adrift in time. In fact it is undergoing a constant though barely discernable process of transformation. Slowly, the building finds its way into the artist's work, as when floorboards from the studio floor are used for wall-mounted pieces. Mucha is quite literally taking the floor out from under his own feet.
A few kilometres away, in the reconstructed former state parliament that is now home to the K21 museum, stands his work Das Deutschlandgerät, [2002], 1990. (All titles here incorporate Mucha's pre­ferred style.) With the installation of this work in the German Pavilion at the 44th Venice Biennale – where he represented Germany alongside Bernd and Hilla Becher – Mucha's career, which had risen rapidly in the early 1980s, reached its highest public profile to date. It was the summer of 1990, after the fall of the Wall and just before the reunification of Germany. The metapho­rically rich title refers to a 'Deutschland machine' – a piece of hydraulic equipment for heavy lifting and used to re-track derailed trains. The name comes from the company 'Maschinenfabrik Deutschland AG' founded in Dortmund in 1872, which closed in 1996 after an eventful history. In the centre of the work is an enterable room corresponding exactly to the dimensions of Mucha's studio. Lining the walls are 27 vitrine-like wall sculptures, each containing the floorboards of his studio, cut into segments. The outer wall of this room and the floor of the reconstructed former plenary hall of the state parliament share the same material as the travertine floors of the German Pavillion in Venice. On the wall of the room are 38 further wall sculptures, each with a footstool and a bronze cast of the same object. For the version installed in Dusseldorf in 2002, Mucha added 13 monitors showing animations in which these relations are all clarified. Overall the artwork gives the impression of a self-reflexive 'museum within a museum'.
Das Deutschlandgerät is both a junction and hub for various stories: the beginnings and ends of regional, national and personal narratives relating to work. By using floorboards from his studio (the real and imaginary ground on which his working existence stands) Mucha erects an ambivalent 'monument to work' – a controversial concept in Germany, but one that may actually be justified in this case. The permanent installation of Das Deutschlandgerät at K21 was planned as a total switching of roles between artist and institution. Implanted into the core of the museum, the artwork focuses attention on the institution as owner: the museum as a state-sanctioned storehouse for culture. In a reversal of viewpoints, it's the museum which is accessory to the elaborate workpiece that, should it ever be dismantled, can never be fully reconstructed. This work follows an impulse rooted in the anti-monumental art and Institutional Critique of the 1960s and 1970s: the artwork, usually an interchangeable item within the fairground-like logic of the museum, suddenly claims the museum's own status of permanence. The explosive potential of such a move became clear in the dispute that erupted in 2009 between Mucha and the museum's new director, Marion Ackermann, who wanted to either put Das Deutschlandgerät into storage or lend it to other museums.
Key questions linked to the first pre­sentation of Das Deutschlandgerät in 1990 are still relevant today, though under altered conditions: what is the place of art? What is the art of place? From early in his career, Mucha showed an interest in reorganizing things with a simple gesture, in situ; using an artistic act to destabilize a given situation, to remove the autonomy of places by relating them to one another. In Ohne Titel (Krefeld-Oppum), 1977 (Untitled (Krefeld-Oppum), 1977), a mural made in Dusseldorf art academy featuring the typography used by Deutsche Bahn, this was achieved using language. In Flugzeug (Mucha – Vorschlag – Ankauf), 1981 (Flugzeug (Mucha – Proposal – Acquisition), 1981) and "Astron Taurus", Kunsthalle Bielefeld – Created for the exhibition:"Ars Viva – Sculpture and Installations by prizewinners selected by the Cultural Committee of German Business within the Federation of German Industries BDI e.V.", 1981, ephemeral works made using found items of furniture, the approach is sculptural and mimetic. Such pieces reveal the prevailing spirit of the venue by producing new images that can be associated with mobility or fairgrounds. Elevated to the status of a work (à la Michael Asher), tables, chairs, plinths, vitrines and neon tubes become the focus (objects that usually belong to the functional inventory of art venues, and which are returned to their original purpose after the event). The mate­rials required to stage a show become the work. Exhibitor and exhibited, model and finished product, walls, ceilings and floors subvert each other in a dazzling puzzle characteristic of Mucha's approach.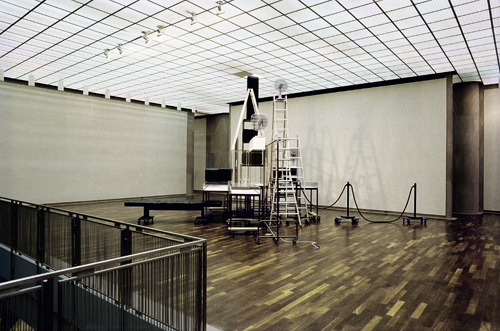 The question of place was important in art of the 1980s in general, but especially among a particular generation of Dusseldorf sculptors. Despite their varied approaches, artists like Katharina Fritsch, Ludger Gerdes, Thomas Schütte and Mucha were seen as a group and referred to as 'model-makers'. Like the neo-Expressionists, who also enjoyed success at the time, they played to a widespread longing for a return to pictures after the iconoclastic 1970s. And they did so with a certain theatricality, in models or simulations that allowed them to expose reality in a staged and therefore distanced way. Mucha, the star of the group, chose a different, unpredictable path, as noted by Jürgen Hohmeyer, writing in Der Spiegel in 1987 about Mucha's exhibitions Kasse beim Fahrer (Buy Ticket from Driver) and Nordausgang (North Exit) that opened simultaneously at Kunsthalle Bern and Kunsthalle Basel: 'the objects develop a distinctive, disconcerting impact […] and set themselves clearly apart from the more decorative conceptual settings of other Dusseldorf "model-makers" of the same generation.'1 Together with his solo show the previous year, Gladbeck, 1986, at the Centre Pompidou in Paris, these two exhibitions gave an overview of Mucha's distinct output to that date. In their foreword to the catalogue, then directors Ulrich Loock (Bern) and Jean-Christophe Ammann (Basel) stressed the unrepeatability of each single work-and-place constellation, as well as their specific historical charge, which, they argued, would have to be taken into consideration in every future presentation – an extreme and rigorous form of what is now all-too-routinely called site-specificity. Each showing becomes an integral part of the work (a fact also reflected in his titles that are often later exten­ded to include new information). In the case of Das Deutschlandgerät, this nesting logic can be seen within the work; at the exhibitions in Bern and Basel, in their simultaneous occurrence in different places. Mucha takes the commonly opposed modes of exhibition and oeuvre and 'mirrors' them (Loock) to the point of indistinguishability.
Besides such geographical branching, there are also hierarchies within the artist's oeuvre. Wartesaal [1997], 1986, 1979-1982, a work included in the Bern show and in Catherine David's Documenta 10 in 1997, can be seen as a kind of meta-work: the names of 242 railway stations, each with six letters, copied by Mucha from an updated 1948 version of a train fare directory issued by German Reich Railways (Reichsbahn) in 1943, in the typography of the postwar German Federal Railways (Bundesbahn), onto pull-out boards stored in 12 wheel-fitted racks. Although originally produced during World War II (quoted here in a version from the postwar period), the directory refers to a pre-war topography, an unstable and stratified historical base to which Mucha cryptically refers, as well as the fatal role of railways in Nazi Germany. In addition to this critique, Wartesaal also acts as a semiotic reservoir for most of Mucha's wall-mounted works bearing the names of cities: Zingst, 2014, [Bingen] ex Bottrop, 1984, Norden, 1991 und Aachen, 1993, but also Kudowa, 2005, a city that is now in Poland.
During the course of the 1990s, Mucha became slightly less prominent – not least due to his radical conception of exhibition practice, which an accelerating art world could not comprehend. 'The great man of tomorrow', Marcel Duchamp once said, 'should not be seen, cannot be seen, and should go underground.'2 At Kölner Strasse 170, work went on largely out of sight. The studio was governed by a dynamic that recalls The Burrow, Kafka's legendary short story fragment from 1924: a creature makes for itself a system of tunnels whose exten­-sion and improvement eventually becomes its sole purpose in life. The burrow's original protective function becomes a constant worry. Or, at least, permanent work. Under Mucha's own time schedule, the work process unfolds between storage, living, working and office spaces and gradually turns more and more of the buil­ding into art. Besides Mucha's floorboards, corroded pipes from the basement and the soil under the complex became tunnels for model railway trains in Straight, 2013, a work shown in New York. Like Das Deutschlandgerät, Straight also included acoustic elements: silver and black boomboxes, echoing the shape of railway wagons, played recordings of traffic and US radio. This workpiece as a whole can be read as a humorous self-quotation, especially in view of the fact that Straight has long since been dismantled.
Mucha refers more specifically to Kafka's short story in a workpiece of the same name that has been provisionally housed at the Grässlin Collection in St. Georgen in the Black Forest since 2002: Der Bau [2002], 1980-1984 brings together works some of which formerly existed as autonomous pieces, such as Ohne Titel (REMSCHEID), 1983 (Untitled (REMSCHEID), 1983) that consists of a reworked shop display (the piece is now called Teil B von Der Bau, [2002], 1980-1984). Although a version of Der Bau was first shown in 1984 as part of the group show Von hier aus in Dusseldorf, work on it began as early as 1972 with compact-format photographs showing railway underpasses and tunnels, along with drawings of the same motifs – places of transit in West German everyday life. A striking element is the emphatic tracing of the blackness in the images which, according to the artist, has a positively 'physical effect'.3 It also gives shape to the monstrous, voluminous darkness in the tunnel (the tricky task of giving form to emptiness is something the drawings share with many works by Bruce Nauman).
These drawings provided the original idea for the installation, as documented in the file that exists on this piece as for every one of Mucha's workpieces. The piece's name, which in the case of Der Bau includes the naming of several years, is followed by construction sketches, invoices, critiques, correspondence and newspaper articles, mixed with photographs of family holidays in France, train tickets or notes – a semi-documentary bundle of material where public and private life are inse­parably interwoven. At the same time, these files act as stores from which new works can be generated, such as "Der Bau" – Auszüge aus dem großen Kalender, [2000], 1999 ("The Burrow" – Excerpts from the Big Calendar, [2000], 1999). In most cases, then, any given version represents only the current state of the archipelago of documents and objects that sprawls around the workpiece; for all its massive sculptural presence, each work as a whole remains flexible and fleet-footed. It is no coincidence that Mucha's standard repertoire includes both the dolly and the habit of writing in correctable pencil. Mucha's practice is committed to the reflexive adaptation and 'rearrangement' of existing material; he reacts to what exists within the work. With his peculiar obsessive practice he breaks down the borders between the symbolic space of art and the profane, everyday space of life, as well as between exhibition and oeuvre, private and public. This is achieved not by obstinate refusal but rather by a continual opposition enacted through quotation, sampling and paraphrase.
Inevitably, Mucha was influenced by Joseph Beuys (even if his teacher in Dusseldorf was not Beuys but Klaus Rinke). In Frankfurter Block, 2012, Mucha takes the Block Beuys (1970) from the Hessisches Landesmuseum in Darmstadt as his blueprint, developing his own work out of its hollow form. A further reiteration was at the centre of his Frankfurter Block – Arbeiten am Hohlkasten 1981-2014 (Frankfurter Block – Work at the Box Girder 1981-2014) exhibition at Sprüth Magers in Berlin in May 2014 – shown in a room within the gallery space with the exact dimensions of Frankfurt's Galerie Grässlin where Frankfurter Block has been on view in 2012. The concept of the negative (or in sculptural terms: the cast) is significant here, as Mucha seems to contradict Beuys. for all his emphasis on process and experience, Beuys essentially aimed towards totality. However social his sculpture may have been, it was nonetheless conceived as an ingenious 'whole'. Mucha, by contrast, seeks out the join, the seam, the open end – a relational approach based on permanent openness reminiscent of Franz Erhard Walther. In structural terms, Mucha's work also recalls Marcel Broodthaers for whom artwork and document have the same value, leading to a flat hierarchy organized not unlike a spider's web: pull in one place and the whole thing changes – in turn making possible an endless number of retrospective constellations.
Mucha's oeuvre, revolving around itself step by step, proliferates slowly but surely. Or, to put it differently, it expands through deceleration – both 'inwards' in the sense of the repurposing or revision of individual works, and 'outwards' by incorporating entire exhibition spaces. This effect has been described by Hans-Joachim Müller as an 'accrual of time',4 independent of the tempo of the art world. As paradoxical as it may sound, work leads almost to stasis, driven by a dynamic situated between the myth of Sisyphus and Marx's law of the tendency of the rate of profit to fall. However, Mucha rightly considers it nonsensical to refer to his productions as 'works', since his output can be understood as an almost philosophical exploration of the phenome­non of work itself.
Mucha's slow-motion impact, coming from the depths of space, may then have been responsible for the positive response to his 2014 show at Sprüth Magers – especially among younger artists who may not have been so aware of him. His incisive real-time linking of currents like Minimal and Conceptual art, Institutional Critique or Appropriation art with cultural, social and technological history makes his work both contemporary and timeless. Most recently, it has been sculptors like Nairy Baghramian and Rachel Harrison who have pursued the interlinking of a radically context-based approach with sculptural sensuousness in a different way, as these artists in particular use their own exhibition histories as key raw materials that are always subject to renegotiation. Meanwhile, Mucha carries on working. Hans-Joachim Müller's review of his 2014 Berlin show in German newspaper Die Welt appeared under the headline _The man who can't finish_.5 Would Reinhard Mucha agree? As he sometimes says of himself: 'that's just the way it is with Mucha.'
1 Jürgen Hohmeyer, Städte im mobilen Wartesaal, in: Spiegel, 6/1987, online: http://www.spiegel.de/spiegel/print/d-13520959.html, retrieved on 3 January 2015
2 Calvin Thomkins, Marcel Duchamp, The Afternoon Interviews, New York 2013, p. 29
3 According to Mucha's files
4 Hans-Joachim Müller, Aufgehängte Zeit, in: Welt am Sonntag, 1 April 2012
5 Hans-Joachim Müller, Der Mann, der nicht fertig wird, in: Die Welt, 18 May 2014