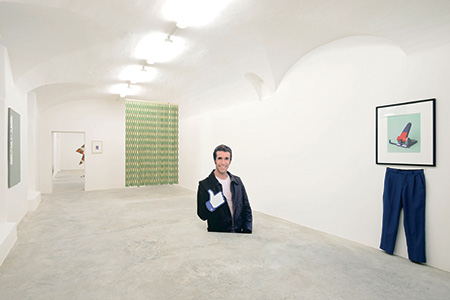 In Rome, the spectacle continues, even in these bleak economic times, as galleries and museums announce new spaces and even – in the case of CO2, who move to Turin this autumn – new cities. Who, in this climate, might be brave enough to take the plunge and present the new season's first inauguration? The task fell to Frutta, which launched its new space with 'Grand Opening', a group show comprising nine artists. The main show – which reflects on openings and closures – is accompanied by a solo show, 'Hadrian', by Sol Calero, presented in the gallery's project space, a room separated from the main gallery by a partitioning wall.
On the opening night, even the rain failed to deter a public who were keen to see how Frutta – which opened in January 2012 in a tiny space in Rome's historical centre – would translate into grander surroundings. The gallery came onto the Roman scene as an upstart, seemingly oblivious to its environs and determined to succeed. Run by a young Scot, James Gardner, Frutta's mixture of dry wit and conceptual savvy attracted an audience keen for something new and provocative. Within months, the gallery was competing with Rome's more established spaces.
Though in some ways more mature and slick, 18 months on, Frutta hasn't lost its ability to challenge the conventions of cultural life in Rome. Upon entering the new space, the visitor was confronted by John Henry Newton's This Sentence Simply Serves as a Diversion (2013), comprising a microphone stand and a cable plastered directly into the wall, thereby making the device useless. The piece was partly chosen by the gallerist as a response to the expectation that he would make an opening speech, which would be the norm at such an event in Rome. The microphone will remain in position for the rest of the show in the absence of any formal presentation by the gallerist.
In the first – and largest – of four rooms which comprise the new gallery, my attention was immediately caught by Gabriele de Santis's Ayyy (2013), a large cardboard cut-out of the Fonz, with a Facebook-style thumb icon collaged over his hand.
Other memorable pieces in the show included David Bernstein's Spatula City and Jacopo Miliani's Flag for an Eclipse (both 2013). The former is an acrylic postcard-proportioned sketch of three ancient Roman columns, with a second tier added, evoking the banal form of a kitchen spatula. This modified historical 'entrance' pays tribute to a cultural history from which Frutta is so distant. The latter piece comprises a neon tube light of the kind found in offices and showrooms, standing vertically against one wall with a piece of black silk draped from it, like a flag both covering and opening up the light which supports it. The work represents the bittersweet nature of beginnings, which are, of course, always also the ending of something else.
Frutta's new beginning represents continuity and change. In many ways it feels as if the old gallery has been placed under a magnifying glass, with its space and works magnified accordingly. At the same time, there has been a translation from a punky DIY approach to something altogether more studied. How that balance is maintained will be crucial to Frutta's continued success.