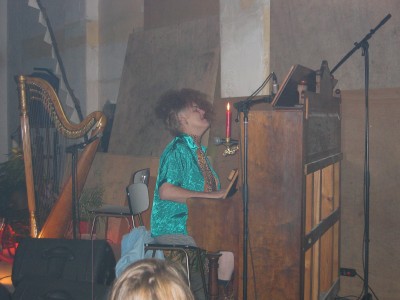 For ages after seeing singer-songwriter Baby Dee I had a strange chuckle ringing my ears – the performer's between-song 'Hee, hee, hee', which sounds a bit like an overgrown child playing white witch. Certainly, Baby Dee's spell worked on me. The artist's free concert in Berlin in late September – organized by new project space Rise and hosted by easily my favourite independent culture club, Basso in Kreuzberg – was a rare jewel-like offering.
If you do a bit of nosing around for Baby Dee on the Internet you'll pretty soon hit on a remarkable biography that goes something like this: 'performance artist, songwriter, classically trained harpist, circus sideshow veteran, and transgender street legend Baby Dee was born in 1953 in Cleveland, Ohio. She spent ten years as music director and organist for a Catholic church in the Bronx before joining the circus as the bilateral hermaphrodite at Coney Island. […] After moving back to New York City, she became a fixture in lower Manhattan with a street act on a high-rise tricycle with a concert harp.' I can't vouch for any of this but it certainly adds some nuance to the phrase 'seasoned performer'. In the artist's own words, 'Baby Dee is a child of light, a circus freak and a happy whore.' Traces of all this as well as a violent childhood have left their mark on Baby Dee's music and lyrics; the frank and moving song 'So Bad' has lines like, 'Jesus got my mom in there / And beat her up so bad.'
In recent years Baby Dee has released a few albums (Little Window, 2000; Love's Small Song, 2002; A Book of Songs for Ann Marie, 2004), can be heard harping on Antony and the Johnsons' haunted album I Am a Bird Now (2005), and has collaborated with other musicians including Marc Almond. At Basso, Baby Dee presented over an hour of material on a borrowed, out of tune piano before moving on to a harp – the artist's shadow cast large on the wall behind. About halfway Baby Dee confessed: 'I once did a gig that was going so bad that the only thing that would help was a piano accordion solo'. The opposite was true, but then one began anyway. The music ranged from dark and emotionally resonant ballads to bawdy or humoresque ditties that the audience lapped up ('I'm not the only piss pot in the house'). Baby Dee's magic involves a gentleness and generousness of spirit which is like a soothing balm or a communal love bomb for anyone who has ever faced adversity or disappointment – indeed 'a good beginning for an endless night'. If Baby Dee is somewhere near you soon you should put your heart back on your sleeve and head there fast.