Jang-Uk Lee's Five Favourite Works from Frieze Viewing Room
From Hugh Hayden's commentary on prejudice to Tao Hui's existential roller-skater, Curator Jang-Uk Lee shares his top picks from Frieze Seoul 2022 edition
Albert Oehlen, 
Untitled, 1990 
oil on canvas 
$500k-1m 
Galerie Max Hetzler 
This piece by Albert Oehlen is from the 1990s. With the fall of the Berlin Wall in 1989, Oehlen began dismantling his figurative practice in earnest. The various poetic and musical gestures that characterize his painting also appear more and more free after this period. Beyond questions of concept and abstraction, when it comes to his use of the colour yellow, I think Oehlen is the best since Van Gogh.
Tao Hui 
Being Wild, 2021 
Single-channel HD video, colour, with sound 
$ 25,000 
Kiang Malingue 
It is difficult for any one individual to overcome the fate of the collective or nation. In the same vein, it is difficult, too, for a nation to overcome and exist beyond the generational stream of world history. In this video piece, a young woman roller skates through various landmarks of modern and contemporary China — a country whose rapid economic growth is reminiscent of the speedy roller skate, an item much beloved by the Chinese people around 1989. Behind such speed, meanwhile, lies things forgotten and lost along the way. The world is changing too quickly, and there are young people who suffer amidst such instability. In Lewis Carroll's Alice in Wonderland, the Red Queen puts it this way: "It takes all the running you can do, to keep in the same place."
Hugh Hayden 
Red, White, and Blonde, 2022 
Synthetic Hair, basketball rim and backboard 
$100-250k 
Lisson Gallery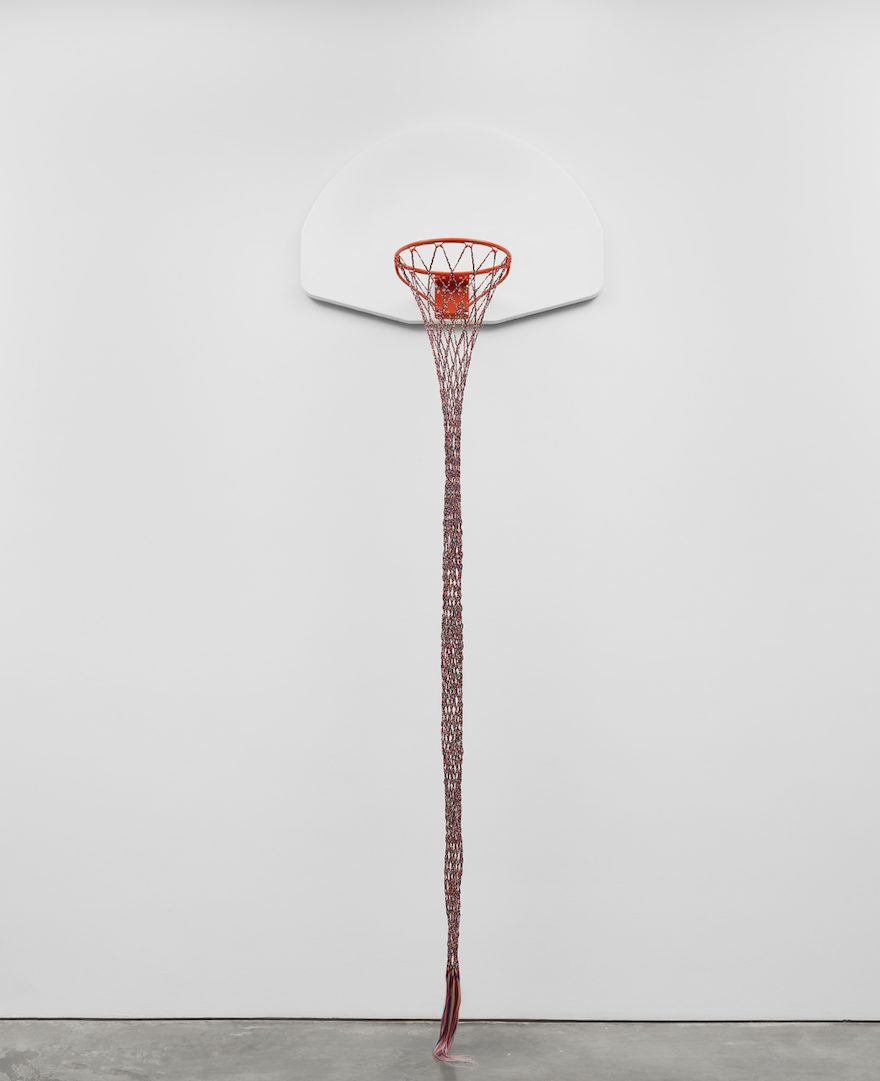 Even as the knowledge we amass helps us broaden our perspective on the world, gathering information is also a process of generating countless personal biases. Art breaks down the hard shells that viewers have constructed in their own minds; indeed, this is one of its central roles. Questioning our own prejudices around skin and hair color, or even other issues we tend to so effortfully ignore — such work is always beautiful and meaningful.
Bohie Kim 
Towards, 2022 
Gallery Baton 
This is a bit tired and cliched, but art schools in Korea still categorize painters according to whether they belong to Oriental or Western painting traditions. Formerly a professor of Oriental painting, Kim has been more active than ever since her retirement. Kim's contemporary paintings, which build on her deep understanding of traditional Korean painting, manage to shine with a light entirely their own while also aligning with the latest trends of the day. Now a full-time artist, Kim lives and works on Jeju Island, producing landscapes in her own unique style — and adding yet another entry to the list of things that make Jeju Island beautiful. 
Katherine Berhnardt 
Orange Aerobic Shower, 2022 
Acrylic and spray paint on canvas 
$ 250,000 
Canada 
There are moments when I think that Bernhardt paints too quickly, or crudely. Looking at this recent piece, however, it occurred to me that this is simply who she is, and that her works still sparkle and shine, as ever.
About Jang-Uk Lee
Jang-Uk Lee is the chief curator of Space K. Founded in 2011, Space K is a private museum operated by Kolon Group. Since 2011, Lee has overseen some 160 exhibitions at Space K from conception to closing, including the first-ever Korean exhibitions of works by Daniel Richter(2022), Justin Mortimer(2020), Daniel Firman(2017), Rose Wylie(2016), and Caroline Walker(2015), as well as more recent successful openings like Neo Rauch & Rosa Loy(2021), Ryan Gander(2021), and Hernan Bas(2021). Lee is also interested in re-examining the work of undervalued Korean artists, and in discovering and supporting young artists both at home and abroad. 
Instagram: @janguklee.art
About Frieze Viewing Room 
Frieze Viewing Room is a free digital platform bringing a selection of Frieze Seoul's galleries, artworks and programming to online audiences across the globe.
Main Image: Bohie Kim, Towards, 2022, Courtesy of the Artist and Gallery Baton