Featured in
The MAAT opens to the public
Lisbon's sinuous new gallery designed by Amanda Levete's AL_A
A remarkable 60,000 people – more than 11 percent of the city's population – flocked to MAAT, Lisbon's new Museum of Art, Architecture and Technology, when it opened its barely finished doors to the public on a sunny October holiday. From midday to midnight, many braved hour-long queues to visit MAAT Central Tejo – the spruced-up power station of the former Museu de Electricidade – or to enter the rebranded museum's glistening star: a sinuous new gallery designed by Amanda Levete's AL_A. Structural concerns at heavy footfall forced the closure of the bridge leading to the museum; trains ceased delivering passengers to the nearest station: the museum literally stopped traffic. On the banks of the river Tagus, neighbouring Jerónimos Monastery and Pasteis de Belem's custard tart paradise, MAAT glistens as new cultural confectionary for Lisbon. It's also a jewel in the crown of the museum's private funders and founders, EDP Foundation, the philanthropic arm of Portugal's largest energy company.
An undulating promenade enters, wraps and surmounts the new building's roof. Inside, in MAAT director Pedro Gadanho's words, 'a totally fluid space, counter-intuitive to the idea of the white cube' unfurls with a sequence of museological greatest hits woven into both the building's physical form and the ambitions of its artistic programme. MAAT's central Oval Gallery is designed to host large-scale, site-specific artist commissions. Nodding simultaneously to New York's Guggenheim and London's Tate Turbine Hall, an elliptical ramp circles and descends into a cavernous central space. A project room for Portuguese artists sits behind the oval, a main gallery abuts it for group exhibitions and a video room snuggles in the corner. It's as if Tate's Tanks have been re-envisioned as a glossy white spaceship.
MAAT's first artist commission for the new building is by Dominique Gonzalez-Foerster: Pynchon Park perfectly inaugurates the Oval, envisioning a zoo operated by extra-terrestrials for the observation of human behaviour. Caged by a green net roof and automated gates that allow and prohibit access at random, visitor-specimens are provided with inflatable balls and giant book-carpets for their recreational amusement, whilst lighting in the gallery cycles through dawn and dusk to collapse 24 hours into 24 minutes. To a soundtrack of waves, the audience performs first as an empirically inclined alien, as it peers into the space, before becoming an actor in a human-zoo within the installation's theatrical arena, in which drifting spotlights evoke both a spectacular celebration and authoritarian surveillance.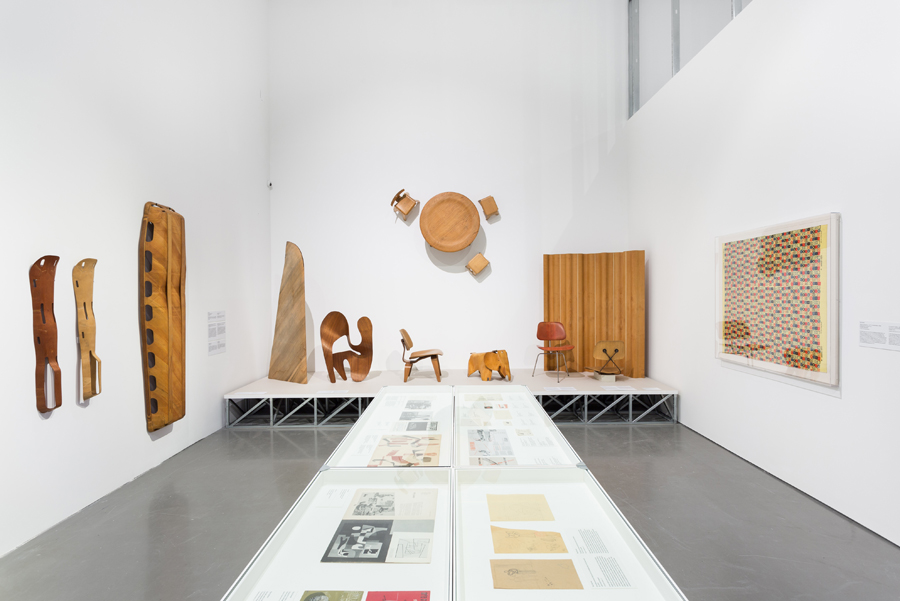 MAAT will reach full completion in March 2017, with a new bridge, restaurant and a group show, 'Utopia/Dystopia', which will extend Gonzalez-Foerster's themes through works by artists ranging from DIS to Aldo Rossi, Hito Steyerl and Superstudio. Exhibitions from Portugal's playful elder-statesman painter Eduardo Batarda and filmmakers Apichatpong Weeresethakul and Joaquim Sapinho, opened in the power station in November, to complement 'The World of Charles and Ray Eames's which travelled from London's Barbican.
That the Eameses' work helps inaugurate a museum freshly dedicated to a multidisciplinary mode of thinking about the contemporary makes perfect sense. But both MAAT and Lisbon would do well to remember one of Charles Eames's statements: 'The role of the designer is that of a very good, thoughtful host, all of whose energy goes into trying to anticipate the needs of his guests.' Tourism to Lisbon has increased by 50 percent in the last five years, yet many young Portuguese are forced to leave the country in search of work. With so many recent journalists, realtors and holiday makers keen to trademark Lisbon as 'Europe's coolest capital', MAAT's bold cultural ambitions come with heavy responsibilities: the institution could be simultaneously a salve and a symptom of a city renegotiating its role as a host to residents and visitors alike – a crucial design project indeed.