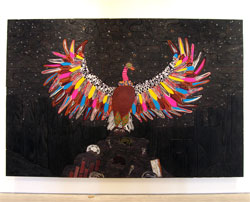 Sometimes our most distant memories – holding a parent's hand at the graveside of a dead Vietnam War soldier, perhaps – are all the more haunting for their sparseness. Matthew Day Jackson, who was born in 1974, one year before the fall of Saigon, is too young to have firsthand memories of Vietnam, but like many artists of his generation he is clearly preoccupied with events of the 1960s and '70s. Other national traumas radiate through his work as well, such as the genocide of Native Americans, the Civil War and World War II. In several recent group shows his installations have been dramatic and elegiac, combining craft with voraciously scavenged images and materials. His New York solo début, with the rueful-sounding title 'Fortunate Son', was somewhat more diffuse, ranging from an Alpine horn fashioned from a dead tree and its roots – Alphorn with Quartered Stand (Horn of Lady Liberty) (all works 2005), an object that emits a mournful roar when blown – to the offhand but mysterious Small Dipper (North Star), a handful of coins arranged on the floor like an upside-down constellation.
One critic, oddly, called the show 'a tad impersonal', but if anything Jackson's recent work reasserts the inextricability of the personal and political. Allusions to musical and artistic influences co-exist alongside overt political critique. Jackson's very name seems somehow inescapably American, redolent of log cabins and westward expansion. Reportedly, one of his grandfathers was a marine, the other a police officer, and one earlier piece, which resembled an anti-tank barrier, was intended to express solidarity with those who go to war and are forgotten. His experience of religion has also been multi-layered and seems to inform his work: he was raised in a distinctly home-grown sect, the Church of Christian Science, but his mother converted to Wicca. Deities were duly invoked for this show – the first piece one encountered inside the gallery, Untitled (A Mother's Prayer for Her Son) with Song (Sung by a Mother), was a DVD of Jackson's mother performing a Wiccan ritual to bless the art work. A tie-dyed sarong slung about her hips, she sings, beats a drum and bows in four directions. Jackson also created a CD on which Karen Jackson sings a non-denominational hymn to peace, the lyrics of which were written between the World Wars. That this is a mother's as well as a father's son was a point made with a certain gravity.
But maternal figures aren't necessarily more innocent than paternal ones – this is clear from the large wall collage Dance of Destruction (Featuring Lady Liberty as Shiva, Wovako, Eleanor & Jim Jones), although Eleanor Roosevelt appears as a fairy godmother of sorts. Throughout Jackson's work a cosmology of themes and motifs reflect his personal and political obsessions, such as the turkey vulture (dubbed a 'peace eagle' by the Cherokees, with its weak talons it rarely kills), the Alamo, the A-bomb, paintings by Piet Mondrian, Civil War battlefields and Punk rock iconography.
Jackson deploys meticulous craftsmanship (his materials include tooled leather, woodcarving, metal studs and needlepoint), but he is also, with varying degrees of success, playing with the way that homespun embellishments signal authenticity in folk and amateur activist art. Sometimes craft-y elements wedded to historical material seems to suggest how viewing the past through a subjective filter only makes the truth less accessible: for example, colourful geometric needlepoint patterns make a friendly blob out of a mushroom cloud in Nagasaki (Prophecy) or a more sinister one of George Washington's face – skull-decorated beads serving as eyes – in one of the fragments comprising Dance of Destruction.
In addition to playing a half-sardonic, half-sincere shaman summoning the spirits of the past Jackson has made death and rebirth a central theme. He appears in a photograph on the show's invitation, dressed in a home-made tribal costume and watching a bonfire he used to create another sculpture. Rather than the elaborate Dance of Destruction or several fetishistic objects, the show's most emblematic work was the large panel Phoenix (Peace Eagle). Made of oddball ingredients such as scorched wood, faux bricks, glued-on yarn and worked leather, it depicts a cartoonish turkey vulture, bright wings unfurled, standing atop a pile of rubble beneath a night sky studded with eyes instead of stars. It's hard to predict where Jackson's work is headed – his political references are most effective when they give way to a wonderfully weird formal alchemy. But his beautiful surrogate for the regal bald eagle, a vulture that cleans the earth by removing carrion, seems pitch-perfect.