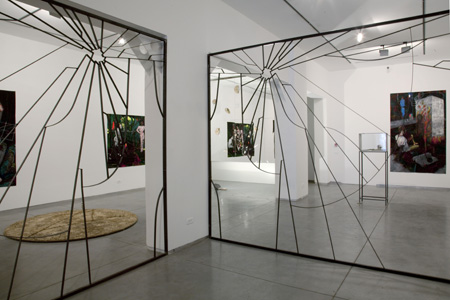 Sometimes you come across a show that mimics the way life communicates: with leaps in logic and sudden interjections of seemingly unrelated ideas or images. Many bad artists have tried to reflect the chaos that life flings at us simply by making chaotic work – this is about as interesting as a toddler banging on pots. Good artists, on the other hand, know when to stop and when to start, when it's interesting to poke around in the dark and when it's time to let a little light in. Michal Helfman is one such artist.
With its unpredictable segues between genres, media and moods, the Israeli artist's solo exhibition at Sommer Contemporary Art, 'Doctor, Doctor!' (titled after British New Wave group The Thompson Twins' 1984 hit) could, in a word, be described as nuts, but in the way dreams are nuts – that is, meaningless without their intimate relationship to reality. This is most obvious in the short video Duet for a Flame and a Boy (2010), which was inspired by an anecdote in Sigmund Freud's The Interpretation of Dreams (1899) in which a sleeping man sees his dead child whispering 'Father, can't you see I'm burning?'. Backed by 'Doctor! Doctor!', two dancers perform a work titled Bill (by choreographer Sharon Eyal) on top of Santiago Sierra's 2004 installation Arrangement of Twelve Prefabricated Fortifications, at the Herzliya Museum of Art. Helfman had covered the cement blocks – which are normally used by the Israeli army – in bright metallic fabric. The combination of cheesy lyrics ('Dance with me across the sea / And we could feel the motion of a thousand dreams,' etc.) and joyful young performers communicates conflicting messages of war, desire, dislocation and pleasure – none of which is far from anyone's mind in downtown Tel Aviv.
It's almost impossible not to view any art currently produced and shown in Israel through the lens of the country's ongoing conflict with its neighbours. Thus, the floor-to-ceiling iron gates that had to be passed through in order to enter the main gallery bring to mind the immense wall that Israel is currently building around its borders. Similarly, it was difficult not to respond to the work on offer – which looked more like a group show than the result of one woman's imagination – as a kind of fractured portrait of contemporary Israel, a place where the dream of a homeland has, at times, turned into the stuff of nightmares. Cracked mirrors embedded with split fossils reflected back four large colour drawings from 2009 of feverish bodies attempting to play the cello or learn lessons beneath threatening skies. A photograph of the Negev desert – which covers almost half of Israel and most of which is used by the Israel Defence Forces for training purposes – was displayed in a glass cube. It had been sliced into a coil and wrapped around a fossil (Snake, 2010). On the floor was Aratzot (Countries) (2010), a circle of sand with curious markings and a knife embedded in its surface. I initially took it to be an abstracted piece of earth art but Helfman told me it's a children's game in Israel where participants mark out their territory with knives in the sand until one child – the loser – is isolated. A simple, schematic black and white drawing, The Plague (2010) looked like a group of crude portraits, but closer observation revealed the faces were constructed by joining random dots, which resembled a virus attacking its victims.
With its complicated intertwining of landscape, history and the body's role in perpetuating both pleasure and violence on itself and others, 'Doctor, Doctor!' was as much a compelling and open-ended portrait of a country in need as that of an individual's splintered imaginings – but perhaps these distinctions are, in themselves, distortions. After all, one can't exist without the other.